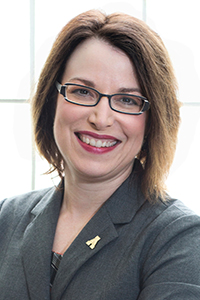 Type: Dean's Office
Dean
Ph.D., Pennsylvania State University

M.S., Pennsylvania State University

B.B.A., James Madison University
Dr. Heather Hulburt Norris joined the Walker College of Business faculty in the fall of 2003 in the Department of Finance, Banking and Insurance. She was named assistant dean for undergraduate programs in 2005, associate dean for undergraduate programs and administration in 2008, senior associate dean in 2012, acting dean in 2014, and interim dean in 2015. In July 2016, following a national search, Norris was named permanent dean of the Walker College of Business.
Prior to her time at Appalachian, Norris served on the faculty at Bowling Green State University, the Pennsylvania State University and West Virginia University.
Norris was drawn to the Walker College of Business because of its clear mission and achievement of offering transformational educational experiences to students. As dean, she will guide the vision of the college and actively pursue financial support to achieve it.
Norris' teaching and research interests involve corporate finance and investments, with a particular emphasis on corporate restructuring. She has been published in the Journal of Portfolio Management, Financial Management, Managerial and Decision Economics and the Journal of Applied Business Research. Her work on corporate restructuring has been cited in The Wall Street Journal, Fortune, Business Week and Dow Jones Online News. Norris is a member of Beta Gamma Sigma and Phi Kappa Phi.
Norris serves on the board of directors of Children's Hope Alliance, the parent organization of Grandfather Home for Children and Barium Springs Home for Children. She is a member of the board's finance committee and previously chaired the organization's Foundation Board. Norris has also served on the board of directors for the Boone Area Chamber of Commerce.
Norris and her husband, Rob (Appalachian '87), have a young daughter, Emma, who aspires to be a future Mountaineer.
Position: Dean
Phone: 828-262-2058
Office: 4135 Peacock Hall
Email: hulburthm@appstate.edu