Save the Date
In 2016, the Walker Fellows organized the first-ever Walker College of Business Service Day. In 2017, the Walker College will expand the initiative to offer opportunities to not only students at Appalahian State University, but also members of the faculty and staff and Walker College of Business alumni. Save the date for the 2017 #WCOBServiceWeek, April 23-29.
Register your service project
To register your service project as part of the 2017 Walker College of Business Service Week, please complete the registration form.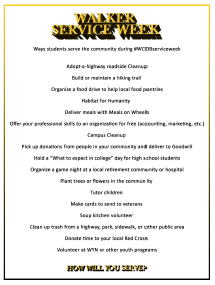 If you need inspiration, review this list of service opportunities.
April 28 Financial Literacy Volunteer Day
In conjunction with financial literacy month, students, faculty, staff and alumni of Appalachian State University's Walker College of Business will join together on Friday, April 28 to offer Western NC high school students a glimpse into their future. Through their participation in a simulation presented by the visitors from Appalachian, with support from the State Employees' Credit Union, more than 400 ninth graders will be transformed into young adults with jobs, debt, families and other real-world responsibilities, and have the opportunity to learn:
Advantages of additional education after high school
The building blocks to prepare for a secure financial future
How to make smart decisions with money now
Register Now
West Wilkes High School
Serve 140 ninth grade students in 2 sessions
Transportation, lunch and t-shirt included
Schedule
7:30 a.m. Volunteers Arrive Peacock Hall
8:15 a.m. Volunteer Check-in at WWHS
12:15 p.m. Bus Returns to Peacock Hall
12:15 p.m. Volunteer Lunch at Peacock Hall
Ashe County High School
Serve 270 ninth grade students in 3 sessions
Transportation, lunch and t-shirt included
Schedule
7:30 a.m. Volunteers Arrive Peacock Hall
8:15 a.m. Volunteer Check-in at ACHS
11:45 a.m. Volunteer Lunch
2:30 p.m. Bus Returns to Peacock Hall