The mission of the Walker College of Business' MBA Program is to provide educational experiences that prepare our students for life-long learning and professional leadership responsibilities in a dynamic global environment. The flexibility in our program allows each student to receive the best educational experience possible through a full-time program in Boone, NC, as well as part-time programs in two locations. The MBA program is open to all undergraduate majors, having available online learning modules to help all students quickly meet any required prerequisite knowledge they may need to be successful in our program.
To fulfill the mission of the MBA program extensive resources are dedicated to ensuring the program is well rounded. In addition to a robust curriculum, the MBA program places a heavy emphasis on practical job preparation and professional development through practicums, internships, and executive skills courses. Students benefit from dedicated academic advising and also receive one-on-one career coaching from the Walker College of Business graduate programs staff. This individualized attention and extensive student-faculty collaboration, as well as frequent networking and team building opportunities, ensures that graduates are business savvy, internationally experienced, proven leaders, proficient communicators, ethical, and employable. In keeping with the Walker College's belief in the power of international experience, students in the MBA program participate in world travel as a required part of the curriculum.
The Walker College of Business maintains accreditation from the Association to Advance Collegiate Schools of Business (AACSB).
Full-Time MBA Program
The full-time MBA program comprises 36 credit hours, with 27 hours of core courses and 9 hours of electives. Electives allow students to focus upon one of seven concentrations in Business Analytics, Supply Chain Management, Economics, Sustainable Business, International Business, Leading and Managing Human Resources, or Interdisciplinary Business. Students taking 12 hours per semester will finish the program in one year. Learn more.
Part-Time MBA Programs
The Walker College offers two part-time evening MBA programs, a distance education MBA program in Hickory, North Carolina and one based on Appalachian State University's main campus. These evening programs are year-round, offering face-to-face instruction with classes meeting approximately two nights per week. While students may create a customized program of study, students typically take 6 credit hours per semester (fall, spring, and summer) to complete the 36-hour program in approximately two years. Learn more.
Rolling Admission
The MBA program offers rolling admission in its full-time as well as part-time programs to provide incoming students the flexibility to start the program in the Fall, Spring or Summer. Learn more.
In Their Own Words
Tyler Stobbe, MBA candidate of 2019 discusses his experience earning his Appalachian MBA.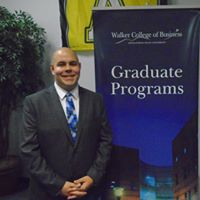 "I enrolled into Appalachian State University's Distance Education Master of Business Administration program to expand my business acumen and to gain a better understanding of the complete business model. My background was in Information Technology, and I wanted the ability to market myself for more job opportunities. Because I was enrolled in Appalachian's MBA program, I received a job offer that allowed me to make a career and industry change. With the knowledge I have gained, I am now able to present myself as a well-rounded business professional, having a good understanding of global economics, supply chain, accounting, finance, and business analytics among other areas. The Appalachian MBA also provided me with an expansive network of peers and resources that I know will carry on long after I complete my degree. Thank you Walker College of Business and Appalachian State University!"
Mackenzie Holland, MBA candidate of 2018 discusses her experience earning her Appalachian MBA.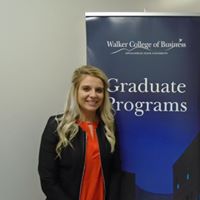 "Having had a rewarding experience obtaining my undergraduate degree at Appalachian, I was inclined to return when seeking an advanced degree. The distance education MBA program at App is particularly appealing due to its hybrid model; helping students "Keep [their] life and change [their] future" just as the tagline declares. Due to the hybrid format, with some of the coursework online and some in the traditional classroom, I was able to continue working full time throughout the two-year program. I have found that professors bring a wealth of real-world knowledge to the learning environment, complemented by a classroom of fellow students who each represent a unique point of view.
I made this investment in myself so that I can excel in a competitive healthcare market and expand my business knowledge for my career. Because of the MBA program at App State, I have already advanced in my role with my current company, Mission Health and believe this degree will leave me well positioned for the business landscape of the future."