Appalachian State University leaders and alumni will present as part of the Boone Chamber of Commerce Insight Series, which focuses on leadership development and career affirmation while connecting in a small group setting with established business leaders. The series is held over four monthly sessions from June through September.
Each gathering includes a panel of two current or former CEOs and community leaders who provide their career origin stories, experiences, and advice to those seeking higher professional aspirations.
Opportunity for Q&A with the panelists as well as networking within the group of local professionals creates an energized atmosphere for career reflection and goal setting.
Registration is limited to the first 20 participants and can be accessed at this link.
Sessions will be hosted at Fairway Cafe at Boone Golf Club June 27th, July 25th, August 22nd, and September 26th. Sessions will run from 6-8pm, except for the September session, which will be held from 11am-1pm.
Cost to attend the series is $250 for Boone Area Chamber of Commerce members and $300 for non-members, and includes course materials, food/drinks at each session, and a commemorative gift.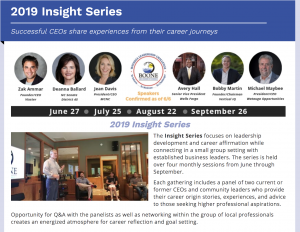 Tags: