BOONE, N.C. — Six members of the Appalachian State University Community were awarded W.H. Plemmons Leadership Medallions in recognition of their efforts to provide campus leadership for students.
Among them is Dr. Harry Davis, the North Carolina Bankers Association (NCBA) Professor of Banking in Appalachian's Department of Finance, Banking and Insurance. He earned the medallion in the faculty category.
Davis currently serves as the NCBA Professor of Banking in the Department of Finance, Banking and Insurance in Appalachian's Walker College of Business (WCOB).
"Dr. Harry Davis is passionate about teaching the business leaders of tomorrow. Through work in the classrooms and hallways of Peacock Hall, he is leaving a legacy through hundreds of future banking executives," said a nominator of Davis.
The nominator continued, stating that, through Davis' interactions with the WCOB's Holland Fellows Program — he "provides transformational educational opportunities to our students regarding trends and issues in the ever-evolving banking industry."
As an instructor and dean of the North Carolina School of Banking, Davis further reaches undergraduates, as well as lifelong learners and professional students. "His unique position serving in both university and industry has enabled him to facilitate powerful connections resulting in internships, job placement and career growth for countless individuals," a nominator said.
In the past year, Davis was named Outstanding Conference Speaker by the North Carolina Association of CPAs for his exceptionally high average evaluation scored from conference participants. Additionally, Davis is a recipient of the Wade Brown Award for Community Recognition, presented by the Boone Area Chamber of Commerce.
In recognition of his nearly four decades of service to North Carolina's banking industry and the university, the WCOB, in collaboration with the NCBA, is creating an endowed professorship in Davis' honor.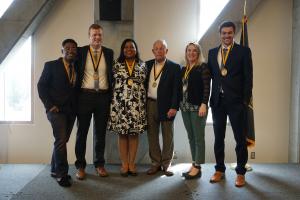 Tags: