Establishing an endowed scholarship is an excellent way to recognize outstanding academic and leadership accomplishments of students while honoring or commemorating the contributions of others. Donors may also create endowed scholarships in someone's honor.
Lane Memorial Scholarship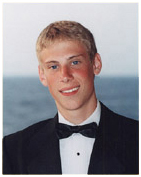 Andrew Lane will not be forgotten. That is the vow to which his friends committed when they began a grass roots effort to establish a scholarship in his memory following his death in 2005.
Andrew Lane loved Appalachian. Originally from Winston-Salem, North Carolina, he knew as a high school senior that he would attend Appalachian. He was so positive of this fact that his only college application was addressed to Boone, North Carolina.
In the fall of 2002, Andrew's intentions were realized; he came to Boone, entering Appalachian as one of the more than 2000 freshman students.
At Appalachian, Andrew became a stand-out student in the Walker College of Business. Finding his niche in the Hospitality and Tourism Management program, Andrew created strong bonds with his classmates and excelled in his schoolwork. His future looked bright, and he began planning a career in the field of event management and culinary service. He dreamed of becoming a chef and professional caterer.
Andrew's passion for the hospitality industry began at The Golden Apple in Winston-Salem. Andrew began working at The Golden Apple while in high school and continued to work there during his breaks from college. While at Appalachian, Andrew began working for Buddy Fore at Grouse Moor Catering and developed many good friends while working with Buddy.
When Andrew described his career interest to his parents, he talked about his delight at seeing people enjoy food that he had cooked and prepared and he was looking forward to furthering his education in the culinary arts after graduation.
Tragically, Andrew never had the opportunity to fulfill his career goals; he lost his life in a car accident his junior year at Appalachian.
As a special tribute to him, the Andrew Lane Memorial Endowment for Hospitality and Tourism Management was created by Andrew's friends and family. "It was Andrew's friends' idea," said Andrew's mother, Sylvia Oberle. "We thought it was a terrific plan and, with Buddy Fore's help in planning a fund-raising event for our friends in Winston-Salem, we were able to set up the endowment."
"Andrew will not be forgotten," Mrs. Oberle declared. "Now he lives on through the dreams and lives of students attending Appalachian...students who will go on to successful careers in hospitality management; just as Andrew had intended."
Each fall, Lane's parents - his mom Sylvia and her husband, Terry Oberle; and his dad Mike and his wife, Lucy Alexa Lane - have the opportunity to meet the recipient of Andrew's scholarship at the Walker College of Business Scholarship Reception. "We've stayed in touch with many of the scholarship recipients," said Mrs. Oberle. "I'm pleased that we're able to make a difference while honoring Andrew's memory."
Vogel Memorial Scholarship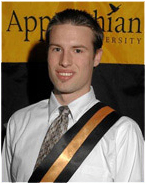 The concept of "paying it forward" has been around since Ben Franklin originally described it in the eighteenth century, but it has never been more apparent than in the legacy left by Jackson Vogel just a few years ago.
Prior to his untimely death in 2005, Jackson Paul Vogel had received scholarship assistance to study in the Walker College of Business. Today Jackson's spirit lives on as his family and friends have found a gratifying way to return the favor – paying it forward.
Jackson, originally from Fayetteville, N.C., came to Appalachian State University in 2001 and pursued a major in Finance and Banking. Involved in many activities, including the Finance Student Association, the American Marketing Association, Club Soccer and the Emerging Leaders program, he excelled academically and in extracurricular activities.
To reward his academic accomplishments, Jackson was awarded a scholarship funded by Beroth Golf Tournament, sponsored by Winfield Beroth (pictured bottom right, far right) and his family business 4Brothers Food Stores. Tragically, Jackson was killed in a car accident on May 29, 2005. As a special tribute to him, The Jackson Paul Vogel Memorial Scholarship Endowment for Business Majors was created by Jackson's family and friends just weeks after his death.
"Jackson loved Appalachian. His heart was at Appalachian and in the mountains of North Carolina", said Jackson's mother, Lisa Vogel. "This is what he would have wanted; Hans and I are paying Winfield Beroth's generosity forward to generations of Appalachian students to come."
Each fall, Hans and Lisa Vogel have the opportunity to meet the recipient of the Jackson Paul Vogel Memorial Scholarship at the Walker College of Business Fall Scholarship Reception. "It is very gratifying to see the types of students that have benefited from the endowment", said Lisa Vogel. "We know all of their names and are interested in their future success."