Strategy by Design
In this hands on workshop, your team will learn the five-step Strategy By Design process that marries traditional strategic management tools and practices with design thinking methodology. By integrating these generally disparate processes, strategic planning will awaken your organization, improve its agility, and set it on a path to achieve a distinctive position in your industry.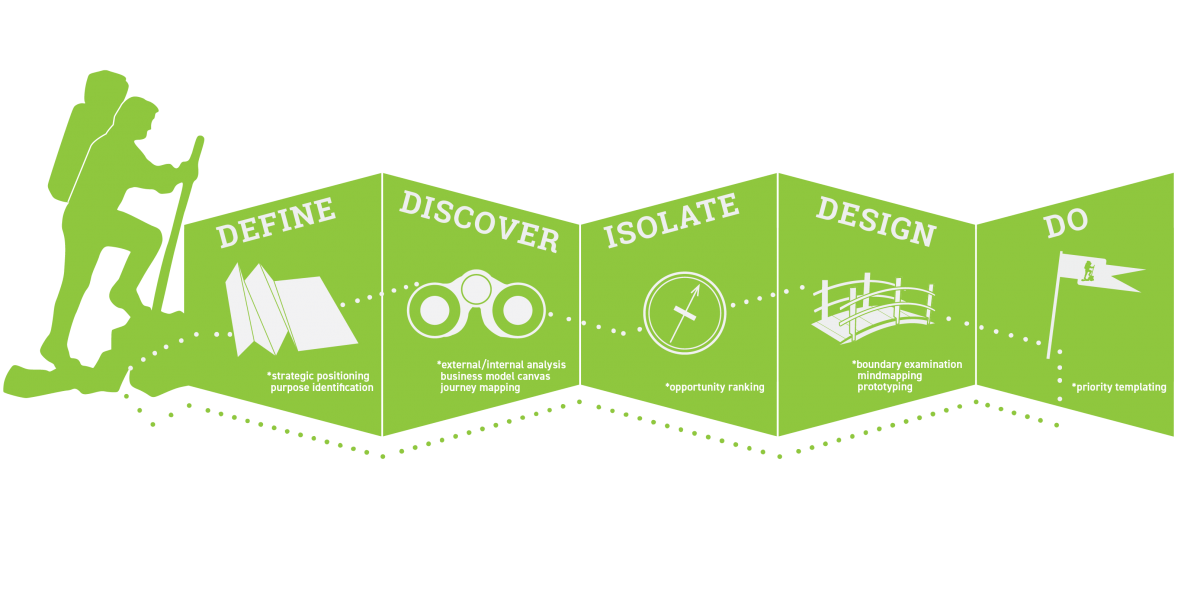 About Strategic Planning
Everyone on your team should be able to participate in the co-creation of your firm's strategy, regardless of job role, title, or formal leadership. Your team will leave the workshop with
a novel approach to identify strategic priorities, initiatives, and goals aimed at moving your organization forward,
a robust set of tools to participate in the ongoing strategy making process, and
a systematic method for packaging collective insights that will guide your organization toward Peak Performance
Learning Outcomes
After completing the strategic planning workshop, participants will be able to:
Carve out a unique and sustainable position within your industry.
Facilitate strategic alignment across the organization.
Design value propositions that align more closely to customer needs.
Cultivate an action oriented culture that energizes the organization.
Establish a vision and direction to support resource allocation decisions.
Schedule
DAY ONE
9:00 am - Introduction
10:00 am - Define
12:00 pm - Lunch
1:00 pm - Discover
3:30-5:00 pm - Isolate
DAY TWO
8:00 am - Refreshments
9:00 pm - Design
12:00 pm - Lunch
1:00 pm - Iterate to Refine
3:00-3:30 pm - Do