Two powerful countries. Two very different cultures.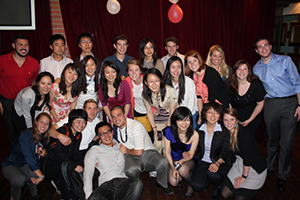 Students from Appalachian State University and China's Fudan University have the opportunity to learn each others' culture and business practices through a prestigious exchange program. It's called the William R. Holland Fellows for Business Study in Asia.
Fudan, one of China's elite universities well known for its School of Management, has collaborated with Appalachian on the Holland Fellows program since 1996.
The program works like this:
Each year, 12 Appalachian students and 12 Fudan students analyze business case studies in small groups through a semester-long class called International Business in China. First, they communicate through e-mail. Then, they work together in person when the Fudan students travel to the United States for two weeks in the spring and again when the Appalachian students visit China during the summer.
One year's participants researched global economic crisis and how it affected both China and the United States. The students presented their research findings to a panel of Chinese and American business leaders in Shanghai at the conclusion of the program.
During the visit to each nation, students participate in lectures given by the host university's faculty, visit major businesses and cultural attractions, and meet with business leaders. They also tour the major cities of Washington, D.C., Beijing, Shanghai and Hong Kong.
"The Holland Fellows Program distinguishes Appalachian from other universities because of the program's focus on undergraduates," says Dr. Unal Boya, professor of marketing.
The program also accepts select graduate students. Admission to the program is based on a student's grade point average and passion for international business.
The Walker College of Business recognizes the importance of international study and has led student groups to other countries as well, including France, Germany, Spain, Japan, Taiwan, India, Belgium, Brazil and Austria. Appalachian's Office of International Education and Development offers additional overseas experiences with over 40 institutional partnerships in over 20 countries.
The Holland Fellows program is made possible in part through the support and generosity of businessman William R. Holland.