Meet Anthony Lawson
Name: Anthony Lawson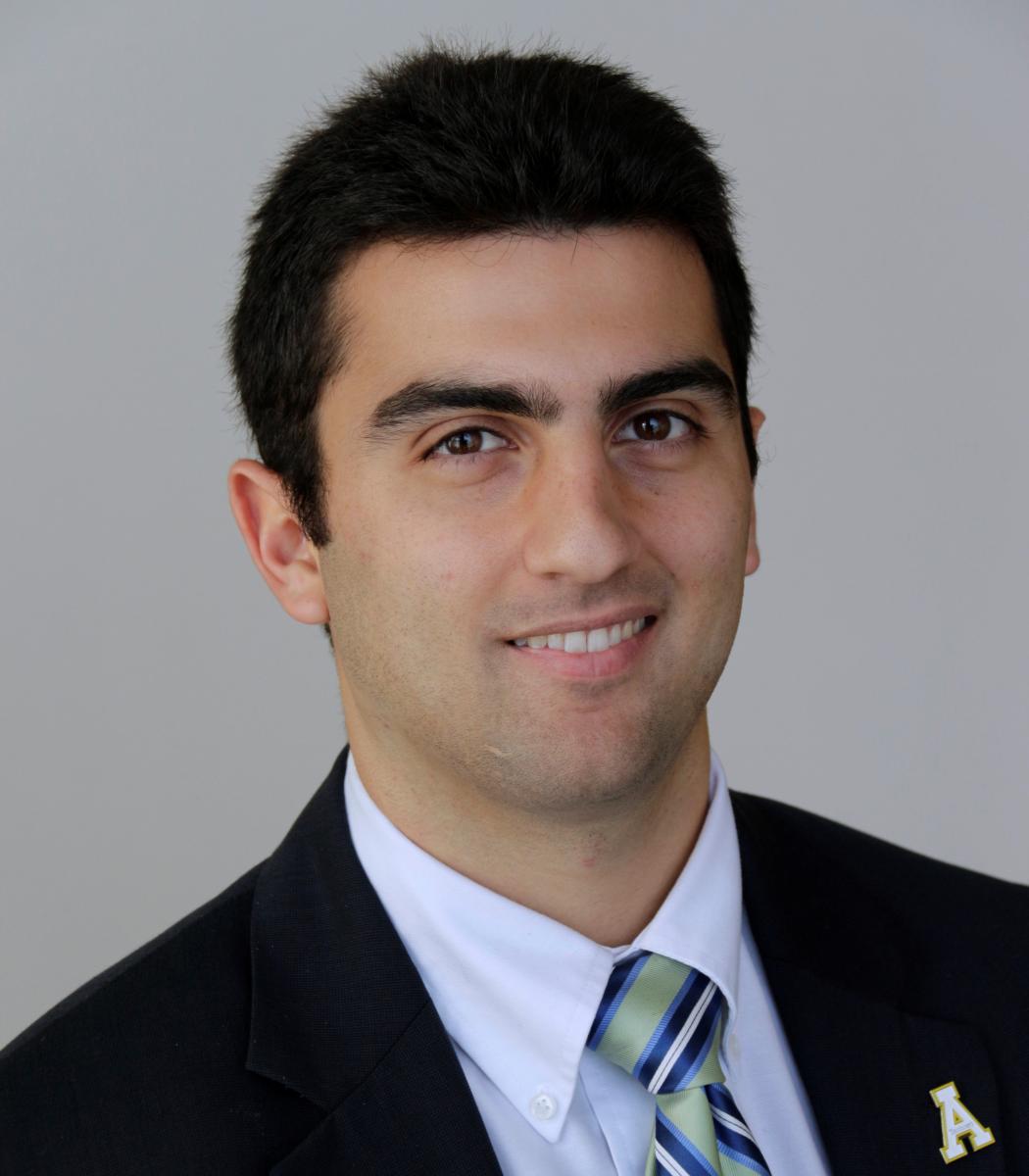 Major: International Business Minor: Spanish
Graduation Date: August 2017

What types of international experiences did you have as a student at Appstate?

I was lucky enough to have been selected as a 2017 Holland Fellow. For two weeks the Chinese fellows from Fudan University came to the United States and then we went to China for three weeks (May-June 2017). Our first stop was Beijing where we visited all of the historical sites such as: the Great Wall, the Forbidden City and Summer Palace. We also toured the headquarters of China Daily, which is one of the largest news publications in China. We took a twelve-hour overnight train to our next destination of Shanghai . Here, we toured the Bund and participated in several activities such as: shopped on Nanjing rd. (most famous shopping outlet in China), bought custom tailored suits from a local vendor, and ate lunch in the Pearl Tower (one of the tallest in the world). We toured one of Hostelworld's offices and were given a presentation on how they have revamped their marketing strategies to millennials. The most important event in Shanghai was participating in the Shanghai Forum where we presented our findings on natural and cultural tourism and how they are targeting millennials. After leaving the hustle and bustle of Shanghai, we went to a more relaxed area of China known as Lijiang. We were able to go to the Yak Meadow and Tiger Leaping Gorge to see some unbelievable views. Our last destinations were was Hong Kong and Macau. In Macau we toured some old churches and gambled in the casinos. In Hong Kong we visited the Big Buddha and went to one of the nicest beaches I've ever been to. I could write a book about everything that I learned and gained from this experience but here are just a few: the amount of opportunities afforded to Americans in China whereas it's the opposite for Chinese looking for employment in America, water quality and availability, value of the $USD, my willingness to try new things that may be uncomfortable, the power of networking, ability to be open to new suggestions and ways of doing something, availability of central AC, washers and/or dryers, foreigners interest in American politics as well as the role that politics plays a role in business not just in China but all over the world.
I was offered an opportunity to stay in Shanghai after the Holland Fellow program was over (June-July 2017). It was one of the best decisions I ever made because I was able work for a local Chinese company and live with the employees in their apartment. I was a international business research intern, investing in ways Chinese companies could invest in Africa. In the office, I learned about the methods of vast expansion in China over the last 30 years and how Africa plans to follow suit with the help and experiences from the Chinese. All in all though, I learned more about Chinese business culture, proper etiquette, how to conduct a sales meeting, emerging global business trends and some tips on starting a business. I was able to understand how Chinese millennials viewed life at home and what they thought of Americans. One of my biggest takeaways was how fortunate I am to live in the country I do for several reasons, but one in particular really hit at home for me. As an American making a fairly good salary and having paid time off, I can travel the world for weeks on end and it not be overly expensive. Millennials in China with a comparable educational background make significantly less than I do and don't get nearly as many paid days off, so it's almost impossible for them to afford or find time for an international vacation. I couldn't imagine feeling like I couldn't afford or have time to leave my country to go experience another.
I also participated in an MBA study abroad program to China in March of 2016. After applying for the Holland Fellows and not getting in as a junior, I wanted to find a way to still go to China. I felt, as an IB major, that this was one of the most important countries for me to establish connections in and understand their business culture. This trip was led by Dr. Charlie Chen and only MBA students were partaking in it. Therefore, not only was this my time abroad, but I barely knew the faculty leader and didn't know one person participating in this trip. We went to Beijing, Guangzhou and Shanghai. In Beijing, we toured the historical sites such as the Great Wall, Forbidden City and the Summer Palace. Additionally, we went to Beijing International Studies University to meet with their students and listen to a lecture about the evolution of Big Data. In Guangzhou, we toured the plants of GE Aviation and Otis. Shanghai was our last destination where we experienced the Bund. One of my biggest takeaways from this trip was that I can make friends with all different backgrounds. By the end of the trip, I had developed a relationship with all of the Appalachian students on the trip (still stay in constant contact with some of them today) and developed such a good rapport with Dr. Chen that he agreed to be my thesis advisor. Furthermore, I connected really well with two students from Beijing International Studies University. Luckily, they decided to further pursue their studies at Appalachian, so I was able to further the relationship here.
When you were searching for a job after graduation, were any of these experiences/language studies helpful in finding a job? In what way?
Going on two international trips and being intermediate in a language definitely got my foot in the door with several companies that were hiring for a position that had international potential. For example, there's a large Cuban population in Miami, so just knowing Spanish got me at least an interview with most companies located there. Additionally, for almost every international graduate trainee program, it's strongly recommended that you have studied a language and have studied abroad. Overall, I think partaking in international experiences and knowing another language (along with having a good GPA, student leadership involvement, etc...) will get you an interview at most companies. However, it's up to the student to connect all the dots to explain to the interviewer how all of this knowledge and experience can translate to the job being applied for.
Describe the company you will be working with, what your training program is like, what career opportunities are in store for the short-term.
I have been hired on by Techtronic Industries (TTI). They are the world leader in designing, manufacturing and marketing Outdoor Power Equipment, Power Tools, Floor Care and several other sectors as well. Their top 4 brands based off of sales are Milwaukee, Ryobi, Homelite and AEG. The training program is designed to get the trainee knowledgeable about the products being sold and the customers base. I will be will working in a Home Depot store (TTI sells exclusively through Home Depot) managing and merchandising our brands as well as develop relationships with customers to better understand what TTI is doing well and what needs to be improved upon. I will travel to Milwaukee, Wisconsin (United States HQ) every so often to get hands-on training about the different products we offer and how they work. The training program lasts 12-18 months and after that the trainee choses their career path and location of employment. This flexibility was what attracted me to TTI. If the training program ended today, I'd chose a supply chain role in Hong Kong.
What are your long-term career goals? How has your International Business major and your international experiences at App contributed to helping you reach these goals? Are there any things you would do differently? What are your current next steps?
I want to travel to as many countries as I can in my lifetime. I want to gain even more experiences and continue to try things that appear to be uncomfortable and different then what I'm accustomed to. Additionally, I want to meet more foreigners because they each have their own unique story and experiences. Professionally, I'd like to be the COO of a global 500 company. I'm passionate about supply chain/operations and international business, so I think that role makes the most sense for my future self. .
The reason that I majored in International Business was in hopes that my job would help allow me to travel to visit several countries, gain unforgettable experiences and make friendships that last a lifetime. Appalachian State has allowed me to go to a country I'd never thought I'd have the chance to go to. I have been able to meet and hear the success stories of prospering international business men and women. I have toured plants and manufacturing facilities of some of the largest companies in the world. I was able to intern for a Chinese company and stay in an apartment with their employees. I researched and presented on business opportunities in Africa. I worked on a cross-cultural project and presented the research at an international forum. I now have friends in almost every continent around the world. These experiences have confirmed that I want to continue to pursue any opportunities I'm offered to work and/or travel abroad.
The only thing I'd do differently would be study for a semester abroad in a Spanish speaking country. My Spanish is at an intermediate level, and I really think if I'd spent a semester in South America or Spain that I could be close to proficient.
My next step is to successfully complete the training program at TTI and then seek out a supply chain role overseas.
Any advice for other international business majors hoping to find a job in the field of international business?
There are a few ways that I'd recommend finding a job in the field of international business. First off, seek out an international graduate trainee program. Appalachian has connections with Delhaize and Volvo who both offer this type of employment (you can find several online with other companies as well). Additionally, there are a plethora of opportunities to teach English abroad. I know that some people may not be interested in teaching as a full-time job, but I have personally heard countless stories of people going to teach abroad for several months and through networking they were offered some type of employment related to their field of study. Furthermore, you can go the route that I did; find a company that has global operations and offers the chance to work abroad at a later point. There are currently Appalachian alumni who are in their late 20's, employed by TTI, that are managers/directors working all over the world.