Meet Carol Kline
Hospitality and Tourism professor Carol Kline has co-directed many study abroad programs to Ghana and to Cuba, and her most recent course to the Galapagos Islands, Ecuador is the Department of Management's first Sustainable Tourism program.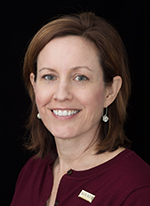 Kline, who earned a bachelor's degree in Psychology from Wake Forest University, and a master's degree in Parks, Recreation & Tourism Management and a PhD in Tourism Planning & Policy from North Carolina State University, has been interested in sustainable practices around tourism for years. Prior to joining the faculty at Appalachian in 2014, Kline worked at East Carolina's Center for Sustainable Tourism and the Department of Recreation & Leisure Studies; taught at North Carolina Central University's Hospitality & Tourism Administration program for two years, and worked with Cooperative Extension for ten years to provide outreach on tourism development issues to North Carolina's rural communities. She also served for two years as Director of Tourism for HandMade in America in Asheville.
Kline's research interests focus broadly on tourism planning and development and tourism sustainability but cover a range of topics such as foodie segmentation, craft beverages, agritourism, animal welfare in tourism, tourism entrepreneurship, niche tourism markets, and tourism impacts to communities. Additionally, she is part of a network of researchers who focus on Race, Ethnicity, & Social Equity in Tourism (RESET), an effort headed by Dr. Derek Alderman at the University of Tennessee.
Kline now chairs Appalachian's Sustainable Business Committee for Sustainable Practices and Student Engagement and is working to cultivate a culture of sustainability in the Walker College of Business. The committee is working to implement a dashboard in Peacock Hall that will display real-time sustainability metrics from the building and community in Peacock Hall. She believes it is key for people to have knowledge about their footprint, the effect they are having on their environment. Kline is working toward informing the administration about the knowledge base of faculty members and students as well as the interest in current or future sustainable initiatives. She hopes to implement a student survey this semester to gauge the capacity of students to engage with the university's and college's sustainability goals. Kline's team is also working to help departments in the college achieve green certification by Appalachian's Office of Sustainability.