Linda Meznar
Type: Dean's Office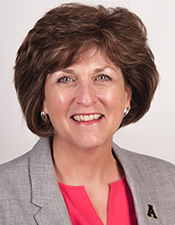 Linda Meznar is the business manager and executive assistant to the dean for the Walker College of Business at Appalachian State University.
Linda brings to her role budget and administrative experience from the nonprofit organization management industry. She previously served as program specialist for the Brantley Risk and Insurance Center in the Walker College, where she worked closely with the board of advisors and managed foundation funds. Linda is an alumna of Bryan College, having earned her bachelor's in business administration.
She can be reached by email, meznarll@appstate.edu or by phone, (828) 262-2058.
Position: Business Manager and Executive Assistant to the Dean
Phone: 828-262-2058
Office: 4135 Peacock Hall
Email: meznarll@appstate.edu