Chip Bowers Bio
Chip Bowers '95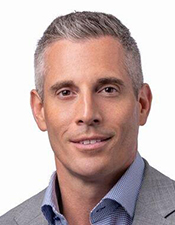 Chip Bowers is a highly regarded and well respected sports executive with over twenty-four years of experience as a senior leader with some of the most revered brands in professional sports.
Mr. Bowers most recent role was as the President of Business Operations for the Miami Marlins. Prior to his arrival in South Florida, Bowers was in his sixth season as the chief marketing officer (CMO) of the Golden State Warriors. In the role, Mr. Bowers oversaw all broadcasting, marketing, retail and corporate partnership sales & service efforts for the organization. During his tenure, the Warriors corporate partnerships department grew from 27th in the NBA in revenue to tops in the league. In addition he and his team set numerous NBA revenue records with the sell of naming rights, founding partnerships and a jersey rights sponsorship. The team also ranked fourth in the world in digital fan engagement across all social media channels and received several prestigious awards for its efforts on the business side, including the SportsBusiness Journal's Sports Team of the Year award in 2014 & 2016, and a league high number of awards at the NBA Sales and Marketing meetings in three of the last four years he was with the team.
Mr. Bowers joined the Warriors after a four-year stint with the Orlando Magic, where he rose to the team's senior vice president of corporate partnerships & marketing. With the Magic, Mr. Bowers oversaw the marketing, corporate partnerships sales and client services process for the organization, while orchestrating the sale of naming rights and all founding partnerships associated with the Amway Center – the Magic's arena that was named 2012 Facility of the Year by the SportsBusiness Journal. Under his direction, the Magic's corporate partnership team also won the inaugural Sponsorship Activation Award at the NBA Sponsorship Meetings in 2012. He originally joined the Magic in June of 2008 as vice president of corporate partnerships.
Prior to joining the Magic, Bowers spent eight seasons in various roles within the business development department for the NBA's Seattle SuperSonics. In May of 2007, Mr. Bowers was promoted to vice president of business development, where he oversaw the corporate partnership development, revenue generation and client services for both the Sonics and Seattle Storm of the WNBA.
A graduate of Appalachian State University, Mr. Bowers began his career in professional sports with the San Diego Padres. Mr. Bowers and his wife, April, currently reside in Boone with their two daughters.