Stephanie Moretz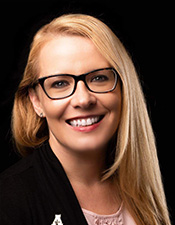 Ms. Stephanie Moretz serves as an instructor for Business 4000, the college's capstone course demonstrating competence in oral and written communication, thinking critically and making local to global connections. Moretz is an Appalachian alumna, having earned her master's degree in Higher Education. She joined the faculty as part of the Global and Civic Engagement team in Fall 2021.
Phone: 828-262-8554
Email: moretzsm1@appstate.edu
Linkedin: linkedin.com/in/stephaniemariemoretz
---
As a proud graduate of Appalachian State University with a Masters's in Higher Education, I believe in a classroom that works together to develop a learning community that is inclusive and respectful. I currently serve as an instructor for Business 4000, the college's capstone course demonstrating competence in oral and written communication, thinking critically, and making local to global connections. I also serve as a representative on the Walker College of Business's Diversity Equity and Inclusion team. The DEI team is committed to promoting an inclusive environment for all Appalachian business faculty, staff, and students to enhance their cross-cultural and community leadership and engagement. Our diversity may be reflected by differences in race, culture, age, religion, sexual orientation, socioeconomic background, neurodivergent thinking, and other social identities and life experiences. I wish to support an inclusive learning environment in which diversity and individual differences are understood, respected, and valued. I believe that all students benefit from training and practices that will help them to learn, lead, and serve in an increasingly diverse world. I will attempt to demonstrate civility and respect for the dignity of all students. My teaching philosophy is shaped, molded, and consistently formed through each learning opportunity provided. My ideologies Include careful instruction and reflection on subjects pertaining to higher education, subjects that value the diversity of all types of students from all kinds of backgrounds.
Throughout my career, I have carefully collected and analyzed data that has effectively contributed to my innovative solutions in the classroom. As an adjunct instructor, I am now able to apply best practices at an institutional level, practices that help my students prepare for success inside and outside of the classroom. I hope to convey an idea of inclusivity as a leader in my classroom and my community. I will continue to let humility and empathy drive my higher purpose in my leadership role. As an educator and role model, I will continue to collaborate with my students and colleagues to stay at the forefront of social justice standards. These standards will assist our future educators to develop important strategies. These strategies will then drive the growth of positive social identities that will value dignity, self-respect, and pride. Each class is an opportunity to obtain an honest evaluation of one's individual capacity to perform and emphasize the need for a willingness to push beyond personal limits that students may have previously believed existed. Students can then start to develop a persistent determination to excel and to learn the value of character and teamwork in their professional and personal lives. If this is done efficaciously, each class can provide a transformational experience.
Warm Regards,
Mrs. Stephanie Marie Moretz
she/her/hers