The Doug May CIS Scholarship
Preparing students to lead purposeful lives. Retired Professor Dr. Doug May embodied this Mountaineer vision in the Department of Computer Information Systems (CIS) and Supply Chain Management at Appalachian State University. From 1982 until his retirement in 2012, Dr. May displayed a genuine passion to see each of his students grow, both inside and outside of the classroom.
"The effort that Dr. May put into making sure that he was accessible to me for help with coursework, job fairs or any matter in between left a lasting impression on me and helped me graduate with a sense of direction that shaped my career," said a former student. "I would not be where I am today if it wasn't for the engagement and interest Dr. May took in my academic journey," said another.
The new Dr. Doug May CIS Scholarship honors the special impact he had on many former students while providing critical scholarship support to a current CIS major displaying financial need and strong academic achievement. The Dr. Doug May CIS Scholarship serves as a reminder of the extended value that students receive when professors take personal interest in their lives, caring about them not only as students, but also as friends.
About Doug May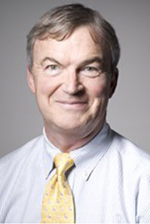 Dr. Doug May retired from Appalachian State University in 2012. A former commissioned officer in the U.S. Marine Corps, May joined the faculty in the Walker College of Business' Department of Decision Sciences (now the Department of Computer Information Systems and Supply Chain Management) as an assistant professor in 1982. From 1988 until 1995, he served the Walker College of Business as director of computer information service, providing computer support services for business faculty, staff and students.
Related: Veterans Day 2016: Remarks by Dr. Doug May
May achieved the rank of associate professor in 1993, professor in 1995, and helped lead the department as it underwent a name change from Decision Sciences to Computer Information Systems in 1995. He served as director of the university's academic computing services, part of Information Technology Services, from 1995 until 2007, where he directed support for desktops on campus with a team of 26 full-time employees and approximately 80 students who worked as lab operators and in technical support. May earned his bachelor's from Michigan State University, his MBA and a PhD in Statistics and Research Methods from the University of Northern Colorado.