Web Features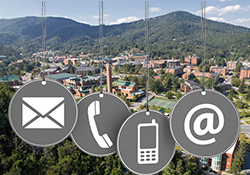 To support sustainability initiatives and to become better stewards of our resources, future editions of Business Leaders Magazine will be sent electronically. Unfortunately, due to inactivity, many alumni email addresses were lost during a recent technology migration. To ensure that Appalachian and the Walker College of Business continue to have the ability to communicate with you, please take a moment to update your email record on file with Goldbook at alumni.appstate.edu. You may also wish to connect your LinkedIn account to your Appalachian alumni record, and, by doing so, you will never have to update your current contact and employment information.
Q&A with Harry Davis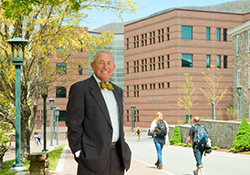 A question and answer session with Dr. Harry Davis reveals his vision and thoughts about Appalachian, the High Country, and life. The article covers multiple topics, from Davis' economic forecast for the next five years in North Carolina to the most valuable tool Appalachian can give students to succeed in the real world.
Economic Analyses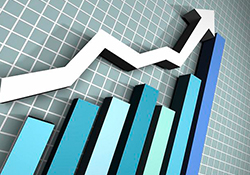 The Walker College's Department of Economics was ranked number one in research among regional university economics departments in the South, according to a 2016 published by Franklin Mixon from Columbus State University's Center for Economic Education and Kamal Upadhyaya from the University of New Haven. The study calls Appalachian an academic beehive in terms of environmental and resource economics. The Department of Economics maintains a blog that houses news on a variety of economics analyses conducted by faculty and student ecocnomic researchers at Appalachian.
David Carroll's Practical Advice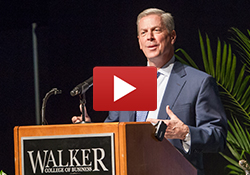 David Carroll, Senior Executive Vice President of Wealth and Investment Management at Wells Fargo & Company was the 57th lecturer in the Boyles Distinguished Lecture Series. He offered practical advice to students during his speech, "Making – and Keeping – Yourself Relevant in Today's World."
Erin Meezan's Interface Story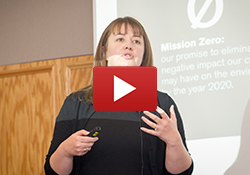 The 2016 GOC, "Problems to Possibilities," featured a keynote address by Erin Meezan, Vice President of Sustainability at Interface. Meezan shares her vision for a more sustainable future.
Alumna:Student Advice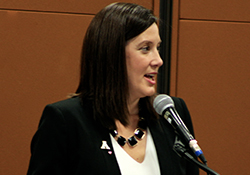 Marketing alumna and Founder of TAKE Success, LLC spoke to students and family members during the Walker College's April 2016 Yadkin Bank Honors Convocation. Read what her five philosophies mean to Murray.
Unal Boya on Studying Abroad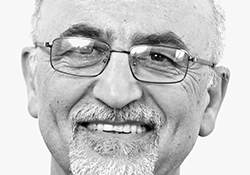 A citizen of the world, Dr. Unal Boya has traveled with students to England, France, Denmark, Sweden, Norway, China, Cuba, Ecuador and the Galapagos Islands. Read why Boya believes the study abroad experience is life changing and what's next for him.
Learn the Lingo: Coffee Talk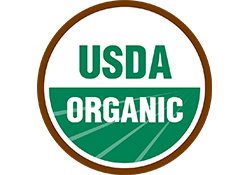 Students traveling to Costa Rica learned that being an educated coffee buyer can make a difference in the quality of life for the pickers and growers. "Fair trade" or "organic" labels on the coffee are not always accurate or regulated. Read an explanation of commonly used coffee certificates.
Freeman's Costa Rica Photo Gallery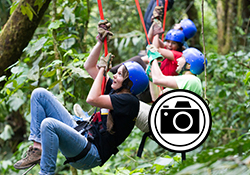 View Appalachian photographer Marie Freeman's photos of Walker College of Business students in Costa Rica. Interspersed with tours of coffee farms and migrant worker housing, factories, co-ops, shipping and distribution centers, the students also zip lined through a canopy of a rainforest, hiked to an active volcano, snorkeled in the crystal blue Pacific and explored the churches, museums and eateries in a number of villages.