Paul Thompson, Founder and Chairman of Transportation Insight, will serve as the 58th Boyles lecturer on Friday, October 28, 2016 at 10:00 a.m. The event, which is open to the public with no fee to attend, will be held in the Holmes Convocation Center.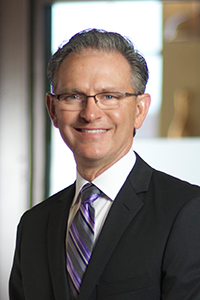 Mr. Thompson began Transportation Insight in the fall of 1999 when he embarked on creating a full-service, client-focused company providing custom-tailored supply chain solutions. He envisioned a company based on principles of integrity, excellence and community that would transform the logistics industry.
Having spent the previous 15 years developing pricing models for some of the largest motor carriers in the United States, Mr. Thompson was already a recognized innovator. With his passion for giving back to the community through organizations like Samaritan's Feet and Ten Thousand Homes, it's easy to understand why Transportation Insight is intensely focused on service to its clients, its associates and its community.
Mr. Thompson holds four executive officer/board-level positions and founded or co-founded six highly successful companies in the transportation/logistics industry. He serves on the board of several non-profit organizations, including the Walker College of Business.
Mr. Thompson is an Arkansas native with an Industrial Engineering degree from the University of Arkansas.
Spring 2016 Boyles Lecture
David Carroll, Senior EVP, Wealth and Investment Management at Wells Fargo & Company was the 57th Boyles Distinguished Lecturer on March 24, 2016 at the Holmes Convocation Center on the campus of Appalachian State University.
Mr. Carroll's speech, Making – and Keeping – Yourself Relevant in Today's World, offered students from all backgrounds relevant advice, including to:

Be intentional about your appearance.

Control your attitude (Y

ou're in charge of your own morale.)

Know where you are, where you want to go, and how you're going to get there.

Volunteer in the community - raise your hand - go do something for someone else.

Be aware that your email and internet activitiy is being monitored.

Make a friend in the technology business.

Smile a lot.

Learn the fine line between recognition and humility.

Be mobile, willing to go where others will not.

Look people in the eye when you talk to them, literally.

Raise your hand. It's an incredible differentiator to be the only one asking for more work.
He also challenged students in attendance to:
Be self aware. Ask for feedback (then listen and act on it.)

Become adept at knowing & reading people, don't overlook the human element.

Develop communication skills, convey ideas to bring people together and get things done.

Be adept at reinventing yourself when you hit life's roadblocks.

Be ambidextrous; Learn to operate fluidly between your left and right brain.

Be well read, adept at developing literacy in career path.
About Harlan Boyles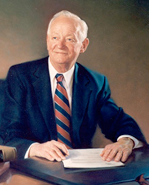 The college's Distinguished Lecture Series began in the Spring of 1988 and is held each semester. In October 1991 the Series was dedicated to Treasurer Boyles in honor of his service to the State of North Carolina. An endowment fund was established at that time, with the assistance of former U.S. Senator James T. Broyhill, to permanently endow the series in Boyles' name.
Harlan E. Boyles (1929-2003) devoted his 49-year career to the citizens of the State of North Carolina. A native of Lincoln County, Boyles was elected to six four-year terms as State Treasurer and served under nine governors. His name was associated throughout the state and the nation with fiscal integrity, hard work and honesty.
Harlan Boyles was dedicated to education, and through his involvement with Appalachian State University and the Walker College of Business, he was able to share his experience, advice and wise counsel with hundreds of students and future business leaders. For eleven years, he came to campus to preside over the bi-annual Harlan E. Boyles Distinguished Lecture Series.
Not only did his association with the Walker College make a difference in many on-campus endeavors, but it also had a tremendous effect on the college's fund-raising efforts. He was honored with three separate endowments in the college -- for the lecture series, student scholarships, and faculty support. These endowments will provide an impact on the college for years to come.
HISTORY OF THE SERIES