Upcoming Lecture
The 60th event in the Boyles Distinguished Lecture Series is scheduled for Friday, March 23, 2018 at 3:00 p.m., and will feature Lord Michael Hastings, Global Head of Citizenship for KPMG International. A reception will follow the event, and both activities will be held in the Holmes Convocation Center on Appalachian's campus.
Spring 2017 Lecture
Held in conjunction with the Appalachian Research in Business Symposium and a meeting of Appalachian's chapter of National Association of Business Economics, the 59th Boyles Lecture featured Dr. John Silvia, Chief Economist for Wells Fargo. Dr. Silvia's lecture, Optimism on Growth on the Basis of Thoughtful Stimulus, was held Friday, March 31 in the Schaefer Center for Performing Arts.
About Harlan Boyles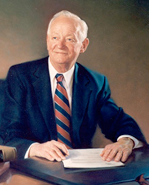 The college's Distinguished Lecture Series began in the Spring of 1988 and is held each semester. In October 1991 the Series was dedicated to Treasurer Boyles in honor of his service to the State of North Carolina. An endowment fund was established at that time, with the assistance of former U.S. Senator James T. Broyhill, to permanently endow the series in Boyles' name.
Harlan E. Boyles (1929-2003) devoted his 49-year career to the citizens of the State of North Carolina. A native of Lincoln County, Boyles was elected to six four-year terms as State Treasurer and served under nine governors. His name was associated throughout the state and the nation with fiscal integrity, hard work and honesty.
Harlan Boyles was dedicated to education, and through his involvement with Appalachian State University and the Walker College of Business, he was able to share his experience, advice and wise counsel with hundreds of students and future business leaders. For eleven years, he came to campus to preside over the bi-annual Harlan E. Boyles Distinguished Lecture Series.
Not only did his association with the Walker College make a difference in many on-campus endeavors, but it also had a tremendous effect on the college's fund-raising efforts. He was honored with three separate endowments in the college -- for the lecture series, student scholarships, and faculty support. These endowments will provide an impact on the college for years to come.