March 31 Lecture
Held in conjunction with the Appalachian Research in Business Symposium and a meeting of Appalachian's chapter of National Association of Business Economics, the 59th Boyles Lecture featured Dr. John Silvia, Chief Economist for Wells Fargo. Dr. Silvia's lecture, Optimism on Growth on the Basis of Thoughtful Stimulus, was held Friday, March 31 in the Schaefer Center for Performing Arts.
Spring Lecturer: John Silvia
Based in Charlotte, N.C., Dr. John Silvia has held his position since he joined Wachovia, a Wells Fargo predecessor, in 2002 as the company's chief economist.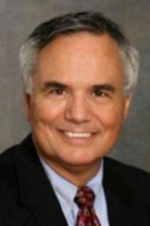 Prior to his current position, Dr. Silvia worked on Capitol Hill as senior economist for the U.S. Senate Joint Economic Committee and chief economist for the U.S. Senate Banking, Housing and Urban Affairs Committee. Before that, he was chief economist of Kemper Funds and managing director of Scudder Kemper Investments, Inc.
Dr. Silvia served as the president of the National Association for Business Economics (NABE) in 2015 and was awarded a NABE Fellow Certificate of Recognition in 2011 for Outstanding Contributions to the Business Economics Profession and Leadership Among Business Economists to the Nation. For the second time in three years, he was awarded the best overall forecast by the Federal Reserve Bank of Chicago, as well as the best unemployment rate forecast for 2011. Dr. Silvia is on the Bloomberg Best Forecast list for his forecasts of GDP, the ISM manufacturing index, housing starts, and the unemployment rate.
Dr.. Silvia holds B.A. and Ph.D. degrees in economics from Northeastern University in Boston and has a master's degree in economics from Brown University. John's first book, Dynamic Economic Decision Making, was published by Wiley in August 2011. His second book, Economic & Business Forecasting, was published in 2014, also by Wiley. Dr. Silvia is a Certified Business Economist (CBE).
Dr. Silvia serves as a member of the Blue Chip Panel of Economic Forecasters and also serves on an informal advisory group for the Federal Reserve Bank of Philadelphia. He served as chair for the Economic Advisory Committee of the Securities Industry and Financial Markets Association (SIFMA) Economic Advisory Roundtable. Dr. Silvia also serves on the finance committee for the Mint Museum in Charlotte, and is a regular lecturer to the Cornell Food Executive Program. Dr. Silvia is past president of the Charlotte Economics Club. He has also served on economic advisory committees to the Federal Reserve Bank of Cleveland, the Federal Reserve Bank of Chicago, and the Public Securities Association.
A strong supporter of education and civic affairs, Dr. Silvia serves as a member of the Business Advisory Council at the Walker College of Business at Appalachian State University and on the President's Council for Charlotte's Central Piedmont Community College. He has previously served as a board member of the British American Business Council of North Carolina, and on the Economic Development Board for the State of North Carolina, a special appointment by the Governor. He has also served on the Business Advisory Committee for the City of Charlotte.
About Harlan Boyles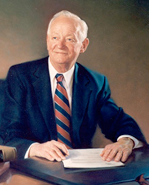 The college's Distinguished Lecture Series began in the Spring of 1988 and is held each semester. In October 1991 the Series was dedicated to Treasurer Boyles in honor of his service to the State of North Carolina. An endowment fund was established at that time, with the assistance of former U.S. Senator James T. Broyhill, to permanently endow the series in Boyles' name.
Harlan E. Boyles (1929-2003) devoted his 49-year career to the citizens of the State of North Carolina. A native of Lincoln County, Boyles was elected to six four-year terms as State Treasurer and served under nine governors. His name was associated throughout the state and the nation with fiscal integrity, hard work and honesty.
Harlan Boyles was dedicated to education, and through his involvement with Appalachian State University and the Walker College of Business, he was able to share his experience, advice and wise counsel with hundreds of students and future business leaders. For eleven years, he came to campus to preside over the bi-annual Harlan E. Boyles Distinguished Lecture Series.
Not only did his association with the Walker College make a difference in many on-campus endeavors, but it also had a tremendous effect on the college's fund-raising efforts. He was honored with three separate endowments in the college -- for the lecture series, student scholarships, and faculty support. These endowments will provide an impact on the college for years to come.
Spring 2016 Boyles Lecture
David Carroll, Senior EVP, Wealth and Investment Management at Wells Fargo & Company was the 57th Boyles Distinguished Lecturer on March 24, 2016 at the Holmes Convocation Center on the campus of Appalachian State University.
Mr. Carroll's speech, Making – and Keeping – Yourself Relevant in Today's World, offered students from all backgrounds relevant advice, including to:

Be intentional about your appearance.

Control your attitude (Y

ou're in charge of your own morale.)

Know where you are, where you want to go, and how you're going to get there.

Volunteer in the community - raise your hand - go do something for someone else.

Be aware that your email and internet activitiy is being monitored.

Make a friend in the technology business.

Smile a lot.

Learn the fine line between recognition and humility.

Be mobile, willing to go where others will not.

Look people in the eye when you talk to them, literally.

Raise your hand. It's an incredible differentiator to be the only one asking for more work.
He also challenged students in attendance to:
Be self aware. Ask for feedback (then listen and act on it.)

Become adept at knowing & reading people, don't overlook the human element.

Develop communication skills, convey ideas to bring people together and get things done.

Be adept at reinventing yourself when you hit life's roadblocks.

Be ambidextrous; Learn to operate fluidly between your left and right brain.

Be well read, adept at developing literacy in career path.