Paul Thompson, Founder and Chairman of Transportation Insight, will serve as the 58th Boyles lecturer on Friday, October 28, 2016 at 10:00 a.m. The event, which is open to the public with no fee to attend, will be held in the Holmes Convocation Center.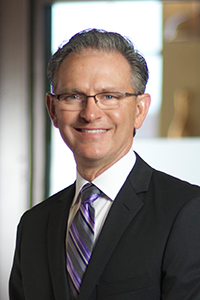 Mr. Thompson is the visionary behind several of the most successful companies in the North American transportation/logistics industry. An Award Recipient at the 2015 EY Entrepreneur Of The Year® Southeast Region, and the inaugural Grant Thornton North Carolina 100 Cultural Leader of the Year, Mr. Thompson has founded or co-founded six highly successful North American companies, including his portfolio's flagship brand Transportation Insight, a global third-party logistics provider with more than $1.5 billion in gross revenues and more than 1,200 clients that range from mid-cap to Fortune 500 companies. He also serves as a business strategist and board member of numerous not-for-profit organizations.
Mr. Thompson's keen ability to stay ahead of the curve in the business world is illustrated by Transportation Insight's success and reputation in the logistics industry. Since its founding in 1999, the company has focused squarely on providing shippers of all shapes and sizes with solutions-rich logistics services only found in the largest, most successful companies. Transportation Insight's non-invasive consultative approach, another Thompson hallmark, has broad appeal in the marketplace because it allows shippers to remain in control of their customer and carrier relationships. Mr. Thompson's belief in providing a broad portfolio of enterprise logistics services under one umbrella, while keeping the customer at the center of the relationship, has fueled Transportation Insight's success. The company has appeared on the prestigious Inc. 5000 Honor Roll of fastest-growing privately-held companies in North America since 2008. Further showcasing Transportation Insight's position as an industry leader, the company earned a 2016 SmartWay® Excellence Award from the U.S. Environmental Protection Agency as a result of its efforts to work with client partners to implement supply chain network and transportation strategies that move goods in the cleanest, most energy-efficient way possible while reducing the impacts of carbon pollution.
As a supporter of many civic, humanitarian, educational and philanthropic efforts through the application of his visionary entrepreneurial skill set, Mr. Thompson exemplifies servant leadership. He is hardwired to believe that work, whether inside or outside of the company, should create significance – that which one accomplishes for others through the giving of their time and talents. Mr. Thompson was instrumental in the establishment of the Transportation Insight Center for Entrepreneurship at Appalachian State University. He currently serves on the board of the aforementioned Center, as well as the Catawba County Chamber of Commerce and Wine to Water, an organization dedicated to converting wine sale proceeds into clean drinking water for those around the world who do not have access to this most basic necessity. He is a past Board Chairman of Hickory Christian Academy and Samaritan's Feet, to which Transportation Insight provides logistics and transportation services at no cost. He serves as a strategic adviser to the Supply Chain Management Program at Appalachian State University, Safe Harbor Rescue Mission, Access 2 Excess / Restore Global and various churches in the Hickory, NC, area. In addition to being an ardent supporter of these organizations, Mr. Thompson champions Young Life, Ten Thousand Homes and the President's Council on Fitness, Sports and Nutrition.
In addition to the leadership he provides for these numerous philanthropic organizations and Transportation Insight, Mr. Thompson's investment in the new 66,000 square-foot Transportation Insight corporate campus at the historic Lyerly Mill in downtown Hickory has been a catalyst in the city's efforts to revitalize itself and its downtown area. While the campus is a cornerstone of the company's Vision 20/20 growth plan to become a $3.5 to $5 billion company by Jan. 1, 2020, Mr. Thompson's underlying purpose in the development is to invest in a lifestyle business that promotes physical activity and better overall quality of life for its associates and the community at large.
An Industrial Engineering honor graduate from the University of Arkansas, Mr. Thompson has more than 25 years of executive experience in supply chain, logistics and transportation leadership including business strategy, operations, optimization modeling, supply chain consulting and yield management. Having spent 15 years developing pricing models for some of the largest motor carriers in the United States, Mr. Thompson is a recognized innovator in long-term value creation.
Spring 2016 Boyles Lecture
David Carroll, Senior EVP, Wealth and Investment Management at Wells Fargo & Company was the 57th Boyles Distinguished Lecturer on March 24, 2016 at the Holmes Convocation Center on the campus of Appalachian State University.
Mr. Carroll's speech, Making – and Keeping – Yourself Relevant in Today's World, offered students from all backgrounds relevant advice, including to:

Be intentional about your appearance.

Control your attitude (Y

ou're in charge of your own morale.)

Know where you are, where you want to go, and how you're going to get there.

Volunteer in the community - raise your hand - go do something for someone else.

Be aware that your email and internet activitiy is being monitored.

Make a friend in the technology business.

Smile a lot.

Learn the fine line between recognition and humility.

Be mobile, willing to go where others will not.

Look people in the eye when you talk to them, literally.

Raise your hand. It's an incredible differentiator to be the only one asking for more work.
He also challenged students in attendance to:
Be self aware. Ask for feedback (then listen and act on it.)

Become adept at knowing & reading people, don't overlook the human element.

Develop communication skills, convey ideas to bring people together and get things done.

Be adept at reinventing yourself when you hit life's roadblocks.

Be ambidextrous; Learn to operate fluidly between your left and right brain.

Be well read, adept at developing literacy in career path.
About Harlan Boyles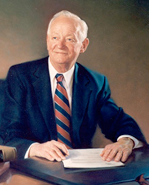 The college's Distinguished Lecture Series began in the Spring of 1988 and is held each semester. In October 1991 the Series was dedicated to Treasurer Boyles in honor of his service to the State of North Carolina. An endowment fund was established at that time, with the assistance of former U.S. Senator James T. Broyhill, to permanently endow the series in Boyles' name.
Harlan E. Boyles (1929-2003) devoted his 49-year career to the citizens of the State of North Carolina. A native of Lincoln County, Boyles was elected to six four-year terms as State Treasurer and served under nine governors. His name was associated throughout the state and the nation with fiscal integrity, hard work and honesty.
Harlan Boyles was dedicated to education, and through his involvement with Appalachian State University and the Walker College of Business, he was able to share his experience, advice and wise counsel with hundreds of students and future business leaders. For eleven years, he came to campus to preside over the bi-annual Harlan E. Boyles Distinguished Lecture Series.
Not only did his association with the Walker College make a difference in many on-campus endeavors, but it also had a tremendous effect on the college's fund-raising efforts. He was honored with three separate endowments in the college -- for the lecture series, student scholarships, and faculty support. These endowments will provide an impact on the college for years to come.
HISTORY OF THE SERIES