The Appalachian Research in Business Symposium provides an opportunity for the business faculty of universities in the Appalachian region to share current research interests and outcomes.
Upcoming Events
March 24-25
ARBS 2022 will be hosted by Eastern Kentucky University's School of Business, to be held on-campus in Richmond, Kentucky March 24-25.
Paper Submissions
Submissions are encouraged from scholars who use different theoretical and empirical approaches to deliver the latest research results in different business fields (e.g., Accounting, Data Analytics, Business Education, Computer Information Systems, Communication, Supply Chain Management, Economics, Entrepreneurship, Finance, Hospitality and Tourism, Management, Marketing, Risk Management, Insurance, International Business, Technology, Business Law, Sports Management, Project Management, and similar disciplines). Submissions are due by January 24*, and authors will be notified of acceptance by February 16. There are two options for submission:
Short Paper Submission: Submissions should have approximately 750-2000 words. Accepted short papers will be published in the ARBS 2022 proceedings, unless the author requests otherwise.
Abstract Submission: Submissions should have approximately 300-500 words. Abstracts will not be included in the proceedings.
Submissions will be peer-reviewed for acceptance, and at least one author from each accepted submission is required to register for the conference and attend to present the research project on Friday, March 25. There will also be a welcome reception on the evening of Thursday, March 24. To ensure proper formatting, please use the embedded templates on the Call for Papers website when preparing your submission.
*Updated from originally posted date.
Conference Registration
The registration fee for the conference is $100.
The conference offers a discounted rate of $30 for student registration.
Learn more on conference website, business.eku.edu/arbs-2022, or register now.
ARBS at AppState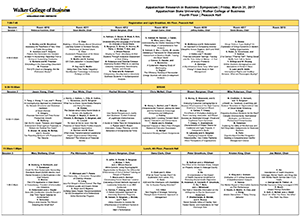 Appalachian State University last hosted ARBS in 2017.
The Appalachian Research in Business Symposium (ARBS) was held on the campus of Appalachian State University March 30-31, 2017. More than 100 business faculty members from Appalachian, Eastern Kentucky, Eastern Tennessee State University and Western Carolina came together to share current research interests and outcomes. Research was presented from a variety of business disciplines including accounting, computer information systems, economics, entrepreneurship, finance, hospitality and tourism, management, marketing and supply chain management. The 2017 conference included a reception for participants on Thursday, March 30 and conference proceedings and a keynote address on Friday, March 31. The ARBS keynote featured Dr. John Silvia, Chief Economist, Wells Fargo. His talk, Optimism on Growth on the Basis of Thoughtful Stimulus, was sponsored by the Boyles Distinguished Lecture Series.