Boyles Distinguished Lecture Series
64th Boyles Distinguished Lecture
Lessons in Leadership: Baseball to Business
Thursday, April 20, 2023
Schaefer Center for the Performing Arts
2:00 p.m.
The 64th event in the Boyles Distinguished Lecture Series will feature Mr. Jamie Harris, Chief Financial Officer at RXO. Mr. Harris is a current member of App State's Board of Trustees and an alumnus of the Walker College of Business. The Boyles Lecture is open to the public with no cost to attend.
About Jamie Harris
Jamie Harris '84 provides strategic financial counsel and direction as RXO enters its next phase of rapid growth. Mr. Harris brings 35 years of business-to-business experience to his role as RXO's chief financial officer, including more than two decades in high-level roles for public companies.
Prior to RXO, he served as chief financial officer and treasurer at global manufacturer SPX Technologies. He's held similar positions at Coca-Cola Consolidated and Elevated Textiles, Inc., where he also served as interim chief executive officer. He began his career with Ernst & Young LLP.
Mr. Harris holds a master's degree in business administration from Wake Forest University and a bachelor's degree in accounting from Appalachian State University, where he currently serves on the board of trustees.
About RXO
RXO (NYSE: RXO) is a leading provider of asset-light transportation solutions. RXO offers tech-enabled truck brokerage services together with complementary solutions including managed transportation, freight forwarding and last mile delivery. The company combines massive capacity and cutting-edge technology to move freight efficiently through supply chains. RXO's proprietary technology connects approximately 10,000 customers with over 100,000 independent carriers across North America. The company has approximately 7,000 employees and is headquartered in Charlotte, N.C. Visit RXO.com for more information and connect with RXO on Facebook, Twitter, LinkedIn, Instagram and YouTube.
Register to Attend
History of the Boyles Series
About Harlan Boyles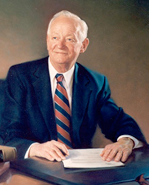 The college's Distinguished Lecture Series began in the Spring of 1988. In October 1991 the Series was dedicated to Treasurer Boyles in honor of his service to the State of North Carolina. An endowment fund was established at that time, with the assistance of former U.S. Senator James T. Broyhill, to permanently endow the series in Boyles' name.
Harlan E. Boyles (1929-2003) devoted his 49-year career to the citizens of the State of North Carolina. A native of Lincoln County, Boyles was elected to six four-year terms as State Treasurer and served under nine governors. His name was associated throughout the state and the nation with fiscal integrity, hard work and honesty.
Harlan Boyles was dedicated to education, and through his involvement with Appalachian State University and the Walker College of Business, he was able to share his experience, advice and wise counsel with hundreds of students and future business leaders. For eleven years, he came to campus to preside over the bi-annual Harlan E. Boyles Distinguished Lecture Series.
Not only did his association with the Walker College make a difference in many on-campus endeavors, but it also had a tremendous effect on the college's fund-raising efforts. He was honored with three separate endowments in the college -- for the lecture series, student scholarships, and faculty support. These endowments will provide an impact on the college for years to come.
Boyles lectures were held each semester through 2016, and beginning in 2017, the lecture became an annual event.