Speaker Name: John Osborn
Speaker Title: President & CEO
Speaker Company: BBDO New York
BBDO New York Website
CEO Lecture Video - John Osborn

Executive Luncheon Lecture Video - Georgette Dixon


April 15 Boyles CEO Lecture at Appalachian's Holmes Convocation Center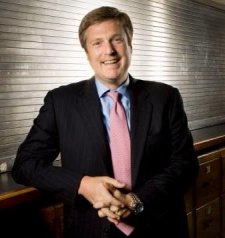 John Osborn, President and CEO of BBDO New York, was the featured speaker during the 55th Boyles Distinguished CEO Lecture on Wednesday, April 15, at the Holmes Convocation Center on the campus of Appalachian State University.
Mr. Osborn has served as President and Chief Executive Officer of BBDO New York for more than ten years – longer than any other New York agency executive. Under Mr. Osborn's leadership, BBDO New York has more than doubled revenues, expanded its client base and diversified its workforce.
Mr. Osborn joined BBDO New York in 1991, and throughout the years, he has demonstrated that he is an energetic, positive and passionate leader with a proven ability to build strong client relationships and to lead big multi-disciplinary teams in the creation of powerful communication programs. He has been actively involved with many of the agency's clients including FedEx, Foot Locker, Johnson & Johnson, GE, Lowe's, Mars, Monster.com, Visa and the American Red Cross. Mr. Osborn began his BBDO career on Pepsi and was the principal architect of the agency's integrated marketing efforts, expanding the agency's service offerings to include digital marketing, direct, CRM and custom publishing. He also helped lead the "New York Miracle" campaign, which lifted spirits of New Yorkers in the wake of the September 11 attacks. Mr. Osborn was named President and CEO of the New York agency in February 2004.
BBDO New York has been named an Agency of the Year 15 times by various media outlets under Mr. Osborn's leadership. The agency delivers some of the most innovative cross-channel ideas and TV work in the industry. Commercials from BBDO New York for Snickers and M&M's were voted the most popular in the Super Bowl in two of the past five games. In 2014, a commercial for GE was nominated for a prime time commercial Emmy.
Mr. Osborn serves as President of the Board of Directors of the Police Athletic League of New York and serves as a Board member of the Christopher & Dana Reeve Foundation. In addition, he has recently been named Chairman of the Board of the New York Chapter of the American Red Cross.
Mr. Osborn is passionate about the importance of diversity in the industry. He has served as Chairman of the Board for the Center for Excellence in Advertising at Howard University and as Chairman of the Board of the American Advertising Federation (AAF), the "unifying voice for advertising." More recently, Mr. Osborn accepted an invitation from Fordham University to serve as an Executive-in-Residence for its Center for Positive Marketing.
In recognition of his accomplishments, Mr. Osborn was a recipient of a 2012 AdColor Award celebrating diversity champions in advertising, media, marketing and public relations. In 2003, he was inducted into the AAF Hall of Achievement, which honors people 40 years of age or under for their contributions to business. He has also been named to the Crain's New York Business list of "40 under 40" as well as BtoB magazine's "Who's Who in BtoB." In 2006, Mr. Osborn was named a "Young Global Leader" by the World Economic Forum.
Mr. Osborn earned his BA at Dartmouth, for which he continues to serve as a member of its Alumni Association and Friends of Dartmouth Hockey Program.
The Boyles lecture series was created in 1988 by (then Walker College Assistant Dean) Ken Peacock to bring high-level business executives to campus so students could learn first-hand from industry experts. Throughout its 27-year history, CEOs from companies including State Employees' Credit Union, Duke Power, BB&T, Wachovia, GlaxoSmithKline, Bank of America, Goodrich, BellSouth and Lowe's, have spent a day on Appalachian's campus as a Boyles lecturer.
Students may receive course credit for attendance; check with your professors. Off-campus guests may park in the Rivers Street Parking Deck. Shuttles will run between Raley Circle, Rivers Street Parking Deck, and Holmes Convocation Center.
BBDO commercials that ran during the 2015 Super Bowl include: