Speaker Name: Mr. Jim Blaine
Speaker Title: President & CEO
Speaker Company: State Employees' Credit Union
State Employees' Credit Union Website
CEO Lecture Video - Jim Blaine


Executive Luncheon Lecture Video - Mark Vitner

Oct. 9 Financial Stewardship for North Carolina Transcript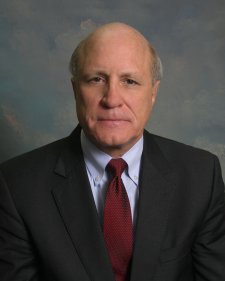 Mr. Jim Blaine is president and CEO of State Employees' Credit Union (SECU). He has served as CEO since 1979. Mr. Blaine has served as a member of various advisory boards, including CUNA Roundtable Advisory Committee, the Thrift Institutions Advisory Council of the Federal Reserve Board in Washington, D.C., the National Credit Union Advisory Board of Fannie Mae, the Credit Union Council Board of the National Association of Credit Union Supervisors in Washington, D.C., the Board of First Carolina Corporate Credit Union in Greensboro, the Latino Community Credit Union in Durham and the Board of the National Cooperative Business Association, among others. He is also a CPA (inactive). Mr. Blaine is a graduate of the University of North Carolina at Chapel Hill and holds an MBA from Duke University. State Employees' Credit Union
SECU is the second largest credit union in the U.S., with $28 billion in assets and serving 1.8 million members. Membership in the credit union is limited to North Carolina state employees, public school employees and their families. The credit union serves its members through 250 branch locations, six call centers and a 1,200 unit proprietary ATM network (CashPoints) with locations in all 100 North Carolina counties. The credit union employs 4,200 North Carolinians.
A not-for-profit cooperative association, the credit union's motto is
"People Helping People" and operates with the working principle of "Do the Right Thing." The purpose of the credit union is to promote thrift among its members by affording them an opportunity to accumulate their savings, create for them a source of credit at a fair and reasonable rate of interest and provide them with an opportunity to use and control their money to improve their economic and social condition.
In 2004, SECU chartered the SECU Foundation to promote local community development primarily through high impact projects in the areas of housing, education, health care and human services. Foundation projects include scholarships for NC public high school and community college students, NC teacher housing initiatives, SECU Family House at UNC Hospitals, among others.