Speaker Name: G. Alexander Bernhardt Sr.
Speaker Title: Chairman and CEO
Speaker Company: Bernhardt Furniture Industries
Bernhardt Furniture Industries Website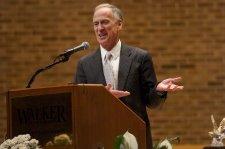 Thank you Senator Broyhill for that introduction. The Broyhills and Bernhardts have been close friends for several generations, and it is an honor and pleasure to have you here today. Let me also thank my friend, Chancellor Peacock, and Dean Edwards for the opportunity to be here today.
My family has enjoyed a rich and long heritage with this great institution. My grandfather was a trustee here from 1903 to 1933; my wife, Anne, who is with us today, received her master's degree here; and our company is blessed to employ a number of great Appalachian graduates. I want to particularly recognize the tenth anniversary of the Holland Fellows Program and to recognize the outstanding visiting guests here today from Fudan University. I have long been impressed by this program, and our company even hired one of the graduates of this program to work in our office in Dongguan, China.
Today, I want to tell you briefly about myself, but mostly about our business, and also about the enormous changes we have experienced in moving onto a global platform. I would like to close later with five brief suggestions for success, and these will be very similar to the ones that I delivered ten years ago here to another group; Ken Peacock told me later he had written down and retained these five points, so perhaps I will be practicing self-plagiarism.
I was born in Lenoir, and after graduating from Davidson College, I returned home in 1965 to go to work for my father in our family furniture business. Both my personal and professional lives at that time, in retrospect, seemed simple and pleasant and relatively easy to manage. The home furniture business then, as today, was divided basically into casegoods and upholstery, with casegoods being wooden products for bedroom and dining room, while upholstery is obviously sofas and chairs for the living room. Bernhardt Furniture was primarily in the casegoods business, and we had literally only a handful of competitors, including my friends and neighbors at the Broyhill family and company. Upholstery was then, as today, more fragmented, as there were fewer barriers to entry. Virtually all of the home furniture products were made in the United States, with practically all being produced within 100 miles of where we sit today.
The 1960s and '70s were generally prosperous times for our company and our industry, despite a war in Vietnam, gasoline shortages, and President Nixon's abortive price controls. Bernhardt grew through acquisition of three neighboring companies with their own brands, as well as through organic growth and the construction of new facilities. Our largest product category was inexpensive dining room casegoods, where it seemed we simply could not make enough to keep up with demand.
So, in 1978, we built the largest plant we had ever owned, equipping it with the finest Italian and German machinery to make the cheapest dining room products we could design. We decided to use an extensive amount of polystyrene plastic and printed veneer to lower our costs. We even had Senator Sam Ervin, of Watergate fame, cut the ribbon.
But, guess what? Within thirty-six months the place was closed! My world and the furniture world had changed quickly and dramatically due to two reasons. First, President Carter's fiscal monetary policies drove interest rates to 21%, with an abrupt and sharp recession to follow. Secondly, I noticed a quiet new competitor that I had never heard of that was selling dining room furniture, similar in style to mine, that was produced somewhere in Asia. I was amazed to discover, however, that for the same price I was charging for plastic and printed furniture, they were offering beautifully handcrafted all-wood products. I simply could not believe that it was possible to manufacture products like these in Asia and ship to the United States and still sell them for better values than I could produce. It took about three years of our struggling to fill our new factory with orders, while competing against this new rival and struggling through the recession, for me to decide the best course of action was to close my new facility. This was indeed difficult, as we had invested heavily in assets and fine people, and we had never closed a facility since my grandfather began the business in 1889.
However, this cathartic experience forced me to reassess our company's position and the early awakening of globalization in our industry. So, in 1983, I secured an invitation to visit the factory in Taiwan that had basically put our plant out of business, and that owner agreed to work cooperatively with me to produce components and simple products to augment our Bernhardt line. I like an old saying: "the best way to ride a horse is the way it is going," and I could see that the furniture industry, like textiles earlier, was headed to Asia. So, rather than fight the trend, I embraced it.
So, I began a plan to reinvent our company from a vertically-integrated manufacturing orientation to one where products, style, brand and marketing would be the central focus. This became, as it remains today, our strategic competency. We dropped all brand names except Bernhardt, began an extensive brand building program with national advertising, and generally upgraded the quality and price and designs of our offerings. We also began a formalized program of strategic planning, which we continue to use today.
Now, please let me fast-forward about two decades from that first encounter with globalization to tell you where we are today at Bernhardt. Today, we employ about 1,500 associates, 50 of them in four Asian countries, and while this total number is about half of the employees we had in 1980, our sales volume is four times larger. We still offer both casegoods and upholstery in upper middle price points, and we have added a contract or office furniture division. All of our divisions are involved with globalization and off-shoring, with approximately half of our output manufactured under contract for us in other countries.
As an example, we are the licensee for Martha Stewart brand furniture, and that product line has eight countries of origin, including the United States. Incidentally, that licensing experience is an interesting case study in dealing with the unexpected and in how to adapt quickly to a changing environment! After declining opportunities to produce licensed furniture for fashion designers like Calvin Klein, Donna Karen, Georgio Armani, and Tommy Hilfiger, we were approached by the Martha Stewart organization in 2001 with a proposition to produce and market a co-branded collection of furniture. I said to myself, "finally, we have found a partner with rock-solid credentials within the home." However, within sixty days of signing our deal, Ms. Stewart allegedly misrepresented a securities transaction, and the next three years found me unexpectedly having to simultaneously juggle the launch of the line, defend our collective reputations, and ultimately visit her as a friend in a federal penitentiary in West Virginia. Fortunately, through persistency, loyalty, determination, and pooled skill sets, we have been very successful with this globally sourced product line.
But, back to globalization, certainly, the most difficult and painful part of offshoring is the loss of jobs in our domestic manufacturing facilities. As Dr. Todd Cherry, an economist in the Walker College at Appalachian, has accurately reported, western North Carolina has suffered disproportionately high unemployment since 2001. This trend to outsourcing has been particularly prevalent within the residential casegoods arena, where Bernhardt has now closed all domestic manufacturing facilities, moving the entire product line of that division to Asia. Each of our divisions does some amount of outsourcing, and our corporate aggregate in this hybrid model leaves us manufacturing approximately half of our products in North Carolina in plants, with the other half coming from Asia.
Our company has transformed itself from a manufacturing entity to become a marketing and supplying enterprise with a strong focus on products and the marketplace.
Bernhardt currently has five registered offices in Asia, two in China and one each in Thailand, Vietnam and the Philippines. These offices are staffed primarily by local, bi-lingual, college-educated, individuals, complimented by a few American ex-patriots, and supported by a steady rotation of Bernhardt "travelers" from our headquarters in Lenoir. We have a dedicated and multi-culturally diverse team on the ground in Asia, with one example being Steve Ledford, a manufacturing expert originally from Hickory, who has now moved to Dongguan, learned Mandarin, married a lovely Chinese woman, and fathered a beautiful and bi-lingual daughter. James Fogel, a Lenoir-based supply chain manager, has just adopted an adorable Chinese baby girl.
As Bernhardt began importing over 20 years ago, we have benefited from a first-mover advantage in Asia, where I believe we still enjoy an excellent reputation with our suppliers there.
But, let me return to the subject of the rapidity of change and the need for constant reinvention. As I said, we commit a significant amount of executive time each year to a strategic planning process, and one important issue we debate, at least annually, is the appropriateness of our owning a manufacturing facility somewhere in Asia. Among many important considerations in this debate is the issue of which country would be most appropriate. During the 1980s and the early part of the 1990s, the choice would clearly have been Taiwan, the earliest and most sophisticated venue for furniture manufactured in Asia for the American market. However, in the later part of the 1990s, China began to emerge as the best source, with a number of Taiwanese companies moving their operations into China. But, currencies and foreign exchange rates can create quick surprises, and when Thailand devalued their currency, the Baht, their furniture became a better value than we could find in China, and their government seemed friendly to the investment of foreign capital. However, within 24 months, the Baht had strengthened, and China appeared again to be the right place to do business. Recently, however, protectionist sentiments have increased in this country, and tariffs are now in place on certain textiles and on bedroom furniture manufactured in China, and the recent 3% revaluation of the Chinese currency may be a harbinger of events yet to come. I noticed with concern the proposed Shumer-Graham Bill in our U.S. senate, threatening a 27.5% tariff on Chinese products unless China institutes more dramatic currency revaluation. Should this occur, Chinese furniture, like many products at Wal-Mart, would no longer be a value. Already, we are seeing increasing problems in China from wage inflation, high employee turnover, and more stringent government enforcement of regulations.
And, today we are seeing the rapid rise in furniture manufacturing in Vietnam. Prices on their products are already lower than comparable items made in China. Ironically, when we closed our last casegoods plant in 2005, the high bidder at auction on the machinery and equipment was a Taiwanese businessman who will ship this machinery to his new plant in Vietnam, from which Bernhardt will likely be buying furniture!
Therefore, the pace of change is incredibly rapid, and the dynamic forces involved with offshoring, while exciting, do move at a dizzying pace. The changes in transportation and communications over a decade are awesome. The Internet and VOIP have changed communications forever, and at Bernhardt, our ocean freight and airplane tickets abroad jointly represent our largest annual expenditure. Indeed, "the world is flat."
Our decision to invest more in marketing, selling, and sourcing, as opposed to hard assets for manufacturing, have been the correct strategy for our company. At 117 years of age this year, Bernhardt is simultaneously one of the oldest furniture suppliers, yet one of the most progressive and aggressive in our industry.
As I reflect on what I have learned and experienced over my past 41 years in this business, I come back to the same five general observations I made on this campus a decade ago, and while an incredible amount of change has transpired in my industry, I believe these five tenants remain sound.
First, always practice ethical behavior in both your private and business lives. Good character and good business are mutually supportive and the practice of honesty and random acts of kindness, grounded in spirituality, will serve you well.
Secondly, embrace change with enthusiasm, stay agile and flexible, and be willing to reinvent yourself and your strategies. As well as my service to Bernhardt, I have served on the boards of a major bank and a large public utility, and in those industries, like others, I have been amazed to see the rapidity of change and the need to reassess strategies and to move quickly in different directions.
Thirdly, one must keep a positive attitude, supported by enthusiasm and optimism. It is essential that you see your glass as half full, not half empty. I love the quotation from Abraham Lincoln wherein he said "I believe most people are about as happy in life as they make up their minds to be." Your attitude in life is just as important as your aptitude.
Fourth, I recommend personal courage, which is the determination to overcome fear. Franklin Roosevelt said, "We have nothing to fear but fear itself," and that has certainly been true for me personally. I know that I have had numerous bouts with "fear of failure," concerned that I might lose face and show a personally embarrassing failure, and this paranoia can result in an unwillingness to take action. Instead of "ready, aim, fire," I have seen occasionally in myself and other leaders the tendency toward procrastination and a tendency toward "ready, aim, aim, aim, aim" with a reluctance to take a risk and "pull the trigger." So, take a deep breath, use your best judgment and instincts, and be willing to make a decision and move forward.
Fifth, I believe in diligence and hard work. There simply is no free lunch in business, academia, or anywhere else. Dedication, long hours, and a conscientious approach are indispensable, and I have found that one tends to appear a lot luckier and smarter when you put in more hours and effort.
So, just a quick review; one -- adhere to high ethical standards; two -- embrace change; three -- avoid fear of failure; four -- keep an enthusiastic and positive attitude; and five -- be diligent, strap it on, and work hard!
These are exciting and challenging times, full of great opportunities for our emerging leaders, many of whom are in this room today. I salute you fine students today on your achievements thus far, and send you my sincere best wishes for healthy, happy, and successful careers.
Thanks again for letting me be here with you all today.