Speaker Name: Robert L. Tillman
Speaker Title: Chairperson, President and CEO
Speaker Company: Lowe's Companies, Inc.
Lowe's Website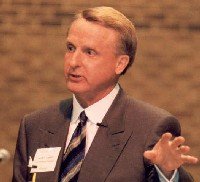 Today I'm going to talk about two success stories, both currently underway Lowe's and yours. I'm going to tell you how Lowe's grew to become one of the top 20 retailers in the country and how you can grow personally, professionally, and financially in retailing. Specifically, I'm going to tell you why you should consider a career in retailing, and, why Lowe's is a company to consider.
This is a great industry the business of retailing building materials and home improvement products. It's great for four reasons: it's big, basic, growing and fragmented. This year, do-it-yourselfers and commercial business customers will spend about $150 billion on the goods we sell in stores like ours. They'll do it even if the economy were to soften, which I don't expect. They spend because our business is so basic. We're right up there with food and clothing. We serve the shelter need. Our industry is growing too, at about twice the rate of retail sales in general.
Finally, this industry is great because it's so fragmented. It's one of the most fragmented, least concentrated forms of specialty retailing. Think about this in the discount store business. K-Mart and Wal-Mart alone have about 75 percent market share. In our industry the top two players Lowe's and Home Depot have a combined share of just 25 percent. To get to 75 percent share in our industry you have to add the combined sales of the next 100 largest companies to Lowe's and Home Depot's sales. It's very fragmented.
Our industry is big, basic, growing and fragmented. And it's changing, especially in the last two decades. Let me take you back to the mid-seventies. It was a time of transformation and disjunction for our country and our industry.
Many of the smaller regional chains (there were no national chains, per se) continued their evolution to the one-stop-shopping concept, expanding their assortments and moving from the basics of hardware, tools and building materials to a medley of general products. They included even larger, more complete assortments of plumbing and electrical supplies, even adding home decor items like carpeting, wallpaper, ready-to-assemble furniture and kitchen cabinets. Some of the more adventurous chains like Lowe's even offered appliances and electronics. They became Home Centers. Expanded assortments were an outgrowth of customer demand and necessitated larger stores. Companies like Lowe's began building bigger showrooms adjacent to their lumber yards.
We were all serving the growing needs of the post-World War II baby boomers, young families moving into 25- and 30-year-old homes. The starter homes of their parents, built after the war, were in need of repair, remodeling, or just serious maintenance. Or, they moved into new stripped down tract homes in the suburbs.
But their needs weren't limited to building materials and products. They also needed guidance and how-to advice because most of these young families, while self-reliant, were nevertheless financially challenged and mortgage enslaved. They couldn't afford to hire the professional help they needed to install the faucets, fences or fans they bought.
By putting together complete assortments and offering expert advice at competitive prices, the companies serving this growing segment of the population grew rapidly. Their success, however, was the demise of many of the more conventional players: the plumbing supply houses, electrical wholesalers, paint and wallpaper outlets, kitchen cabinet design centers, and carpet and tile stores. They were the victims of the one-stop-shopping philosophy... "The Home Center" concept.
The rules had changed. And the specialty wholesalers and independent specialty stores were in trouble. Companies serving the do-it-yourselves proliferated and profited well into the early '80s. They expanded their stores, added new ones, and acquired other regional players.
It was during this time that Lowe's grew to become the largest home improvement chain in the country. Then came the crazy '80s. And two things happened, both changing the competitive landscape forever--warehouse clubs and The Home Depot. Once again the old rules changed.
Complexity may be commonplace, but predictibility isn't. The advent, introduction, and roll-out of the warehouse concept resulted in consumers becoming preoccupied with price. They began defining "value" as "price," displacing other components of the value equation in favor of low price. High volume and low-cost operators swept into power. And Lowe's, for one, stumbled. Many others fell!
The year 1989 was a watershed year for Lowe's. At that time we were the biggest chain in the industry with some of the smallest stores. Lowe's had 295 stores, all with less than 40 thousand square feet. Sixty percent were less than 20,000 square feet, and we were being challenged by a competitor with big footprints 80, even 100, thousand square-foot stores. It was then we began taking the warehouse concept seriously.
I think it's fair to say that one of the best things that ever happened to Lowe's was the Home Depot. As the saying goes, "A good scare is worth more than good advice." We changed; others didn't.
A lot of us don't like to read the handwriting on the wall until our backs are up against it. We began building our big stores in 1990. But, big stores by themselves without the supporting strategies and infrastructure don't work.
We've seen a lot of companies attempt the "warehouse look." Some tried warehouse racking; some peeled tile off their concrete floors, took out ceiling tiles, raised their gondolas, and ran forklifts around their stores at perilous speeds. Several imitators gave up and reverted back to their earlier formats. Many of the newcomers failed. A few survived. But most of these are frantically reorganizing, are on life-support. A couple, but only a couple, succeeded, Lowe's being one of them.
In 1990 when Lowe's began building and opening big stores, we switched to an every day, low price marketing strategy. No more "high-low" pricing where one day the water heater's on sale and the next day it's 30 percent higher. We took our prices down, across the board, and left them there. In order to do that, and do it profitably, we had to change the way we did business.
We had to improve our systems, modify our policies, change our operating procedures, enhance our training programs, augment our assortments, intensify our commitment to service, and dedicate significant resources to what will ultimately prove to be an important competitive advantage. We had to build and operate an inclusive and integrated logistics system and distribution network. We approached the big store concept holistically.
The good news is the big store strategy worked for us. We were successful in transitioning from a chain of small stores to a chain of warehouse stores in less than seven years. In the '90s so far we have achieved a compound sales growth rate of 20 percent, and a compound earnings per share growth of 24 percent. Last year, our fifty-first, sales exceeded $10 billion and today Lowe's is a Fortune 200 Company one of the nation's top 20 retailers traded on the NYSE, and the Pacific and London exchanges.
We have one of the cleanest, best-managed balance sheets in retailing. And, our stock price generally reflects the same. Lowe's employs more than 60,000 people. Those with at least one year of service participate in one of the most successful employee stock ownership programs in the country, along with a very generous ESOP program. That, in part, may explain why Lowe's is the only home improvement retailer listed as one of Fortune magazine's "Best 100 Companies To Work For In America."
The "Big Store" strategy brought us to this point in time and will be an important part of our strategy going forward. We like the big stores and, more importantly, our customers like them. As a result, we will continue to build more of them. Last year we opened 66 new stores. This year we expect to open another 75 to 80. We now operate stores in 26 states from Ft. Myers to Ft. Worth, and from Poughkeepsie to Peoria. We've gone from 7.1 million square feet of selling space to over 37 million in just eight years.
But big boxes alone won't sustain our growth. The reality is, at 70 to 80 stores a year, we need people, great people to continue our growth. A few months ago I heard an astonishing, startling statistic. I was told over 70 percent of high school students, in preparation for college, begin their working careers in retailing. Most of them begin working, principally part time, in entry-level retail jobs at places like The Limited and McDonald's.
But what was disturbing about the report was that only 3 percent of them wanted to be there. Most would have preferred working in some other job, doing something else. This isn't good for either the retailer or the employee. And it's definitely not a good thing for the customers who are paying the bills.
What struck me most about the numbers was the complete breakdown of matched priorities. Students should be seeking a job that will give them a taste of what their career can offer them. Retailers should be offering jobs and opportunities to students who represent a potential pool of career-minded, well educated and motivated employees.
For the most part, the failure resides with the retailers who have simply failed to present a compelling case for a career in the retail sector. Too often too many retailers, in a desperate attempt to fill open positions, hire part-time employees without much regard to their long-term aspirations. Too many times retailers conduct minimal screening, provide superficial training, and afford virtually no career advancement opportunities for students preparing for life in the workforce.
Not surprisingly, but quite understandably, these same students find little interest in pursuing a career where there's limited challenge, little training, no visible management support, and virtually no opportunity for advancement. Their exposure to retail is predicated on working weekends and evenings, standing on their feet for eight straight hours, and serving customers without the benefit of training, product knowledge, or system support. Too often this is a student's first encounter, first experience in retailing. And the adventure is one to be avoided as one plans his or her future career.
Today, selfishly, I want to paint another picture of retailing, a more compelling, more intriguing vision of what your career can be if you choose retailing. Because I'm certain very few of you sitting here today have seriously considered it. Armed with your Appalachian degree you'll have some great opportunities and some interesting choices extended to you. Pick up any newspaper The Wall Street Journal, USA Today, The Mountain Times, The Watauga Democrat, The Appalachian. The only section of the paper exceeding the Want Ads is the daily recap of Bill Clinton's latest escapades. Name your field. There's a headline crying out to you, "Now Hiring," "Help Wanted," "Apply Now." Perks, pay, and pluses in bold type.
But, nobody should be content to earn just a paycheck these days. Careers require planning and due diligence. Pay, vacation and health benefits are important but no more so than the long-term viability of the company and the overall growth potential of the industry. What are your long-term prospects? What are your career goals? And how long will it take you to realize them? How many of you have seriously considered "Retail" as a career option?
For most of you, especially those who have already had some exposure to retail it may seem a very unattractive career path. You've just spent four years earning your degree and I'm suggesting you put on a Lowe's red apron and work in the aisles of our stores alongside employees who have no college degree, no comprehension of marketing, finance, systems, or statistics, who didn't invest four years to earn a degree! Why should you?
Well, I can give you two good reasons. First, If you like people you'll find this job a lot of fun. You never stop learning. Working in the aisles, waiting on the customers is like earning an advanced degree in retailing. You really need the store experience to fully appreciate the scope and joys of the retail business. I do it every week. I spend about 20 percent of my time, usually Thursdays and Fridays, visiting stores, working in the aisles with my red apron on, waiting on customers, and meeting and visiting with employees. Customers are the best educators. Employees are our best source of process improvement ideas.
The second reason you need to start in the stores? You advance quicker. I did! And so did our senior Vice President of Store Operations, Bill Pelon; our Senior Vice President and General Merchandise Manager Greg Wessling; our Chief Operating Officer, Larry Stone. And I could go on. I believe working directly for the customer is an essential element of retailing orientation. I've found our best people, our fast trackers, are those with store experience. They have an empathy toward the customer and a sensitivity to our stores. When they get to the corporate office they are better prepared to deal with the needs and the requirements of our store employees and our customers. They are typically more responsive and more attuned to the demands of our customers and management. But once you've experienced the field side of retail, once you've worked in the store, where to then? Some want to stay and progress up the ladder into store, district and regional management.
They should. There's great opportunity there. We'll need another 600-700 managers and co-managers in just the next five years. That's not counting attrition...people leaving and retiring. Others who have worked the store side look to the support areas for advancement: Logistics, Distribution, Marketing, Finance, Internal Audit, Research, Real Estate, Engineering, Construction, Information Systems, and Human Resources. In these areas they can apply some of the knowledge and disciplines they've gained through their education. There's a lot more to retailing than what one sees on the sales floor.
What are the long-term prospects of retailing? Retailing is HOT! The industry accounts for 18 percent of all U.S. employment. That means almost one in five Americans work in retail. That's not only more than manufacturing, it's even more than government, and that's big. Between 1990 and 1996 retail added an additional two million jobs to the economy. That's like opening three new complete General Motors companies in just six years. Every $100 of retail sales generates $154 or the economy. If you count food establishments it's closer to $200 and there's no sign it's slowing down.
The Department of Labor projects retailing will generate as many as three million additional new jobs by the year 2005. And you can't talk about the future of retailing without mentioning Internet shopping. Is it coming? You bet. Is it going to replace bricks and mortar or store shopping? Unlikely. Why? Because the future of retailing and Internet marketing are not mutually exclusive. It's a lot like those who predicted the end of radio and the cinema when television came on the scene. Both industries have survived and prospered. In both cases it was, and is, purely a matter of adapting, adjusting, and accepting change. Again, a great opportunity for those who are on the ground floor.
Frankly, opportunities abound for those willing to make the investment. And you don't need to look any further than right here among your alumni. There are currently 165 Appalachian State University graduates working at Lowe's.
Steve Stone, an '83 grad with a B.S. in Business Administration, started with Lowe's in 1992 as an MIS director. Today Steve is Vice President of Information Resources, supervises 180 people, and is making a real contribution to our long-term success.
Marc Easter graduated in 1990 with a B.S. in Applied Mathematics and a minor in business. Marc started with Lowe's in 1992 and today is running a $30+ million business in our Lexington, North Carolina store and managing nearly 200 employees.
Carol Perdue, who graduated in 1976 with a B.S. in Business Administration, is Director of Human Resource Business Systems.
Scott Plemmons joined Lowe's in 1980, graduated in 1984 with a B.S. in Business Administration and is today managing a billion dollar business. He's the Merchandising Vice President, responsible for our Lawn and Garden business.
Ken Black, another '83 graduate with a B.S. in Business Administration and a Master's in Accounting, joined Lowe's in 1996. Today he's a vice president and our Corporate Controller.
Vaughn Hayes, Vice President of Store Planning, is a 1968 graduate. (And Vaughn, I believe that was back when Highway 421 was a dirt road.)
These Lowe's employees have what it takes to be successful in retail and they're realizing the benefits and rewards quickly. So what does it take to be successful in retailing? I think six attributes or characteristics:
Flexibility. How many different tasks can you do and do well every day? The global market place changes almost as often as the weather here in Boone. You have to be able to respond to changes at the global level, the national level, and most importantly, at the individual customer level everyday. Retail, like life, is a continual process of remaking ourselves.
Decisiveness. Long response times are a luxury we seldom have in retail. Quick calculated decisions have to be made on the spot. One must act with a sense of urgency. As they say, "He who hesitates is not only lost but miles from the next exit ramp."
Analytical Skills. You have to be familiar with all the tools available, knowing how and when to use them. A practical pragmatic approach to problem solving is a necessity. Technology plays an ever-increasing role in retail. And any technology distinguishable from magic is insufficiently advanced.
Stamina. You've got to be at your best all of the time. Performing under pressure while maintaining professional standards under all manner of working conditions requires concentration, strength, and deep reserves of character. You don't have to stay up nights to succeed. You have to stay awake and alert all day, every day.
Creativity. Curiosity and imagination are wonderful things. Exploit them. An appetite for adventure is a key attribute.
You have to be a people person. You have to like people customers, employees, vendors and suppliers. You have to develop an understanding of the customer's wants and needs and be prepared to satisfy them.
That's the ideal candidate for a position in retail today. If you know someone who meets those qualifications, my number in North Wilkesboro is 336-658-4042. I'll be in the office tomorrow.
As I said earlier, in January of this year, Lowe's was cited by Fortune magazine as one of the 100 best companies to work for in America. The rankings were based on questionnaires randomly distributed to employees within each company surveyed and were designed to evaluate trust in management, pride in work, pride in the company, and camaraderie. Of the 100 best companies, Lowe's created more new jobs over the past two years and provided more training to our employees than any of the other recognized companies.
Fortune also noted, "Everyone who works for this chain of home improvement stores can be a stockholder. Shares are allocated annually at the rate of 14% of pay. A hold of $10,000 in 1990 is now worth more than $60,000." And, based on our current share price that's closer to $95,000 today.
The future of retailing isn't about providing large selections of shelved products. It's more about providing smart solutions to the customer. Traditional retailing, with traditional marketing techniques, has long since matured. New and creative ideas will drive retailers to the top in the future. Where do you fit into this picture? Anywhere you want.
We need to continually renovate and innovate our current business practices. We need to consistently challenge the status quo and assess our competitive advantage. Is it unique? Is it meaningful? Is it viable and sustainable?
For the past several years we've undergone significant change. We've sought ways to improve our stores, our operations, and our offering. We focused on improving customer service, increasing inventory turnover, lowering costs, and adding value to our company. We continually explored better methods and different approaches. We've restructured, reinvented, re-engineered, and reorganized. Maybe even re-energized. We have, and we will, continue to change. And, you can be a part of it.
This isn't a complicated business, although sometimes we make it that way. But the reality is, the truth is, we simply buy and sell merchandise at a profit. It's essential. Our policies, our procedures, and our behavior support us in that endeavor that we make running our facilities and shopping our stores easy and fun.
You can help us do that and you can help us change. Because we have to.
Five years ago Management Horizons predicted that by the end of the decade 50 percent of all retailers would be out of business. Within our industry I suspect the percentage will be higher. Bankruptcies are taking their toll and consolidations are changing the landscape. But I'm not concerned about Lowe's becoming a casualty. I know we'll be in the 50 percent who survive.
But, we're not about survival. This isn't about being around. This is about winning. And it's real simple. When the customer wins, we win.
And take my word for it winning can be a lot of fun and very rewarding and very enriching.