Speaker Name: William E. Buckley
Speaker Title: Chairman and CEO
Speaker Company: Royal Insurance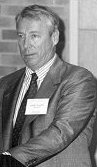 Good Afternoon! We will try and deal with the temperatures today both in terms of the physical environment and also with respect to the insurance environment and the issues that are paramount in the industry today. It is our ability as an industry and Royal's ability as a company to be able to cope with those issues that serve as the foundation of my remarks this afternoon.
We could spend a great deal of time talking about legislative activities, but I'd be a little nervous doing so with such distinguished legislators in attendance. We could talk about things like the McCarran-Ferguson Act and its anti-trust provisions as far as the insurance industry is concerned and whether they are understood or misunderstood. We could talk about the environment, with which all of you are quite familiar, and the impact that I think that it has on the insurance industry. And fourth, we could talk about the impact that the environment has on society and the ability of society to cope with the financial demands of environmental pollution, asbestos, global warming, and damages due to natural disasters such as hurricanes. Hugo was not necessarily an example of global warming, but it certainly indicates what happens when there are storms. The United Kingdom had a hurricane in 1987 which was the first time, they say, in 300 years--they claim they keep pretty good records--so I guess well have to believe them. This year about every thirty days they have another 300-year storm. I don't know quite how to explain that; they say it's global warming. I say maybe it's just bad luck.
These issues strongly impact the industry in which I work and in which some of you will be working in the future. We are in an industry that is very much a part of society. For the most part, we have done that job well. We take a lot of criticism because we are a focal point to consumers as well as legislatures--in terms of problems as reparation systems for automobile insurance, workers compensation, health care, you name it. And as I said, for the most part, we have dealt with these issues. We have an industry that over time has consistently buried its own dead--and by that I mean that when someone becomes bankrupt in this industry and goes under (and fortunately we have had a relatively small, though increasing, number of those) we have taken care of that problem within the industry. Unfortunately, that does not happen in all industries.
When a company has to face as much change as the insurance industry does--because it is a reflection of society--how does it cope? How do you manage it? There are certain principles involved in that management that have a certain amount of universal appeal. The discussion I'm about to have with you is designed for the employees of Royal, both in the U.S. and elsewhere, and deals with the subject of quality. Basically, it deals with the subject of how we strategically survive. The fundamentals are very simple. They are:
thinking,
planning, and
implementing.
They may sound like basics straight out of your textbooks, but they operate as guideposts for the future--a bright future which, I might add, may one day include some of you.
I use the term "Strategic Survival" to differentiate between a dynamic approach to the future and one that simply means "existence." Royal is, without any question, dedicated to strategic survival in a dynamic way.
We are a global company with operations in more than 70 countries representing every industrialized nation in the world. Recently we have begun representing countries that are emerging from the Eastern Bloc.
We're headquartered in London. The U.S. property-casualty operation represents about a third (37 percent) of the total sales of the company and U.S. life represents about 24 percent of our worldwide life sales.
We are first and foremost an underwriting company--which means that our primary business is to assume the financial risks of policyholders that range from individuals to multinational corporations.
While we are involved in many areas related to financial services, we do not describe ourselves as a financial services company. That would tend to detract from our strategic focus which is global underwriting.
As a global company, we do pay very close attention to what's going on in the rest of the world--politically, economically and socially. This, of course, is not an easy task. And, it is increasingly complicated by the rate of change that is occurring and the rate at which those changes are communicated. Countries and industries around the world are all attempting to assess the potential opportunities created by the changes that are occurring.
Just recently, I returned from a trip to the UK, Europe, Hong Kong and Japan. During that trip I met with other insurance companies and Royal clients, the purpose of which was largely to consolidate Royal's relationships with them. We also discussed the changing environments we see in a number of arenas: in former Eastern Bloc nations; in post-1992 Europe, which will have a tremendous impact not only on the European economy but on the U.S. economy as well; and in post-1997 Hong Kong, a very significant financial outpost which will revert to Chinese rule after 99 years under the British crown.
These discussions were interesting and enlightening and ones that I am sure will be reflected in the newspapers of today and eventually in your textbooks. I really think that The Wall Street Journal, Fortune, New York Times, and the Charlotte Observer are your textbooks of today.
It comes down to the question of how do you cope with such graphic change and evolution and how do you survive in an industry that must be proactive in its response to changing environments? The answers don't come as any major surprise and they aren't high tech, highly sophisticated answers. I will go over those qualities that we at Royal use as our benchmarks to judge whether or not the strategies that we have in place will help us survive the future. Hopefully, you will find them useful in developing your own anchor points, without which you will find yourself--and the companies you manage--hopelessly adrift against an ever-rising sea of change in our world. I've chosen to use a technique that's somewhat academic, but one that we've found helpful.
Using each letter of the words "Strategic Survival," let me go through the assessments that we use to determine whether or not we are going to be successful. First, the S in Strategic stands for
Studied. Studied can be defined as a careful analysis that incorporates the views of as many stakeholders as practical. Your case studies and textbooks will certainly give you the basics for solving such problems. But I emphasize that broad participation in that analysis by all stakeholders will give you the real solutions.
Let me give you an example: At Royal a year ago, the senior staff began a study of our situation. We looked at where we were, where we wanted to go and how we wanted to get there. We found we needed an additional--and objective--viewpoint, so we hired McKinsey and Company, a consulting firm, to work with us to gather information from our many stakeholders. We brought in information from policyholders, from our producers, and from our employees. We studied their input, put it with our own thoughts and developed a new strategic direction.
Targeted. I know of no successful companies that have not remained focused on their markets. Newspapers, magazines and books are filled with examples of companies that lost their focus.
The Japanese, for example, targeted the U.S. auto market and most of you know what the results were. They identified a void in the market--a need for small, well-built fuel efficient and inexpensive cars. They targeted that market and gained a foothold in the U.S. market. They're now targeting the expensive end of the U.S. automobile market and will do well. Interestingly enough, they are so concerned that by being so successful they will be targeted by adverse legislation and public reaction.
Based on the studies we've done at Royal, we identified our problem as trying to be all things to all people. We were not targeted, our resources were spread too thin and we were not strategically focused. Our strategy had to include a refocusing on those areas of strength and expertise.
Responsive. In addition to being targeted and focused, one must be knowledgeable about ones markets and be able to respond to their evolving needs. This is particularly true in an industry that must react to societal changes. If one is targeted and responsive, in order to be successful one must also be aggressive.
Aggressive. Companies must pursue their markets vigorously. If they don't, some other company will. Complacency is really the enemy of us all.
Xerox is a good example. Not long ago they had an overwhelming 70 percent of the plain-paper copying industry. They invented the process but took their market domination as a given rather than keeping an eye on the competition. As a result, the Japanese took over the small end of the reprographics market and Xerox will never be the giant it was at one time.
We are determined at Royal that we are going to keep our eye on the ball, that we are going to compete with those markets we have targeted and we are going to do so aggressively. It all takes teamwork.
Teamwork. Successful asset management is the key element to a company's prosperity--for even the smallest of companies. Successful asset management is really a team effort, and failure to recognize that will eventually bring any company to its economic knees.
Emotions. Another element that we use in assessing is emotion. That may seem to be a strange quality. However, I know of no successful individual or company that is not involved in a tangible emotional way with their business. If you don't have a feeling in or for a company, I suggest that you look for other opportunities, because that particular association just wont work. You have to believe in what you're doing and with whom you're doing it.
Growth. The United States is founded on growth. All of our fiscal policies today are driven by growth. It's the single quality that makes companies, industries and countries successful. Because Royal diverted its energies away from growth and into areas it should not have, we found ourselves losing, rather than gaining. We have redirected our energies to ensure our company's and our employees growth. When I was asked to take over at Royal two-and-a-half years ago, one major question I had was whether or not our parent, Royal in London, wanted growth in the United States. There was no way that I had any intention of presiding over an orderly funeral. I wanted to manage a viable, growing company.
Innovative. Innovation is not change for change's sake, but is a way to outpace your competitor to solve the problems of the markets you serve. When Edwin Land invented the instant camera in 1947, he knew it was a better way to take pictures. Of course the end result was exactly the same: eventually you had a snapshot. But Lands innovation in how you reached that result made the difference between having one in minutes and having one in days. He "out-innovated" the competition and created a very successful company that endures today.
Communication. We could spend days on this subject. But, let me leave you with these two thoughts. One: You never can spend too much time communicating. Two: If you ever reach the point where you feel communicating is taking up too much of your time, do your co-workers a favor and retire.
Those are the qualities that we look for on the strategic side. On the survival side, we again apply acid tests, using somewhat the same technique.
Standards. Discipline is absolutely essential, and we cannot establish it without standards. Standards must exist for people to measure themselves and their products by. Royal is solidifying, strengthening and renewing its emphasis on raising its standards so that we can serve our markets well.
IBM may be a company that best exemplifies my point. For decades it has dominated the computer hardware industry because it has very high standards. The resulting high-quality products have made IBM itself the computer industry standard. "IBM Clone" or "It's as good as an IBM" are great selling tools. If a company has a discriminatory compensation program, it must set good standards. We have discriminatory compensations programs in Royal. We discriminate in favor of those who perform well. It is deliberately so, and in most companies and industries today that is the case. But you can't ask people to perform well if you don't give them the standards by which they will be measured.
Urgency. I see and have seen throughout my career a tremendous sense of urgency. I see strategies developed and plans put forth. I see this in corporations, in legislatures, and in regulators. I don't mean chaos, because I absolutely do not believe that chaos is a favorable element. "Organized chaos" to me is an oxymoron; it is certainly one management technique that I don't believe in. Urgency does mean "staying on the edge;" it does mean maintaining intensity. It does mean having a high energy level and it does mean self-motivation.
Realistic. Most individuals and companies are not at a loss for opportunities. I think that you will find in your careers, and in your seeking of employment, no end of opportunities. We must be disciplined enough to assess our own capabilities against those opportunities in order to decide whether or not we can build on them for the future. The marketplace rarely forgives failure. Nor does it ever forget.
Value Added. Your years here will enable you to understand this in an economic sense. I encourage you to give it some thought in a human sense. I repeatedly tell Royal employees that any day they can finish and say that they have added value to their coworkers, to their customers, and to our policyholders, then they have had a good day.
Individual Recognition. Library shelves are full of books on this subject. Unfortunately, most corporate programs are not. However, recognizing and rewarding the efforts of individuals ensures long-term survival. Individual recognition is the foundation of teamwork, leadership, responsiveness, innovation and all the other ingredients of strategic survival. Look for dedication to it, in any company in which you choose to establish a career, because if it isn't there, then I don't think you will want to be there over the long term.
Valued Customers. In your business lives, you will have many opportunities to demonstrate that you value the customers with whom you do business. Doing that for outside customers is relatively easy because your outside customer is easy to identify. The question I find unanswered is whether employees understand that they have internal as well as external customers and whether or not they value that relationship? Are they supportive of one another with peer problems? Does the systems department understand that it is not a customer unto itself, but services other parts of the operation? Do accounting departments understand that the world is not just accounting, but exists to support business? In our business, investment is a major issue, and cash flow underwriting is really the result of the investment department thinking that the insurance industry is positioned just to feed that machine, rather than the investment department being in business to support the process of underwriting the assumption of risk. At Royal we have had to work to change that. Our investment strategy is driven by the underwriting process and not vice versa. But we must continually think about who their customers are both inside and outside, and make sure they are valued.
Acknowledgement. You must make a point of seeking out acknowledgement. That does not mean walking around asking people, "Do you think I'm good?" It does mean understanding who your customers and your peers are and seeing whether or not they recognize what you are, what you're about, where you're going, what it is you want to accomplish, and how you value their relationship. You don't generate a good reputation through media; you earn it. The only way that you will find out whether or not you're earning it is to go out into the market place and see whether the quality of your products is being acknowledged.
Long Term. Much is said in American business about it being short-term. Royal has been in the United States for nearly 150 years. We were here when the earthquake shook San Francisco in 1906. Three of the five companies that paid all the losses--100 cents on the dollar and in gold--were members of what is today Royal Insurance. That was a long-term investment in the United States. The same thing happened in the Chicago fire; we paid 100 cents on the dollar and we paid in gold. Royal has a long-term perspective. It has been enlightening to me, in my position, to work with a company that is not based in the United States and is driven by United Kingdom financial analysts who have a long-term perspective. Everything we set out to do is designed for the long run. It is a characteristic that American business must develop.
Over the last few years as a company, we kind of lost our way in the United States. We forgot these characteristics; we were not applying them well. We lost sight of the fact that we were in the business of underwriting insurance. As a result the underwriting operations lost almost $1 billion in two-and-a-half years. Any way you slice it, for any size company, that is a lot of money. It was a significant price to pay for straying from the fundamentals.
Today we are back to the fundamentals. We apply each test to ensure that we are on course, that our strategies are working and that we are founded on the three principles of:
thinking analytically
planning strategically, and
implementing with excellence.
If I can encourage you to do anything today, in your academic pursuits, your business pursuits, and I think to some extent, your personal pursuits, it is to apply these concepts: think analytically, plan strategically, but above all, implement with excellence. You need to do that--we need to do that--in everything we do. That's my message, and I believe that it can be of some help to you.