Employment Resources
Graduate Programs Career Services
The Program Programs has its own Career Services and Executive Coach who advises students on career development and assists with job placement. Each student receives individualized advisement in order to enhance their job searching skills and to prepare them for potential career progression. Along with individual coaching, the program offers a three-course Executive Skills program designed to build leadership capabilities, business acumen, self-awareness, career search and communication skills.
All students have access to continuous career opportunities through the MBA office as well as the University's Career Development Center. Additionally, The Walker College of Business (WCOB) BB&T Student Leadership Center also assists with professional, leadership and career development opportunities.
Handshake
Handshake connects students to employers with job, internship and interview postings. We post full time, part time local & non-local, on campus, seasonal, and temporary positions.
Fall 2019 Graduate Career Events
WCOB Graduate Students- Mark your calendar for the many career events and workshops available to you this semester.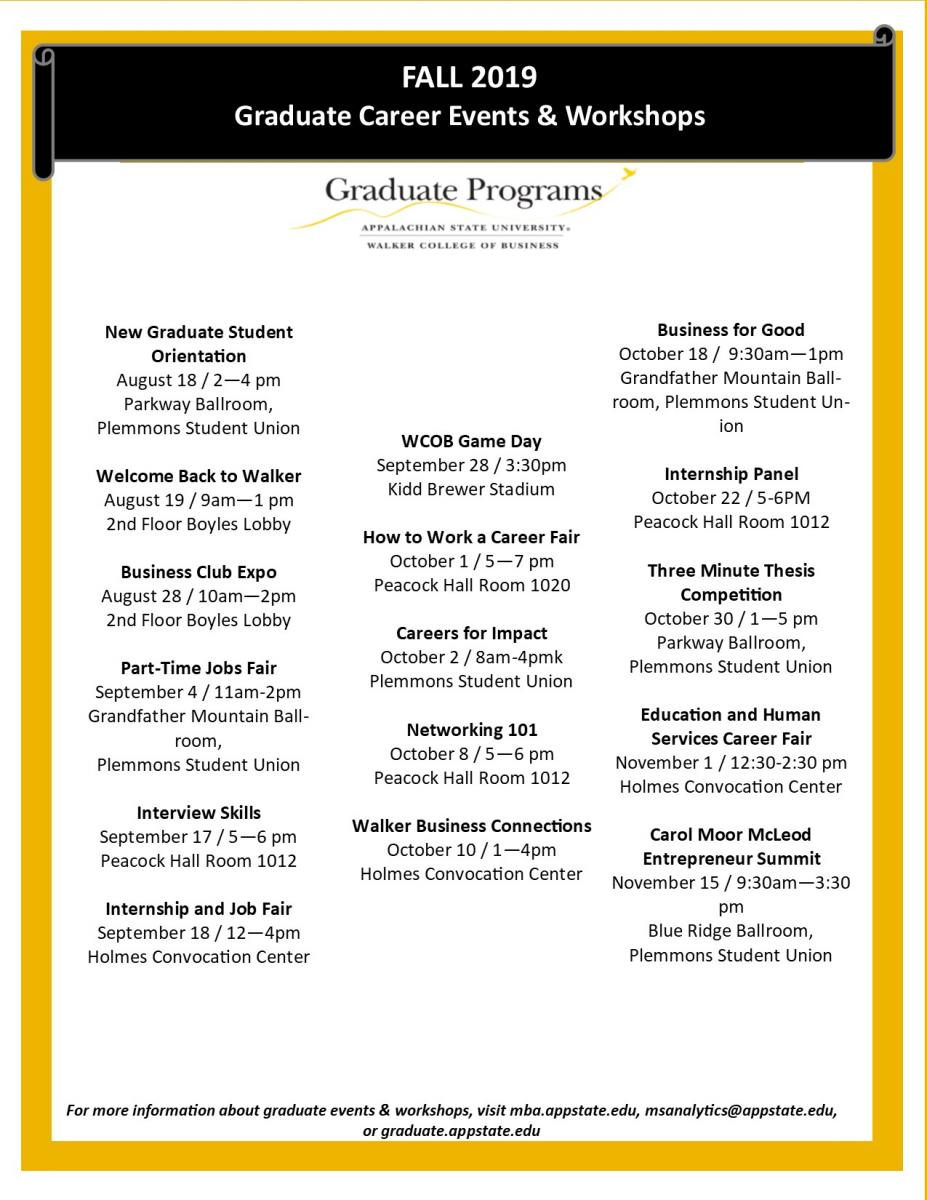 Social Networking
The MBA program administers a LinkedIn group where MBA alumni, students, and faculty members can network together. Founded in 2009, the "Appalachian State University MBA Alumni and Friends" group boasts more than 400 members. An additional network is the MBA Facebook page; alumni are encouraged to get involved.
Clubs and Organizations
Executive Impact
Appalachian's Executive Impact Club is exclusively for graduate students. Members participate in networking socials, give back to the community through volunteering and fundraising activities, and join various events that enrich their careers. The Executive Impact Club ensures it has a strong foundation for members based on five pillars: Integrity, Philanthropy, Insight, Networking, and Balance. Current information can be found both on the MBA Facebook page and on the Executive Impact website.
Current MBA candidate Jennifer Francavilla discusses her experience in the Executive Impact Club in the video below:
Graduate Student Association Senate
The MBA program also has an elected representative on the Graduate Student Association Senate (GSAS). The student/s not only represents MBA student's needs but also help to obtain research and travel grants. For more information visit GSAS. Join their Facebook page to engage with other Graduate Students across Appalachian.
Additional Resources
There are many other clubs and organizations across Appalachian ranging in interests from Entrepreneurship to International Business.