Save the Date
Making Positive Changes in the World
A co-presentation of the Boyles Distinguished Lecture Series and the Global Opportunities Conference
When: Friday, April 26, 11:00 a.m.
Where: Schaefer Center for the Performing Arts
What: Appalachian State University's Walker College of Business welcomes Indian child rights activist and Nobel Peace Prize 2014 laureate Kailash Satyarthi as the keynote speaker for a special co-presentation of the Boyles Distinguished Lecture Series and the Global Opportunities Conference. A reception will follow, and both lecture and reception are open to the public with no cost to attend. For more information, please visit business.appstate.edu/satyarthi.
Additional Opportunities
Wednesday, April 24, 5:00 p.m.
Screening: The Price of Free
The Price of Free tells the story of human rights activist Kailash Satyarthi, whose efforts have rescued 80,000 child factory workers in India
Where: I.G. Greer Theater
Kailash Satyarthi
Nobel Peace Laureate (2014) Kailash Satyarthi
Founder, Kailash Satyarthi Children's Foundation - Ending violence against children globally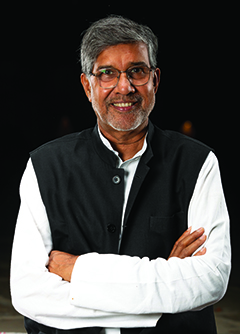 Mr. Satyarthi has been a tireless advocate of children's rights for over three decades. In 2014, he was jointly awarded the Nobel Peace Prize for "struggle against the suppression of children and young people and for the right of all children to education."
Mr. Satyarthi and the grassroots movement founded by him, Bachpan Bachao Andolan (Save the Childhood Movement), have liberated more than 87,000 children from exploitation and developed a successful model for their education and rehabilitation. He has been at the forefront of driving child related agendas into the United Nations Sustainable Development Goals (SDGs). He has also highlighted the need of governments to prioritize the child related SDGs and put children first.
As a global campaigner for children's rights, Mr. Satyarthi founded the Global March Against Child Labour, the largest civil society network for the most exploited children. The march, conducted in 1998, traversed 80,000 kms across 103 countries, galvanized support which culminated in the unanimous adoption of the ILO Convention 182 on the Worst Forms of Child Labour.
He is also the founding president of the Global Campaign for Education, an exemplar civil society movement working to end the global education crisis, and GoodWeave International, which raises consumer awareness and positive action in the carpet industry.
To fulfil his vision of a world free of violence against children where all children are free, safe, healthy, educated, and have the opportunity to realize their potential, Mr. Satyarthi established the Kailash Satyarthi Children's Foundation. The Foundation's mission is to advocate for the creation and implementation of child-friendly policies through research, advocacy and campaigning to ensure the holistic development and empowerment of children.
Currently, Mr Satyarthi is spearheading the 100 Million campaign which aims to inspire and mobilize young people to stand up and act for their own rights and the rights of their peers, and to achieve the world's biggest youth mobilization to end violence against children, eradicate child labour and ensure education.
2018 Alumni Spotlight: See the world through a global lens
The tenth annual Global Opportunities Conference, held on April 13th, 2018, featured Appalachian State alumni who shared their perspectives on the importance of a global mindset to the audience of students, faculty and local community members as well as students from Ashe County High School. Walker College of Business alumni speakers, Tyler Norwood '12, Matt Cottrell '01, Mehdy Ghannad '99, and Sarah Freed '09 had the unique opportunity to discuss how international experiences during their undergraduate years influenced their career paths.
Tyler Norwood, a general partner at Antler Innovations, joined the conference via video conference from Singapore, sharing lessons he learned throughout his international career and giving attendees advice he wish he knew before graduating. Senior Regional Director for Africa with Operation Christmas Child at Samaritan's Purse, Matt Cottrell, discussed the importance of deepening one's roots when pursuing an international career, sharing personal stories from his field experience. Mehdy Ghannad, owner and operator of Free Road Entertainment, related his own fortuitous career path in international media and production and how following his passion for travel has opened doors to once-in-a-lifetime opportunities. Sarah Freed, Manager of Community Impact for Uber Technologies, discussed the importance of purpose and how one can make a global impact through taking the risks necessary to follow your own path.
During the luncheon panel, Sam Trexler '15, owner and pilot of Precision Aviation, LLC joined the morning speakers to discuss the importance of a global mindset for business leaders. The panel format allowed audience members the opportunity to interact with the speakers more directly and ask questions ranging from their motivation to pursue their careers to the most intimidating moments experienced while abroad.
The stories and advice shared had an impact on many conference attendees. "Some things that especially stood out to me were the varied ways the alumni of Appalachian State University are impacting our world," said Ada Jones, student at Ashe County High School. "The things they have accomplished inspire me to try and change the world."
Visit the photo gallery to view images from this year's event. If you are interested in supporting international opportunities for Walker College of Business students, contact Will Sears at searswill@appstate.edu. Next year's event is tentatively scheduled for Friday, April 5th. Visit the website closer to the date for more details.
This event is hosted by the Walker College of Business with additional support from James E. Holshouser Ethics.