Past Conferences
Begun in 2008, the annual Global Opportunities Conference, hosted by Appalachian State University's Walker College of Business, highlights innovative and entrepreneurial ways of addressing global challenges with the goal of inspiring students, faculty and the local community to use their knowledge and skills in the business of building a better world.
Click the title links below to view a PDF of the conference brochure.
2023 Global Opportunities Conference
The fall 2023 Global Good Conference took place on Friday, November 10. The conference focused on visitors to beautiful sites around the globe who are enriched through their experiences. Yet that enrichment can come at a price for the environment and the local culture. But it doesn't have to. The speakers explored creative ways of engaging with the planet - both abroad and at home. Participants learned about citizen science and regenerative tourism in the Arctic ecosystems of Norway, got an insider's perspective on building the local economy while preserving its natural beauty in coastal Jones County, NC, and found out about the potential positive impact of Boone's first sustainable bed and breakfast. Program PDF View photos from the event in the photo gallery.
2022 Global Opportunities Conference
The spring 2022 Global Opportunities Conference took place on Friday, March 25. The conference was a Business for Good event. The morning session provided a snapshot of global climate change impacts and actions through examples from the ocean environment, provided by Sam Teicher of Coral Vita, a social enterprise dedicated to coral reef restoration, and the high mountain region, with Anton Seimon, National Geographic Explorer who shared research on the changing ecosystems of the high Andes. Speakers explored current impacts, climate resiliency efforts and innovative approaches to reducing environmental harm around the globe. The luncheon featured alumna Christine Mendonça '04 and her talk "Moving from Ideals to Impact." She shared her journey to working in impact investing after her years at Appalachian State University. Program PDF View photos from the event in the photo gallery. View a recording of the event on Youtube.
2021 Global Opportunities Conference
Students, faculty, staff and community members heard world-renowned economist, author and thought leader, Dr. Jeffrey Sachs and helped recognize his outstanding service to the global community on Tuesday, March 30, 2021. The lecture, A Sustainable Development Strategy to Reunite the United States, was co-presented by Business for Good and the Global Opportunities Conference and co-supported by the Walker College of Business and its Sustainable Development Solutions Network, the Department of Economics, the Beaver College of Health Sciences and Appalachian's Office of Sustainability. View event photos.
2019 Global Opportunities Conference
Nobel laureate Kailash Satyarthi spoke on Friday, April 26 in the Schaefer Center for the Performing Arts on Appalachian State University's campus. His talk, titled Making Positive Changes in the World, was a co-presentation of the Walker College of Business' Boyles Distinguished Lecture Series and the college's Global Opportunities Conference, sponsored by the Anne Cannon
The lecture offered an unprecedented transformational opportunity to the Appalachian community, especially students of all backgrounds, who were encouraged to come learn from a Nobel Laureate about innovative ways to address complex ethical issues and how to make a positive impact, both locally and globally.
Mr. Satharthi is a globally renowned advocate for children's rights, a master strategist against child labor and suppression of young people, and a tireless campaigner to end the global education crisis. For his extraordinary commitment to these causes, Mr. Satyarthi was awarded the Nobel Peace Prize in 2014.
A native of India, Mr. Satyarthi has been at the forefront of driving child-related agendas into the United Nations Sustainable Development Goals.
The lecture served as the 61st event in Appalachian's Boyles Distinguished Lecture Series and the 11th annual Global Opportunities Conference.
The tenth annual Global Opportunities Conference, held on April 13th, 2018, featured Appalachian State alumni who shared their perspectives on the importance of a global mindset to the audience of students, faculty and local community members as well as students from Ashe County High School. Walker College of Business alumni speakers, Tyler Norwood '12, Matt Cottrell '01, Mehdy Ghannad '99, and Sarah Freed '09 had the unique opportunity to discuss how international experiences during their undergraduate years influenced their career paths.
Tyler Norwood, a general partner at Antler Innovations, joined the conference via video conference from Singapore, sharing lessons he learned throughout his international career and giving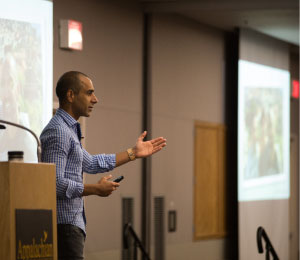 attendees advice he wish he knew before graduating. Senior Regional Director for Africa with Operation Christmas Child at Samaritan's Purse, Matt Cottrell, discussed the importance of deepening one's roots when pursuing an international career, sharing personal stories from his field experience. Mehdy Ghannad, owner and operator of Free Road Entertainment, related his own fortuitous career path in international media and production and how following his passion for travel has opened doors to once-in-a-lifetime opportunities. Sarah Freed, Manager of Community Impact for Uber Technologies, discussed the importance of purpose and how one can make a global impact through taking the risks necessary to follow your own path.
During the lunc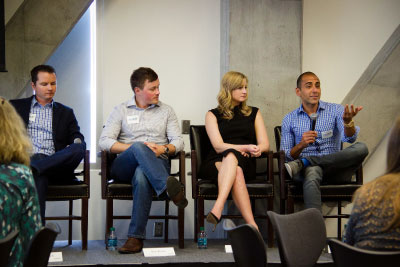 heon panel, Sam Trexler '15, owner and pilot of Precision Aviation, LLC joined the morning speakers to discuss the importance of a global mindset for business leaders. The panel format allowed audience members the opportunity to interact with the speakers more directly and ask questions ranging from their motivation to pursue their careers to the most intimidating moments experienced while abroad.
The stories and advice shared had an impact on many conference attendees. "Some things that especially stood out to me were the varied ways the alumni of Appalachian State University are impacting our world," said Ada Jones, student at Ashe County High School. "The things they have accomplished inspire me to try and change the world."
Visit the photo gallery to view images from this year's event.
This event is hosted by the Walker College of Business with additional support from James E. Holshouser Ethics.

2017 Global Opportunities Conference (PDF, 932KB)
Featuring Speakers from Sustainable Amazon Foundation
The 9th annual Global Opportunities Conference: Balancing People, Planet, & Profit was held on Friday, April 7, 2017 from 9:00 am to 2:00 pm in the Plemmons Student Union on the campus of Appalachian State University. This year's conference highlighted the importance of sustainable practices in the Brazilian Amazon while raising the broader question of how business can balance the triple bottom line of people, planet, and profit in environments throughout the globe.
"Its mission is to promote sustainability, environmental conservation and quality of life for the communities..."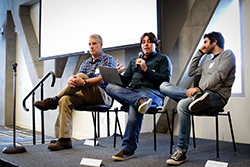 During the morning session, speakers Victor Salviati and Gabriel Ribenboim of the Sustainable Amazon Foundation(FAS) shared innovative entrepreneurial solutions that balance the needs of people and planet in this region of ecological importance. The Sustainable Amazon Foundation is a Brazilian NGO headquartered in Manaus, Brazil and funded by Bradesco Bank, Coca Cola, and Samsung, among other partners. Its mission is to promote sustainability, environmental conservation and quality of life for the communities within the Brazilian Amazon. Student participants in the 2016 Walker College of Business faculty-led program Business and Society in the Brazilian Amazon shared stories of sustainable thinking from their experiences abroad during the morning session also.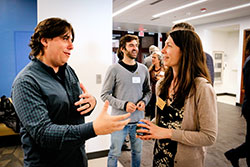 During the luncheon panel People, Planet, Profit: Can business find the balance?, Salviati and Ribemboin were joined by Michael Chenard, Former Corporate Sustainability Director for Lowes Companies, Gretchen Digby, Director of Global Sustainability Programs in Ingersoll Rand's Center for Energy Effieciency and Sustainability, Rajat Panwar, Associate Professor of Sustainable Business Management and John Whitehead, Economics Department Chair to discuss how business can balance the triple bottom line.
This event is hosted by the Walker College of Business with additional support from Appalachian's Office of the QEP and James E. Holshouser Ethics.
The 2016 Global Opportunities Conference: Problems to Possibilities was held on Friday, April 8th at 9am in the Plemmons Student Union and explored the role that innovative business and pioneering entrepreneurs can take in addressing pressing environmental and social issues.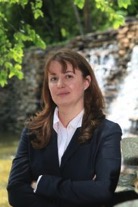 Keynote speaker, Erin Meezan, Vice President of Sustainability at Interface shared her vision of this inspiring sustainability pioneer. The 2014 Sustainability Leaders Report ranked Interface 3rd among the top companies leading the way on sustainability – right after Patagonia. For a traditional carpet company turned sustainable to make this list is testament to the inspiring vision of Founder and Chairman Ray Anderson. Since this change in vision in 1994, Interface has reduced waste to landfill by 91%, cut down water intake by 86% and greenhouse gas emissions by 73%. Currently, 50% of Interface's total raw materials are recycled or bio-based and 45% of their energy use comes from renewable sources. Mission Zero, their visionary goal, is to source 100% of energy needs from renewable sources by 2020. Erin Meezan gave a voice to the company's conscience, ensuring that strategy and goals are in sync with the aggressive sustainability vision established almost 20 years ago.
There were two main "idea talks" from Dr. Dan Fogel, Director of Graduate Sustainability Studies at Wake Forest University who spoke about"Nature's Price" and Dr. Jeremy Ferrell, Assistant Professor of Sustainable Technology at Appalachian State University who talked about "Turning Waste into Resource in Latin America." Leigh Shamblin, Director of the Global Innovation Management Master's Program at North Carolina State University, joined both speakers for a luncheon panel discussion to provoke conversation on the conference theme.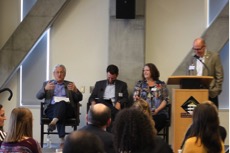 Students presented stories of innovative and sustainable thinking abroad drawn from their experiences in Cambodia, Vietnam, Costa Rica, Taiwan and South Korea as well.
This event was hosted by The Walker College of Business with support from Appalachian's Office of the QEP and University College, the Goodnight Family Sustainable Development Department and the Holshouser Ethics Program.
The 2015 Global Opportunities Conference: Business for a Better World was held on Friday, April 10 at 9 am in the Plemmons Student Union. The conference explored the potential for innovative businesses to solve global social and environmental problems.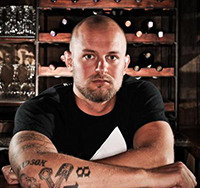 Keynote speaker, Doc Hendley, shared his experiences as founder of Wine to Water, a not-for-profit that commits funds raised through wine tastings to repair broken wells, install rain water harvesting tanks and other sanitation modalities to 250,000 people worldwide. His efforts have saved thousands of lives. You can access Doc's keynote talk at: http://streaming.appstate.edu/winetowater.
Our morning speaker was Hannah Davis, the founder and president of BANGS Shoes, a canvas footwear company that provides funds to entrepreneurs in 19 countries around the world including the US. She has become a recognized advocate for social entrepreneurship, having spoken at two TEDx events over the past 6 months. Hannah shared how being in the right place at the right time with the right idea can launch you into success.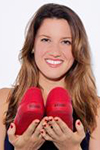 There was a panel discussion on the role of innovative business in solving social and environmental problems and Appalachian students shared their experiences on College of Business study abroad programs in Belize working on a sustainable cacao farm, and in Costa Rica learning the dynamics of "fair trade" in the coffee industry as well as an Alternative Service Learning program partnering with Wine to Water in the Dominican Republic.
The 2015 Global Opportunities Conference was hosted by the Walker College of Business, with additional support from University College, the Goodnight Family Sustainable Development Department and James E. Holshouser Ethics.
Sixth Annual Global Opportunities Conference
Friday, April 11, 2014, 8am-5.00pm
Appalachian State University Plemmons Student Union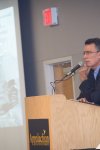 In the past five years, Cuba has been "updating" its economic model - opening to foreign investment, allowing Cubans the possibility of selling cars and homes, moving toward eliminating the dual currency system, and permitting increasing numbers of self-employed entrepreneurs. During the 6th Annual Global Opportunities Conference on "Cuba Today," attendees heard breaking news of the changes taking place in this island nation.
Keynote Speaker - Dr. Humberto Blanco from the University of Havana, Cuba
Dr. Humberto Blanco, keynote speaker and director of the University of Havana's Center for Research of the Cuban Economy, spoke about these changes and their ramifications for Cuban society, with particular emphasis on the "cuentapropistas" – those private business owners. Dr. Blanco joined two panel discussions: "Cuba Today: What is going on? Social and economic dynamics in strategic change" and "The Forbidden Island? International Dimensions in Cuba's Transformational Process."
Panel Discussions and Presentations
Along with Dr. Blanco, panels included perspectives from Appalachian State University's Dr. Renee Scherlen, Professor of Political Science and Dr. Joseph Gonzalez professor of Cultural, Gender and Global Studies. Also UNC-Chapel Hill's Dr. Rosa Perelmuter, professor of Hispanic Literature, and Saul Berenthal, Chief Operating Officer of Cuban Heritage Experiences, contributed their professional knowledge and personal experience as Cuban-Americans to the discussion. Dr. Renee Scherlen provided a context for the current changes in Cuba in her talk titled "Cuba and the US: How did we end up here?" Dr. Garner Dewey, Director of ASU's Quality Enhancement Plan (QEP) and Meredith Church Pipes, International Programs Coordinator for the Walker College of Business, gave an overview of Appalachian State University's long-standing connection with Cuba.
The conference ended with an open forum on Cuba Today where participants asked panelists a broad range of questions in a more informal setting.
Feedback from Attendees
Attendees appreciated the first-hand perspective the keynote speaker and panelists were able to deliver. Some attendee comments included:
"[The Global Opportunities Conference] was by far the best event I've attended since beginning my studies at Appalachian" (Chelsea, Student).
"We need more of this stuff in the world and, in the case of the Cuban tragedy of a divided people, this event has made a profound impression on me and has changed my mind set dramatically" (Raul, Community Member).
"I am still telling people things I learned" (Tom, ASU staff).
This year's event was sponsored by the Walker College of Business, University College and funds from the Quality Enhancement Plan.
Fifth Annual Global Opportunities Conference
Friday, April 12, 2013, 10am-2:30pm
Appalachian State University Holmes Convocation Center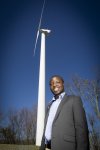 After a cancelled flight and a speedy trip up the mountain from Greensboro, William Kamkwamba, co-author of New York Times bestseller, "The Boy Who Harnessed the Wind: Creating Currents of Electricity and Hope," related his story of how he achieved his dream of bringing electricity, light, and the promise of a better life to his family and his Malawi village. His talk was attended by over 550 students, faculty and community members as well as visiting classes from Watauga and Avery High schools and Two Rivers Charter School.
During the morning session, Jeff Ramsdell of the Appalachian State University Energy Center, spoke on developmnt in Africa and the important role of alternative and renewable energy and students from the Walker College of Business shared their experiences in Malawi, Africa. A multidisciplinary panel discusses Creative Solutions for Development in Africa at the afternoon luncheon. A book signing by William Kamkwamba took place at 2pm.
Eya! Afrolachian drumming entertained participants with their performance of traditional African music played on the balaphon, djembe, and djun-djun from Guinea and Mali.
The Student Entrepreneur of the Year award was presented by Dr. Heather-Dixon Fowler to Wade Montgomery.
The 2013 conference was co-sponsored by the Walker College of Business and Transportation Insight Center for Entrepreneurship, with additional sponsorship provided by the Goodnight Family Sustainable Development Program, the Department of Geography and Planning, and the University Forum.
Friday, April 13, 2012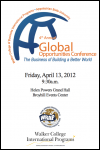 As global connections increase, so does social and economic interdependence between countries. Economic stability, immigration and environmental degradation are all issues that transcend national boundaries and require cross-national solutions. Our students are uniquely positioned to participate in creative solutions to such daunting global issues. How can the skills students are learning be used to implement and support initiatives that will benefit those who need help most? The theme of the 2012 conference was "The Business of Building a Better World" and speakers and panelists shared their insights into ways that individuals can make a difference on an international level.
During the morning panel sessions, students who had participated in service projects in Vietnam, Uganda, Malawi and Brazil, shared their experiences abroad. Representatives of locally-based international non-profit organizations World Camp, Stand as One, Peace Corps and ACT-Globetrotters, connected students with their projects and encouraged them to make a difference. The luncheon speaker, Mr. Matt Ellingson of Samaritan's Purse, spoke on the power of the average individual who commits to serve in meeting the world's needs.
The keynote speaker, Ms. Isabel Richardson of the Madras Christian Counsel of Social Service in Chennai, India, shared about her work to stop human trafficking and rehabilitate its survivors. She also spoke of the educational program she oversees for children who made their living gathering recyclables from the dumping grounds. She was accompanied by Anand, one of the children who has been served through their educational programs. Anand and Alexander, a social worker with MCCSS, performed traditional Indian dancing for attendees.
In the afternoon, students networked with locally-based international non-profits and on-campus international organizations, learning about internship opportunities serving abroad.
Student inspired to raise funds for underpriviledged children in India after 2012 Global Opportunities Conference
Jennifer Lampo, a business management major concentrating in entrepreneurship, used her own business contacts and networking system to raise $3,000 in four weeks for children in India living in dump yards.
She was inspired to give to this cause after meeting with Isabel Richardson, the executive secretary of Madras Christian Council in Chennai, India, who delivered the keynote speech for the 4th Annual Global Opportunities Day presented in April by Appalachian State University's Walker College of Business. Read full text of article here. (Excerpt from University News page, August 7,2012)
Expert advice for business owners and students on going global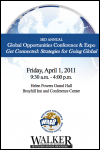 The 2011 keynote speaker, Mr. Greg Raty, Vice President of Domestic and International Sales with Slade Inc., discussed the changing economy and new international opportunities. He also focused on the many resources available to assist a business wanting to go global. He encouraged participants to create their own global success. His powerpoint presentation is online.
Panelists discussed their international endeavors, successes and challenges, and gave advice based on their expertise. Panel I, Going Global for Students and Businesses, explored how international internships and experience in supply chain management can open career doors. Panel II, Trends in International Business, discussed international trade trends, the importance of sustainability in international enterprises, and provided steps to going global for students and businesses. All powerpoint presentations are online.
Networking and information for finding an internship or hiring an intern
The 2011 International Opportunities Expo provided an opportunity for students to network. Both internationally-focused on-campus organizations as well as local businesses with global connections had representatives on site to provide information during the networking sessions at each of the booths.
No conference held in 2010 - conference rescheduled for spring semesters.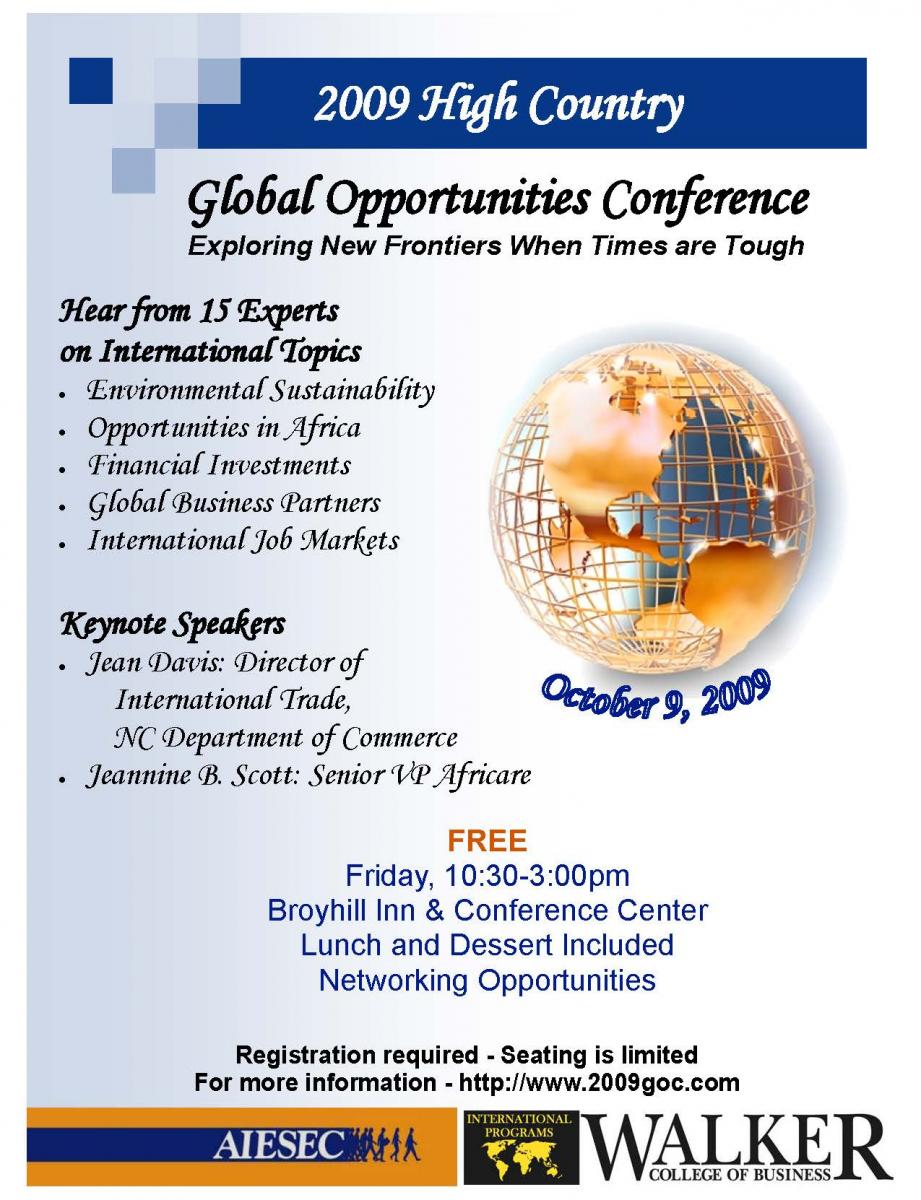 October 9, 2009
The 2009 High Country Global Opportunities Conference, Exploring New Frontiers When Times are Tough, brought together fifteen experts in international business, including keynote speakers, Jean Davis, Director of International Trade for the NC Department of Commerce, and Jeannine B. Scott, Senior VP of Africare. The conference speakers shared information on international topics such as environmental sustainability, opportunities in Africa, financial investments, global business partners and international job markets.
October 10, 2008
The 2008 High Country Global Opportunities Conference: Globalization is knocking. Are you ready to open the door?, featured keynote speakers Ron Reighter, VP of Global Trade Solutions at SunTrust Bank and Greg Sizemore, Director of the Charlotte U.S. Export Assistance Center, who spoke on the why and how of gaining international experience. Panelists Grace Palacios-Will - President and CEO of Publicitas Americas, Freddie and Teresa Davis - owners of Global Shippers Association, and Kerron Stokes -Regional Vice President of RE/MAX Central Atlantic and Carolinas, discussed international opportunities in the housing market, import/export and international marketing and advertising on the panel "Doors sucessfully opened with a golden key." The panel "Opening doors wider to expand international opportunities" featured a discussion of corporate social responsibility, international sustainability and green economy opportunities, and social entrepreneurship among panelists Martin Meznar - Assistant Dean of International Programs and Assessment. Sandra Maxey - Director of Economic Development & Public Policy at the Asheville Sustainability Center and Mark Pruett - Assistant Professor in the Walker College of Business department of management.