Recent Events
The 60th event in the Boyles Distinguished Lecture Series was held on Friday, March 23 and featured Lord Dr. Michael Hastings, Global Head of Citizenship for KPMG International. Lord Hastings delivered a lecture entitled If Only I Had Planted a Tree: Distraction and the Billion Dollar Opportunity.
About Harlan Boyles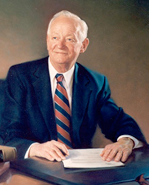 The college's Distinguished Lecture Series began in the Spring of 1988 and is held each semester. In October 1991 the Series was dedicated to Treasurer Boyles in honor of his service to the State of North Carolina. An endowment fund was established at that time, with the assistance of former U.S. Senator James T. Broyhill, to permanently endow the series in Boyles' name.
Harlan E. Boyles (1929-2003) devoted his 49-year career to the citizens of the State of North Carolina. A native of Lincoln County, Boyles was elected to six four-year terms as State Treasurer and served under nine governors. His name was associated throughout the state and the nation with fiscal integrity, hard work and honesty.
Harlan Boyles was dedicated to education, and through his involvement with Appalachian State University and the Walker College of Business, he was able to share his experience, advice and wise counsel with hundreds of students and future business leaders. For eleven years, he came to campus to preside over the bi-annual Harlan E. Boyles Distinguished Lecture Series.
Not only did his association with the Walker College make a difference in many on-campus endeavors, but it also had a tremendous effect on the college's fund-raising efforts. He was honored with three separate endowments in the college -- for the lecture series, student scholarships, and faculty support. These endowments will provide an impact on the college for years to come.
Lord Michael Hastings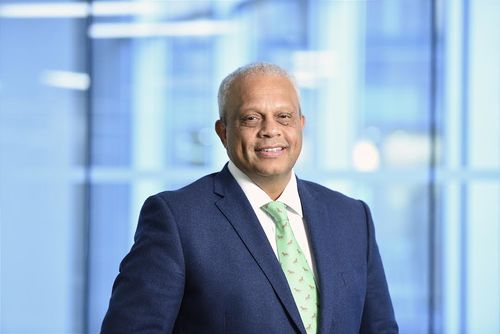 Lord Dr. (Michael) Hastings of Scarisbrick CBE is Global Head of Citizenship for KPMG International.
Michael began his career as a teacher moving into government service in 1986 supporting policy initiatives to bring employment and development to Britain's inner cities. In 1990 he started working for TVAM on education programming and then GMTV as its Chief Political Correspondent. In 1994 Michael moved to the BBC as a presenter on the weekly Around Westminster programme before joining its Corporate Affairs division. In 1996 he became the BBC's head of Public Affairs and then its first head of Corporate Social Responsibility in 2003 before becoming KPMG international's Global Head of Citizenship in 2006.
Michael has represented KPMG International on the Global Corporate Citizenship Committee of the World Economic Forum from 2008 to 2010. In 2009 he became a Member of the World Economic Forum's Global Council on Diversity and Talent, in 2010 served on the Global Agenda Council on the Next Generation and in 2011 became a member of the World Economic Forum's Global Agenda Council on the Role of Business. In 2012-2014 he led the WEF Global Agenda Council, The Future of Civil Society and in 2016 joined the WEF Global Agenda Council on Migration.
Michael is also a Trustee of the Vodafone Group Foundation and a Vice President of UNICEF UK and Tearfund. He was previously a non-executive Director of British Telecom (on the Board for Responsible and Sustainable Business) for nine years and was a Global Board member of Millennium Promise until January 2016. In 2010 he was a leading adviser to the Chatham House enquiry into the Future Role of the UK in Foreign Affairs. Michael also sat on the Council of the Overseas Development Institute in the UK and previously on the Centre for Global Development in the USA. Michael has also been a Board Director of the Global Reporting Initiative (GRI) from 2010 to 2012 and is President of ZANE - a development aid agency focussed on Zimbabwe. He is also a Patron of Free the Children and a Director of Junior Achievement Worldwide.
In 2003, Michael was awarded a CBE (Commander of the British Empire) for services to crime reduction which includes 15 years as Chair of Crime Concern and nine years serving on the Commission for Racial Equality (1993-2001). In 2005, Michael was awarded an independent peerage to the House of Lords. In the same year he received the UNICEF Award from the then UK Chancellor for his outstanding contribution to understanding and effecting solutions for Africa's children.
In 2014, Michael was conferred with a Doctorate in Civil Law from the University of Kent, Canterbury in recognition for his leadership at KPMG, the BBC and for his work in international development and corporate responsibility. In 2017 Michael was installed as the Chancellor of Regent's University London.