Leadership & Management Tools
Our Approach
Great organizations require great leaders, and they understand that cultivating leadership skills should be intentional. Good leaders not only fulfil administrative functions, but more importantly are able to inspire and motivate employees to strive for excellence, and facilitate meaningful change in organizations. Effective leaders exhibit specific skills and attributes that help to achieve the goals of the organization, including excellent communication skills, empathy and emotional intelligence, team-building skills, and strategic thinking.
In business, good leadership can translate to long-term success:
Improved employee performance
Higher morale and employee retention
In contrast, poor leadership can lead to negative results in an organization.
50% of workers who quit, say they left their job because of their manager.
Employees with bad managers are among the least productive.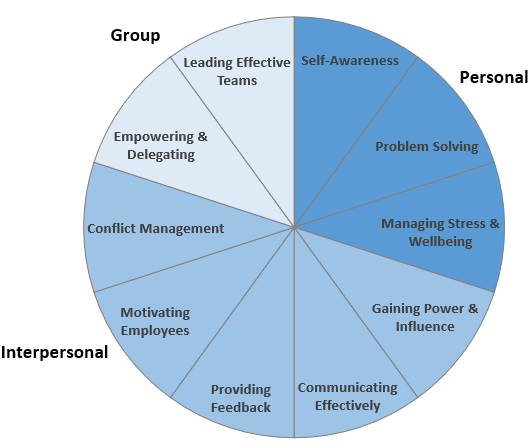 Being a leader or manager can be very challenging. Oftentimes there is not much training effort given to the development of these skills, but managers can have a lasting impact on company results and culture.
Our individual sessions and certificate programs will provide you with the leadership skills to be a successful leader, team member and professional.
Leadership and Management Certificates
| | |
| --- | --- |
| | Certificate courses can also be offered as stand-alone sessions. |
| Emerging Leaders Certificate | In this certificate, attendees will gain tactical leadership skills they can utilize in the workplace to successfully manage day-to-day operations, supervise their teams, and develop themselves as professionals. This certificate utilizes evidence-based techniques to facilitate your development into the best leader you can be. |
| Executive Leadership Certificate | Through this certificate, attendees will gain valuable leadership skills they need to act strategically, lead their organization, and develop themselves as leaders. Through practice, reflection, guidance, coaching, and introspection, this certificate will enable aspiring leaders to develop the knowledge and skills they need to lead effectively. |
Individual Courses
| | |
| --- | --- |
| Design Thinking | Appalachian State University's Design Thinking workshop presents the seven-step design thinking process in an experiential and systematic way to enable 1) individuals to pursue personal mastery by enhancing their creativity and tapping into internal sources of energy and inspiration, 2) organizations to establish processes that foster collaboration and encourage innovation by embedding design thinking into their DNA, and 3) leaders to nurture innovation by developing a culture and structure to support it. |
| Strategic Planning | In this hands-on workshop, your team will learn the five-step Strategy By Design process that marries traditional strategic management tools and practices with design thinking methodology. By integrating these generally disparate processes, strategic planning will awaken your organization, improve its agility, and set it on a path to achieve a distinctive position in your industry. |