Boyles Distinguished Lecture Series
Spring 2022 Lecture: Thursday, March 17
The 63rd Boyles Distinguished Lecture was held on Thursday, March 17 at 2PM in the Holmes Convocation Center. The lecture featured Ms. Pamela Mars Wright of Mars, Incorporated, who spoke on successful strategies for and lessons learned in family business. You may view the recorded lecture here.
About Pamela Mars Wright
Pamela Mars Wright's business experience spans operations to governance over her 35 years at Mars, Incorporated. Her roles and focus blended her affinity for technical subjects, the satisfaction of making things and her caring for people. She is a former chair and director of the Mars board which governs the $40 billion business owned by the Mars family. She retired from Mars in 2021 but continues to serve on the Technical Committee.
Pamela Mars Wright began her career with Ted Bates Advertising as an Account Executive. When Mars Wright joined Mars, Incorporated, she shifted her focus and immersed herself in operations and supply chain. Her first job was an Operations Supervisor in what was then Masterfoods USA in Hacketstown, New Jersey. From there she went on to learn the multi-faceted elements of operations, from analysis to shift supervision and from engineering to commercial, becoming a Plant Director in 1989. Over the years she worked across continents and Mars' Confectionery and Petcare businesses, ultimately serving as Vice President of Manufacturing for Mars Petcare.
In the latter part of her career, Mars Wright focused her energy as an ambassador of Mars with the Associates of acquired businesses. She helped drive successful integrations and merging of cultures, in particular when the company expanded its presence in veterinary health and services, transforming its traditionally more consumer goods portfolio. Pamela was also a director on the Board of Banfield, a network of veterinary hospitals that are part of Mars' Petcare.
Mars Wright served as Chairman of the Mars Board for four years and 16 years a director, retiring from the Board in 2017. She was also a long-term member of the Mars Scientific Advisory Council. In these governance roles, Mars Wright's extensive experience, knowledge of supply and natural curiosity were valuable assets. Mars Wright serves as a board member of the Moffitt Cancer Research Center and the Supervisory Boards of Heineken N.V. and SHV, a Dutch family business, as well as a member of the Honorary Senate for Foundation Lindau Nobel Prize winners.
Pamela Mars Wright has a passion for education and has continued to support all her alma maters, formerly serving on the Board of Vassar College as well as the Board of Trustees of Potomac School and chairing the committee on Trustees at Foxcroft School, both in Virginia.
History of the Boyles Series
About Harlan Boyles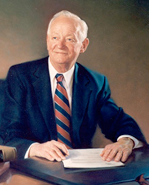 The college's Distinguished Lecture Series began in the Spring of 1988. In October 1991 the Series was dedicated to Treasurer Boyles in honor of his service to the State of North Carolina. An endowment fund was established at that time, with the assistance of former U.S. Senator James T. Broyhill, to permanently endow the series in Boyles' name.
Harlan E. Boyles (1929-2003) devoted his 49-year career to the citizens of the State of North Carolina. A native of Lincoln County, Boyles was elected to six four-year terms as State Treasurer and served under nine governors. His name was associated throughout the state and the nation with fiscal integrity, hard work and honesty.
Harlan Boyles was dedicated to education, and through his involvement with Appalachian State University and the Walker College of Business, he was able to share his experience, advice and wise counsel with hundreds of students and future business leaders. For eleven years, he came to campus to preside over the bi-annual Harlan E. Boyles Distinguished Lecture Series.
Not only did his association with the Walker College make a difference in many on-campus endeavors, but it also had a tremendous effect on the college's fund-raising efforts. He was honored with three separate endowments in the college -- for the lecture series, student scholarships, and faculty support. These endowments will provide an impact on the college for years to come.
Boyles lectures were held each semester through 2016, and beginning in 2017, the lecture became an annual event.