The Walker College Dean's Club is an annual giving society designed to benefit our students and faculty while enhancing our academic programs. Contributions from Dean's Club members provide unrestricted support each year for critical needs in the college such as: student scholarships, travel funds for faculty and students to attend course-related conferences and/or visits to corporations, seed money for new programs or opportunities within the college, and resources to bring guest lecturers, such as leaders in business and government, to the classroom.
Dean's Club Scholarships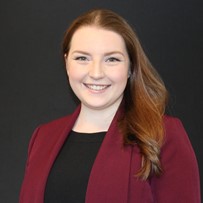 "My senior year of high school, I became homeless for a short period of time and had to quickly find ways to support myself and continue my education. It was vital that I... continue moving forward. I am very honored to have been selected as the recipient of this scholarship. It has greatly reduced my own financial burden and has brought me closer to my goals."
Impact
How does this help our students and faculty?
$500 funds a corporate visit for a student group of 15.
$1,000 provides a scholarship for a deserving student toward their annual in-state tuition and fees.
$1,706 funds travel, lodging and registration fees for a faculty member to attend a professional conference.
$2,600 recently provided funds for travel and lodging for a four-day trip by ten students and two faculty members in the Investment Management Class to NYC, including visits to Wall Street, the Stock Exchange and key investment firms.
$5,000 provides seed money to develop a new international study program.
Join the Dean's Club Today
There are four levels of membership, based on giving level.
Elite - $10,000+
Fellow - $5,000 to $9,999
Roundtable - $2,500 to $4,999
Associate - $1,000 to $2,499
To join, contact Walker College of Business Executive Director of Development Kyle Allen at (828) 262-6231, allenkb2@appstate.edu, or make a gift online using a credit card. Checks may be mailed to ASU Box 32037, Boone, NC 28608-2037.
Benefits
In return for their generosity, Dean's Club members may receive:
Credit toward membership in Appalachian's Chancellor's Society, which offers free parking on campus.
Invitations to numerous college receptions and activities, including Boyles Lectures and Chancellor's events.
Personal communication from the office of the dean.
Members
2021-22 Dean's Club Members:
Elite Level
Anonymous Donor
Lee and Christy Barnes
Judy and Winfield Beroth
Broyhill Family Foundation
Katherine and Dennis Covington
Marshall and Kris Croom
Jane and Brad Fisher
Patrick and Coleen Getzen
Mary Bost and Michael Gray
The Kennedy-Herterich Foundation
Karyn and Dieter Herterich
Tommy Hudspeth
Doug and Teresa Johnson
Scott and Deanna Lampe
Maymead
Liz and Jeff Mick
Phil and Lisa Ostwalt
Kathy Oszmianski Pou
Caroline and Wiley Roark
Hayes and Susan Smith
Kenan and Tracy Smith
Craig and Christine Stephenson
Don and Pattie Stephenson
Rick and Marcia Stephenson
G.A. and Shirley Sywassink
Dave and Cathy Thompson
Doug Williams
Frankie Willis
Fellow Level
Allison and Walker Abney
Anonymous Donor
Edward Boyles
Thomas G Brown Family Charitable Foundation
Jim and Karen Burr
Tom, Melinda & Colby Cook
Doug and Amber Copple
Katrina and Wyatt Dixon
Pam and Leigh Dunston
Jack Elledge
Angela and David Harrison
John and Donna Hart
Brock and Cathy Himan
Helen and Kirk Hollifield
Matthew Hollifield
Beth G. Monaghan
Emily and Joe Piacentino
Rick and Angela Redden
Nolan and Stacy Reedy
Eddie Sams and Pamela Brock
Frank and Betsy Skidmore
Brad and Maureen Sparks
Richard Sparks
Sandra Vannoy and James Todd
Ron Woods
Robin and Mark Wyatt
Forrest Zhan and Nina Yan
Roundtable Level
James Connors and Meg Spivey-Connors
Harry Davis
Darren and Cynthia Eubanks
David and Pam Ferrell
Sam and Angela Formby
Seth and Stefanie Hall
Bob and Susan Hambright
Benjamin and Bonnie Hamrick
Larry and Susan Harris
Joshua and Michelle Huffman
Donald McNeill
J Gary Meggs and Lorilee Medders
Dawn Medlin
Heather and Rob Norris
Wayne and Teresa Robbins
Doug and Amy Rumford
Bill and Judy Sears
Jack and Phyllis Sheffield
Buddy Thomas
Louis and Susan Walters
Bob and Debra Webb


Associate Level
Anonymous Donor
Anthony and Paula Adams
Pia Albinsson and David Shows
Patrick and Tonya Alexander
Kyle and Mary Allen
Trent Arrowood
Chris Baltz
Sandy and Ralph Barnhardt
Milton Bentley
John Blackburn
Ryan and Kruti Bolick
Jack and Beth Boyle
Tammy and Chuck Bramley
Denise and Jeffrey Brandon
Roxanne Caldwell
Jeff and Diana Carter
Summie and Debbie Carter
John and Amy Chastain
Kevin & Amanda Johnson Coggins
Trisha and Chris Coleman
Dan, Fairley & Ben Cook
Brian and Clare Dalgetty
Patrick and Jennifer Danehy
Dan and Jodie DuBreuil
Joel and Katie Edwards
Randy and Margaret Edwards
LaVonda and Mark Everhart
Rennie Faulkner
Abram Finkelstein
Jody and Barry Fleming
Donald and Alison Greene
Bruce Greenland
Preston and Brandy Hadley
W. Skyler and Nicole Harrison
Perry Hudspeth
Joshua and Michelle Huffman
Sam and Sharon Kaufman
Claudia Kelley
Matt and Leslie Lowdermilk
Lynn and Chris McNeil
Anne and Tommy Miller, Sr.
Wayne and Gigi Miller
Beth Murray
Thomas Nerad
Kay Norwood
Jay and Deanna Offerdahl
Virginia and Ben Powell
Gayle Rachels
Ken and Ruth Reece
Philip and Carolyn Riker
Ken and Jean Ripley
Dennis and Mary Jo Rochelle
Michael Saunders
Will and Gail Sears
Gerry Smith and David Syfert
Johnathan Smith
Sandi Solomon
Jill Sparks
Stephanie and Brian Storey
Richard Stroupe
Arnold and Kathleen Thompson
Carl and Jennifer Thompson
Paul Thompson
Transportation Insight, LLC
Jason and Mitzi Triplett
Brad and Dana Walser
Jim Westerman
Susan Whitehead