2019 Conference
The sixth annual Appalachian Research in Business Symposium (ARBS) was held March 28-29, 2019 at Western Carolina University. The event will be co-chaired by Steve Ha and Drew Carnes.
2018 Event
The 2018 will be held March 22-23 at The Millennium Centre at Johnson City, TN. The symposium will be hosted by the College of Business and Technology at East Tennessee State University in Johnson City, Tennessee. Participants will find opportunities for presenting new research, discovering contemporary ideas, and building connections. A welcome reception will be held on the evening of March 22, and the presentations will be held on March 23.
2017 Symposium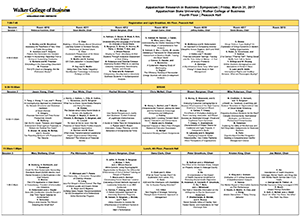 The Appalachian Research in Business Symposium (ARBS) was held on the campus of Appalachian State University March 30-31, 2017. More than 100 business faculty members from Appalachian, Eastern Kentucky, Eastern Tennessee State University and Western Carolina came together to share current research interests and outcomes. Research was presented from a variety of business disciplines including accounting, computer information systems, economics, entrepreneurship, finance, hospitality and tourism, management, marketing and supply chain management. The 2017 conference included a reception for participants on Thursday, March 30 and conference proceedings and a keynote address on Friday, March 31. The ARBS keynote featured Dr. John Silvia, Chief Economist, Wells Fargo. His talk, Optimism on Growth on the Basis of Thoughtful Stimulus, was sponsored by the Boyles Distinguished Lecture Series.
Contact
2017 Conference Chair
Dr. Sandy Vannoy
ASU Box 32037
Office: 3140A Graduate Programs Suite Peacock Hall
Boone, NC 28608-2089
Phone: (828) 262-2922
vannoysa@appstate.edu
Conference Administrator
Donna Lindabury
Office: 3140B Graduate Programs Suite Peacock Hall
Phone: (828) 262-2922
lindaburydm@appstate.edu