Twelve Appalachian State University students traveled to Detroit, Michigan November 9-11 for the annual Institute of Management Accountants (IMA) Student Leadership Conference.
The students are all members of App State's chapter of IMA. They are, pictured from left: Taylor Nicol, IMA Secretary & VP of Social Media Alayna Speer, Cole Blake, IMA President Jaime Ziegenfuss Whitehead, IMA Treasurer Nicholas Fox, Maddison McPherson, Cristina Sanchez, IMA Council Member Allie Hollis, Bianca Gonzalez-Torres, IMA Vice President of Communication and Student Ambassador Emelie Rodriguez, Chloe Borchers, and IMA Council Member and Firelight Project Coordinator Samuel Blevins.
"This was an absolutely amazing experience, and I would like to thank the attending students for taking time out of their busy schedules to attend," said Rodriguez.
The students were accompanied by accounting professor and faculty advisor to the club, Dr. Kim Zahller (not pictured).
About IMA, Business Clubs in App State's Walker College of Business
The Institute of Management Accountants (IMA) student chapter connects accounting, finance and business students on college campuses and helps members gain direct access to IMA professional members in their area. Membership is open to both accounting and non-accounting majors, all those interested in the accounting profession will be offered meaningful relationships, professional development and opportunities in the profession. It's one of 20+ business-oriented clubs at App State. Learn more about business clubs and student organizations online.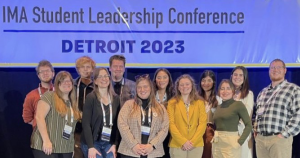 Tags: