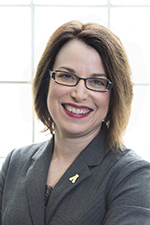 Beans from the Dean
With the first snowfall last week and final examinations just around the corner, the fall 2018 term will soon come to a close. To celebrate our accomplishments this semester and to encourage your continued success throughout finals, I have partnered with Beans 2 Brew for Beans from the Dean, a Walker College tradition. I invite you all to stop by the second floor Broyhill Commons between 8:00 am and 10:00 am on Dec. 7 and Dec. 10-12 to enjoy a cup of coffee, on me. Good luck as you begin your final examinations, and warm wishes for a well-deserved winter break!
Events
Monday, December 3
Business Scholarship Application Opens
All business students are encouraged to submit an online application to be eligible for 2019-20 Walker College scholarships.
Thursday, December 6
9:00 am - 1:30 pm
WCOB Honors Thesis Presentations
Peacock Hall, Room 3019
Nine Walker Honors students will present their thesis research findings. View presentation topics/times. If you plan to attend a portion, but not all, the presentations, please enter and exit during the 5-minute period between sessions.
Friday, December 7
8:00 am - 10:00 am
Beans from the Dean
Beans 2 Brew, Peacock Hall, 2nd Floor
Each semester during final examinations, the Walker College of Business hosts Beans from the Dean on select dates in Peacock Hall. Students and faculty and staff members are invited to stop by the Beans 2 Brew counter in the second floor Broyhill Commons area between 8:00 am and 10:00 am, while supplies last, to enjoy a cup of coffee free of charge. This event is open to the public with no charge to attend.
Connect
TWiW is part of a goal to maintain effective communication between business students and college administrators. While the content changes weekly, one thing remains the same: your input is valuable! If you have ideas about how we can more effectively communicate, please email Walker College Communications Director Haley Childers, childershy@appstate.edu.
Connect with the Walker College on LinkedIn, Instagram and Facebook.