Appalachian State University recently announced the 2020 recipients of the Chancellor's Innovation Scholars Program.
"This 2020 class of Chancellor's Innovation Scholars exemplifies the research, scholarship and ingenuity that elevates the Appalachian Experience year-round," said Appalachian Chancellor Sheri Everts. "The scholars' diverse and groundbreaking research and inquiry will inform issues and propose solutions vital to a broad spectrum of initiatives."
Among the five winning entries is a project from Accounting Professor Tammy Kowalczyk and her colleagues entitled Using Collaborative Client-Service Curriculum to Develop Sustainable Communities.
Using Collaborative Client-Service Curriculum to Develop Sustainable Communities
The project team: Dr. Tammy Kowalczyk, professor in the Department of Accounting; Dr. Maureen MacNamara, assistant professor in the Department of Social Work; and Dr. Elizabeth Shay, assistant professor in the Department of Geography and Planning.
This initiative will pilot a multidisciplinary approach to develop and implement sustainable practices among community and business organizations using Appalachian's Impact Clinic program.
The Impact Clinic in Appalachian's Walker College of Business was formed in fall 2017 to provide sustainability impact assessments to local businesses and help them improve their sustainable practices, Kowalczyk explained. The next step is to engage with other disciplines across campus so the practice recommendations can be evaluated and implemented by the level of expertise needed.
Some best practices often recommended by the Impact Clinic include the following:
Energy efficiency solutions.
Infrastructure design.
Product design to minimize waste.
Water use reduction.
Food waste reduction.
Increasing community impact.
Human resource management.
Marketing and fundraising approaches for nonprofit organizations.
"This pilot project involves coordination of courses in business, social work and planning to benchmark impacts of current activities for an Impact Clinic client to help implement better practices and improve outcomes. We'll gain insight into developing an effective model for future collaborative client-service curricular projects and expand the opportunities for participation by more faculty and students from a variety of disciplines," Kowalczyk said.
A future workshop will be scheduled to help new, interested faculty design service projects to provide specific, solution-driven deliverables that respond to needs identified by the Impact Clinic.
"This experiential learning program will increase students' appreciation of the need for diverse perspectives in developing solutions and will lead to more meaningful and effective solutions that optimize resiliency and sustainability in local and regional communities," Kowalczyk said.
View the four other selected projects at today.appstate.edu.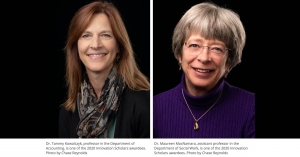 Tags: