Today, business school graduates are increasingly using their degrees to make a difference not only in the corporate world, but also across society. While business school alumni continue to push the boundaries of business, AACSB International (AACSB) has identified five inspiring ways these graduates are driving positive social change in communities around the globe.
The important contributions of Appalachian State University alumna Sarah Freed and 29 other change makers have been recognized as part of the 2016 AACSB Influential Leaders Challenge. Launched in 2015 to honor notable alumni from AACSB-accredited business schools, the AACSB Influential Leaders initiative continues to recognize business school graduates for the positive impact they make on society, and the inspiring example they set for others.
A graduate of Appalachian's Walker College of Business, Freed is an entrepreneurial social responsibility leader with a decade of experience contributing solutions to systemic global sustainability challenges.
"The 2016 Influential Leaders illustrates how the power of a business degree to goes beyond—beyond industries, reaching lives in every part of the world—pioneering change, fostering global exchange, and improving the quality of life," said Thomas R. Robinson, president and chief executive officer of AACSB International. "I would like to thank Sarah for exemplifying how business graduates can be a positive force in society, and congratulate the Walker College of Business for their role in helping to develop the knowledge, skills, and fortitude needed to address some of the toughest challenges we face today."
Freed and her peers represent 15 industry sectors—from social enterprise to healthcare to technology—across 11 countries. While all of this year's leaders differ in their fields and paths to success, many employ similar approaches to helping businesses thrive in ways that positively impact society. Five trends, in particular, represent the contributions of this powerful group, including:
Pushing the boundaries of business through innovation and technology: Business school graduates harness the power of innovation and technology to not only push the envelope in the corporate world, but also affect meaningful change.
Advancing education and employment through entrepreneurship: Alumni often use their entrepreneurial talents to create education and employment opportunities for underserved communities in different parts of the world.
Fostering diversity, inclusion and equality: Knowing the importance of diversity for socio-economic development, business school alumni combat inequality and work towards creating an environment in which people of all backgrounds can flourish.
Creating a more sustainable future: Business school graduates lead the charge in adopting sustainable business practices for the betterment and protection of our globe.
Ensuring healthy lives: Public health is another top priority for business school alumni, using their expertise to find solutions to global health issues.
"Sarah has an innovative mindset, entrepreneurial spirit, and has made significant social change," said Walker College Dean Heather Norris. "I am delighted that AACSB has selected her as a 2016 Influential Leader."
Sarah is the Co-Founder of Obliquity Group, an international consulting firm that provides third party, independent audits and performance benchmarking of corporate social responsibility programs. Freed was also recently was named Community Partnerships Manager with Uber, where she will lead the organization's social responsibility strategy to create authentic, meaningful solutions to key sustainability challenges.
"My work has brought me to more than 25 countries where I've experienced first-hand the power that the private sector can have in addressing core issues related to some of the world's most pressing problems," said Freed. "I could not be more excited to continue my work with a fast-paced, high growth technology startup."
Freed earned her master's degree from the University of Cambridge and her bachelor's degree in Accounting and International Business from Appalachian State University. As a student at Appalachian, Freed launched the Walker College's Global Opportunities Conference, which highlights innovative and entrepreneurial ways of addressing global challenges with a goal to inspire students, faculty and the local community to use their knowledge and skills in the business of building a better world.
For more information on the Influential Leaders Challenge, including a full list of honorees, visit www.aacsb.edu/Influential-Leaders.
About AACSB International
As the world's largest business education network connecting academe with business, AACSB provides business education intelligence, quality assurance, and professional development services to more than 1,500 member organizations across 91 countries and territories. Founded in 1916, AACSB Accreditation is the highest standard of quality in business education, with 775 business schools accredited worldwide. AACSB's global headquarters is located in Tampa, Florida, USA; its Asia Pacific headquarters is located in Singapore; and its Europe, Middle East, and Africa headquarters is located in Amsterdam, the Netherlands. For more information, visit www.aacsb.edu.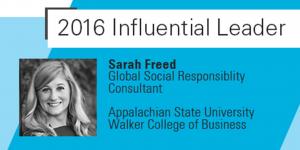 Tags: