The 2017-18 academic year marks the 40th anniversary of Appalachian State University's chapter of Beta Gamma Sigma.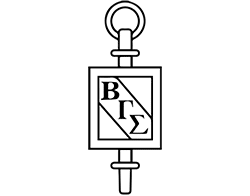 Beta Gamma Sigma, the international honor society serving business programs accredited by AACSB International - The Association to Advance Collegiate Schools of Business, honors academic achievement; develops members as student and professional leaders; fosters an enduring commitment to the founding principles and values of the Society: honor and integrity, pursuit of wisdom, earnestness, and service; and connects student and alumni members to each other and to professional opportunities.
The Walker College has been accredited by AACSB International since 1976, and Appalachian was officially installed as a Beta Gamma Sigma chapter in 1977.
"Thank you for your commitment to recognizing the academic achievements of your students," said Christina Allrich, Beta Gamma Sigma Director of Chapter & Alumni Operations. "This is truly a milestone to celebrate and is a testament to the continued support and hard work of your university's administration, faculty and staff."
Membership in Beta Gamma Sigma is the highest recognition a business student can receive in a business program accredited by AACSB International. Juniors and seniors must be in the top 10 percent of the class, and graduate students must be in the top 20 percent to be invited to join.
Qualifying students should look for their e-mail invitations during the spring 2018 semester. For more information, contact Kathy Mann, Walker College Office of Undergraduate Programs & Administration, 828-262-6165.