ASU NEWS–Three socially conscious, entrepreneurial alumni were recognized by the Alumni Association Friday, Oct. 6, during Homecoming weekend 2017. They are Sarah Freed '09 of Seattle; Robert Thomas "Tommy" Sofield Jr. '76 of Boone; and Dale E. Tweedy '89 of Mooresville.
Chancellor Sheri Everts thanked the awardees for their continued support, saying, "Every day, our passionate and successful alumni enhance the value of an Appalachian degree — earning advanced degrees, starting new businesses and building distinguished careers both at home and abroad. These three exemplary individuals have earned recognition among their fellow alumni because they are stellar representatives of our university through their work, service and philanthropy."
Young Alumni Award
A graduate of the Walker College of Business (WCOB), Sarah Freed '09 is an entrepreneurial social responsibility leader with a decade of experience contributing solutions to systemic global sustainability challenges.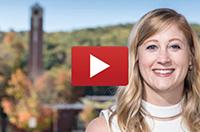 Watch the video about Sarah Green Freed.
Freed founded and was the first president of Appalachian's chapter of AIESEC, a worldwide student-run organization that aims to develop the leadership potential of youth through experiential learning, volunteer experiences and professional internships.
She is the co-founder of Obliquity Group, an international consulting firm that provides third-party, independent audits and performance benchmarking of corporate social responsibility programs. She recently was named community partnerships manager for Uber, where she will lead the organization's social responsibility strategy to create authentic, meaningful solutions to key sustainability challenges.
"My work has brought me to more than 25 countries where I've experienced firsthand the power that the private sector can have in addressing core issues related to some of the world's most pressing problems," she said.
"Her commitment to making the world a better place was clearly evidenced when she turned down an opportunity to pursue a career with one of the nation's largest accounting firms to pursue her passion for working with the less economically advantaged in Africa," said Marty Meznar, WCOB's associate dean for global and civic engagement. Freed makes regular visits from her home in Seattle to speak and to mentor our students," he said.
Freed earned her bachelor's degree — magna cum laude — in accounting and international business and graduated from Cambridge University with a Master of Studies in Sustainability Leadership.
Outstanding Service Award
Robert Thomas "Tommy" Sofield Jr. '76 was captain of the 1975 Mountaineer football team, became a captain of industry and is a champion for his teammates, students and alma mater.
Sofield came to Appalachian from Virginia Beach, Virginia, in 1971 and has been a Mountaineer since. His sophomore year, he opened a Boone sub shop. The purchase in 1985 of a steel building manufacturing company has expanded over the years into multiple companies and business ventures including the manufacture of steel arch buildings, tornado shelters and safety-compliant storage facilities. He is also involved in real estate development and management.
Since graduating with his Bachelor of Science in physical education (K-12), Sofield has been a solid supporter of Appalachian athletics. He and his family provided the lead gift for the $50 million Sofield Family Indoor Practice Facility. Additionally, he serves on various university boards, including the Athletics Feasibility Committee and the Board of Visitors.
But, according to nominators' remarks, Sofield's true impact has been from his quiet and consistent support for any number of student-athletes and former teammates. Distinguished Alumni Award winner for 2002, Chris Swecker '78 said Sofield "is the touchstone for several generations of students and former athletes. Tom realized that Appalachian and his football scholarship dramatically changed the trajectory of his life. He and his wife, Debbie, are determined to do the same for others."
Distinguished Alumni Award
Before enrolling at Appalachian, Dale E. Tweedy '89 jumped from airplanes as a paratrooper in the U.S. Army.
Since, he's been jump-starting business ventures and careers as a serial entrepreneur and mentor.
After graduating with a Bachelor of Science in industrial technology, Tweedy successfully built and sold numerous businesses — from business re-engineering and system integration firms to technology staffing and multinational importing firms. He is currently a partner with Stonegate Developers LLC.
Tweedy, a resident of Mooresville, is a dedicated coach — of both youth sports and young entrepreneurs. He created the Dale Tweedy Mentoring Program located within Appalachian's Transportation Insight Center for Entrepreneurship. He started the program in 2008 in order to share his career success and experience in the classroom.
In Mooresville, Tweedy has coached a number of local youth football and lacrosse teams, and he has coordinated and financed camps at Appalachian for his coaches and players. According to nominator Lt. Col. David Wayne Cox '90 '00, Tweedy and his wife, Jill, have mentored a number of at-risk youth, "taking at least one troubled teen into their home and family to try and give him the tools and other things needed to succeed in life."
At Appalachian, Tweedy worked as a resident advisor and was president, captain, coach and player for the club rugby team. He also was an Appalachian Student Ambassador. He worked for Outdoor Programs, teaching a range of sports from rock climbing to cycling. He remains an avid athlete, competing in hundreds of triathlons. He often competes, sporting Appalachian's black and gold, to raise money for charities.