The Department of Accounting in the Walker College of Business at Appalachian State University will offer a free tax help lab for students, faculty and staff beginning February 7 until April 12.
Individuals can drop into Peacock Hall Room 4015 on Tuesday and Wednesday evenings between 5:00-7:00 p.m.
The lab is directed by Accounting Professor Mary Ann Hofmann, and Walker College of Business accounting undergraduate and graduate students serve as IRS-Certified Volunteer Income Tax Assistants. Dr. Hofmann and the students are on hand to offer free tax help, provide advice on getting started and answer tax questions.
Business students also serve as tax volunteers for the VITA site for the Boone community, offered at the Watauga Library and Senior Center. Appalachian accounting graduate student Andrew Olson directs the public clinic.
Individuals earning $64,000 or less will have the option to e-file federal and state income taxes through MyFreeTaxes, a free, national, online platform sponsored by United Way and supported by H&R Block.® It is not necessary to come to the lab to utilize the program, and users may begin the step-by-step process, then save the return part way through, giving them the chance to ask questions or gather additional documents before submitting.
The lab will be closed the week of spring break (March 13-17) and on any dates the university closes for inclement weather.
For more information, contact Dr. Hofmann, hofmannma@appstate.edu.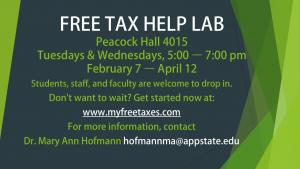 Tags: