Appalachian State University senior accounting major Jaime Ziegenfuss Whitehead and junior accounting major Will Cook have each earned the Joseph F. Ryan Memorial Scholarship, presented annually by the Catawba Valley Institute of Management Accountants (IMA) parent chapter.
The Joseph F. Ryan Memorial Scholarship is awarded annually to full-time students who have completed their freshman year and are rising sophomores or above, seeking a degree in accounting, finance or business.
Pictured from left are Catawba IMA officer Rhonda Young, App State IMA Faculty Advisor Kim Zahller, App State Accounting Senior Jaime Ziegenfuss Whitehead, App State Accounting Junior Will Cook, and Catawba IMA outgoing president Ellen Knauff.
For Ziegenfuss Whitehead, the award is one of four from the IMA organization. The others are the Century Scholarship, the Stuart Cameron McLeod Society Scholarship, and the CMA Scholarship.
Related: Ten earn scholarship from IMA to obtain 'gold standard' expertise
IMA is committed to supporting the education of future accounting and finance professionals working in business. Learn more on the IMA website.
The Appalachian Accounting Degree
Every spring semester, the majority of Appalachian accounting students receive academic credit for their participation in full-time, off-campus internships in accounting firms and industry. The majority of these students receive full-time permanent job offers as a result of their internship. The Department of Accounting has built a strong reputation for excellence in accounting education, and is highly regarded by accounting employers in North Carolina and throughout the Southeast. Accounting graduates are recruited by the largest international, national, and regional accounting firms as well as local accounting firms, industry and government agencies. The Department of Accounting offers the Bachelor of Science in Business Administration (B.S.B.A.) degree and the Master of Science (M.S.) degree in Accounting. Learn more at Appalachian at accounting.appstate.edu.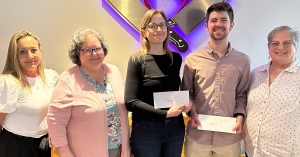 Tags: