Jeff McElwee '09 owns and operates FūD at Salud, the culinary counterpart to the successful Salud Beer Shop in the North Davidson (NoDa) neighborhood of Charlotte, NC. McElwee's business is thriving. In fact, the Charlotte agenda called FūD a hidden gem in NoDa.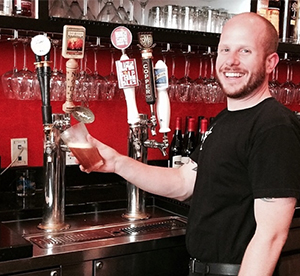 McElwee honed his culinary skills coming up through the restaurant ranks at the Cowfish Sushi Burger Bar, Taco Mac, and Boone's own Pepper's Restaurant.
"FūD opened in in late April of 2015, and we're doing great," said McElwee. "Thanks to a great group of regulars, the restaurant was in the black in its first year."
McElwee attributes launching a successful restaurant before the age of 30 not only to hard-earned experience and great customers, but also in part to the training he received from the entrepreneurship program at Appalachian State University. He credits Professor of Entrepreneurship and then-Faculty Director of the Transportation Insight Center for Entrepreneurship Ben Powell with helping set him on the path to success. He learned how to write a successful business plan during Powell's courses in 2008 and 2009.
McElwee advises aspiring entrepreneurs to be persistent. "Every bank denied my loan request because of the inherent risk in opening a restaurant," he said. "But they all had the same thing to say, 'Who wrote your business plan!?' which was rewarding to hear. Even with almost nothing to my name besides my passion, I was finally able to secure a loan and get the ball rolling."
FūD at Salud has 37 reviews on Yelp with a rating of 5 stars, as well as consistent exposure on social media through restaurant-goers and Charlotte-based publications.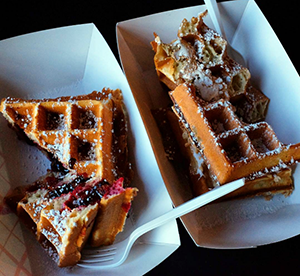 "Owning my own business has been a passion since grade school," added McElwee. "I always knew I would wind up working for myself, but I didn't think it would happen so quickly."
Find FūD at Salud online, or on Instagram/Twitter/Facebook @fudatsalud. Waffles photo credit @cbtaylor23
About Entrepreneurship at Appalachian
The Department of Management in the Walker College of Business offers minors in entrepreneurship for business and non-business majors. The programs provide students a solid business background through experiential coursework in the areas of corporate, international and social entrepreneurship.
The Transportation Insight Center for Entrepreneurship at Appalachian State University helps students and alumni launch successful businesses, enhance their future prospects, and the region's economy. The center was created in 2006 to support a rapidly increasing group of student entrepreneurs, and it was named for Hickory-based Transporation Insight in 2012.