The Appalachian Mountain Brewery (AMB) sustainability report, released Friday, April 22 (coinciding with Earth Day 2016), is not only one of the first of its kind, but also features faculty-student collaboration from the Walker College of Business.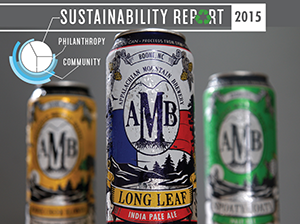 The report is AMB's first sustainability report, and is one of few reports to-date that utilizes new standards from the Sustainability Accounting Standards Board (SASB) in the reporting process. SASB develops and disseminates sustainability accounting standards that help publicly listed corporations disclose material factors in compliance with federal Securities and Exchange Commission requirements.
"We are proud to be one of the first craft beverage companies to voluntarily adhere to the sustainability standards set forth by SASB. We believe this is an important step in line with our dedication and commitment to sustainability, community, and philanthropy. Additionally, through our engagement in voluntary disclosure, we seek to increase our transparency with our investors, customers, suppliers, and local community," stated AMB CEO Sean Spiegelman.
The report, available in its entirety on AMB's website, addresses AMB's progress in energy, water, supply chain and ingredients, packaging, and marketing.
"This initial report will serve as a benchmark for future performance. From our established benchmarks in this report, we can set targets for future performance and gauge our progress towards meeting our objectives," said AMB CFO Jeremy Barnes. "We are impassioned by social-mindedness and the many ways it can benefit both our communities and shareholders long-term."
Barnes is an Appalachian accounting graduate who is now completing his Master's Degree in Accounting from the Walker College. In addition to Barnes' contribution, much of the report was prepared by fellow MS of Accounting student Alex Helms, in conjunction with AMB's graphic design artist Tommy Lee. The students worked closely with Appalachian Professor of Accounting and Sustainability Academic Fellow Tammy Kowalczyk on the project.
"Special thanks to Tammy Kowalczyk, Jeremy Barnes, Appalachian State University, Tommy Lee and Alex Helms for making this amazing project come to fruition," said AMB CEO Sean Spiegelman. "This makes a special day in our continual progress towards Community, Sustainability and Philanthropy."
"This is an outstanding example of a collaboration between our faculty, students and the community," added Walker College of Business Dean Heather Norris. "Dr. Kowalczyk and several other Walker College faculty members are leading the way in sustainability research, as well as teaching and sharing sustainable business practices."
About Appalachian Mountain Brewery, Inc.
Comprised of two wholly owned subsidiaries, its craft beer business "Appalachian Mountain Brewery, LLC" is dedicated to making seriously delicious craft beer while focusing its business model on community, sustainability and philanthropy. Winner of numerous medals and awards, the Brewery brews and offers for sale many different craft beers. Its wholly-owned subsidiary "FarmToFlame, LLC" operates a food truck that features a unique wood fired oven in the truck, providing our customers with a casual dining experience that balances innovation and sustainability. Appalachian Mountain Cidery makes a hard cider using third generation locally grown North Carolina apples. Both subsidiaries have received the prestigious official certification by ASAP (Appalachian Sustainable Agriculture Project) for Western North Carolina grown and produced products.
About Sustainable Business in the Walker College of Business
The Walker College of Business at Appalachian State University is committed to advancing sustainable business practices that promote responsible management of economic, social, and natural resources. Read the full Walker College of Business mission statement. Through the work of the college's Sustainable Business Curriculum and Faculty Development Committee, the Walker College leads through implementation and support of campus initiatives, events, research and service related to sustainability. The theory and practice of sustainable business recognizes that the economy, environment, and society (the triple bottom line) are interconnected and interdependent, and strives to enhance the business model so that it can flourish and thrive to benefit future generations. Learn more at business.appstate.edu/sustain