By Jessica Stump
BOONE, NC
December 13, 2019
Appalachian State University has signed an agreement with the American University of Ras Al Khaimah (AURAK) in the United Arab Emirates (UAE) that establishes a collaborative undergraduate transfer student program (TSP) in hospitality management.
The agreement, titled "AURAK-Appalachian 3+1 Undergraduate Transfer Student Program (TSP) in Hospitality Management," was signed by Appalachian Chancellor Sheri Everts and AURAK President Hassan Hamdan Al Alkim Thursday in the Division of Academic Affairs conference room.
"Appalachian has long-established relationships with institutions of higher learning around the world, and we are pleased to expand the agreement with AURAK initiated in 2015," Everts said. "We are looking forward to continued partnership with AURAK, as international partnerships enrich our campus culture and broaden the global experience for the entire Appalachian Community."
Appalachian Provost and Executive Vice Chancellor Darrell Kruger, who attended the signing, said, "We are proud to welcome students from AURAK to live and learn at Appalachian. When our students make global connections on campus or abroad, they better understand their responsibilities as citizens of the world and build their cultural literacy. This is particularly beneficial as our graduates take their places in the world marketplace."
Chancellor Everts and other university leaders will visit the AURAK campus in January 2020.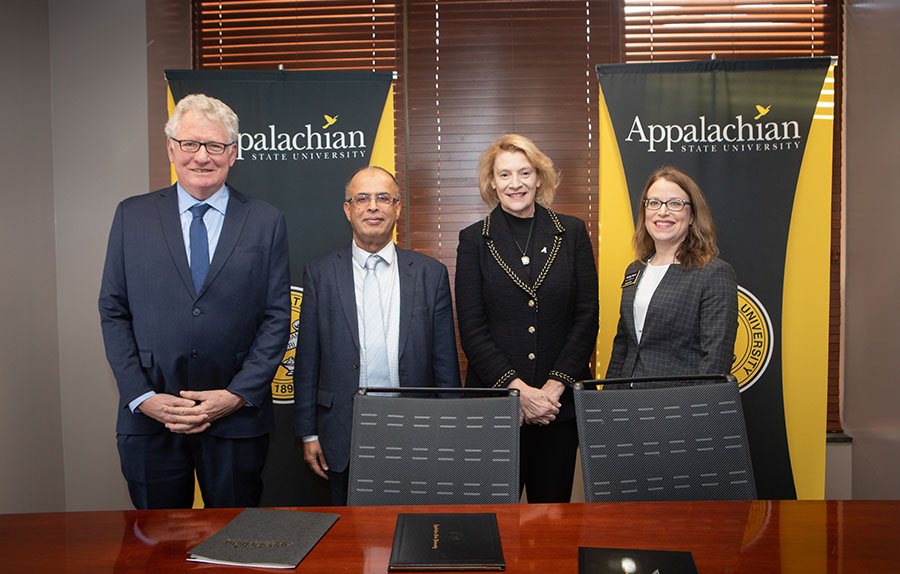 Appalachian Chancellor Sheri Everts, second from right, and Dr. Heather Hulburt Norris, dean of Appalachian's Walker College of Business, far right, meet with AURAK President Hassan Hamdan Al Alkim, second from left, and professor Joe Wallis, dean of AURAK's School of Business, during the AURAK delegates' visit to Appalachian's campus Dec. 12. Appalachian and AURAK have signed an agreement for a new undergraduate transfer student program in hospitality management. Photo by Marie Freeman
About the hospitality management TSP
The 3+1 undergraduate TSP in hospitality management was developed at AURAK's request in order to meet the human resources needs of the hospitality industry in Ras Al Khaimah, one of seven emirates of the UAE.
Under the agreement, qualified AURAK students who have successfully completed the first three years of an undergraduate bachelor's degree curriculum in business with a major in hospitality management will be accepted into the Department of Management in Appalachian's Walker College of Business (WCOB) to pursue hospitality management courses.
"The Walker College of Business has a long history of developing strong international partnerships," said Dr. Heather Hulburt Norris, dean of the WCOB. "This agreement is an important milestone in a key relationship for the college."
Those AURAK students accepted to Appalachian will spend one year at the university completing required hospitality management courses in order to qualify for their bachelor's degree in business, awarded by AURAK. All hospitality management courses completed at Appalachian will be transferred to AURAK.
The Ras Al Khaimah Tourism Development Authority (RAK TDA) is providing AURAK with five annual scholarships valued around $13,000 each to send students to the U.S. to study hospitality and tourism management. All of the scholarship recipients are anticipated to be sent to Appalachian under the new agreement, with the first AURAK students attending Appalachian in spring of 2021.
Student, faculty and staff exchanges
Appalachian's partnership with AURAK, which began with the signing of a formal agreement between the two institutions in March 2015, has paved the way for student, faculty and staff exchanges between the two institutions.
According to Appalachian's Office of International Education and Development (OIED), several Appalachian and AURAK students have completed exchange programs since the universities' partnership began. Two AURAK students who studied at Appalachian during the 2015–16 academic year transferred to Appalachian as degree-seeking students after completing their exchange program, and one Appalachian student studied at AURAK in fall 2015.
Dr. Carol Kline, associate professor in the WCOB's Department of Management and director of the department's BSBA in hospitality and tourism management degree program, recently returned from AURAK, where she worked with professor Joe Wallis, dean of AURAK's School of Business, on the four-year curriculum for a Bachelor of Business Administration in hospitality and tourism management at AURAK.
Additionally, while visiting Appalachian, Alkim and Wallis met with faculty and staff members in Walker College to discuss the new agreement and other opportunities in the college.
About AURAK
Established in 2009 and located in the northern emirate of Ras Al Khaimah, AURAK is an independent coeducation institution of higher education that provides an integrated, American-style undergraduate and graduate education with a strong focus on local indigenous culture. The university, which offers 18 undergraduate and four graduate degree programs, has a diverse student body of more than 1,006 students, which is projected to grow to 3,000 students in the near future.
AURAK is accredited by the Southern Association of Colleges and Schools Commission on Colleges — the same commission through which Appalachian is accredited — to award bachelor's and master's degrees.
After the agreement signing, the AURAK delegates joined Everts, Kruger, Vice Chancellor and Chief of Staff Hank Foreman, Norris and other WCOB faculty and staff members for a luncheon held in the Chancellor's Boardroom.
About the Division of Academic Affairs
The Division of Academic Affairs is responsible for student learning and success at Appalachian State University, including oversight of the university's challenging academic curriculum, active classroom environments, and close collaboration between faculty members and students on scholarly activities. Academic Affairs encompasses the degree-granting College of Arts and Sciences, College of Fine and Applied Arts, Beaver College of Health Sciences, Reich College of Education, Walker College of Business and Hayes School of Music; as well as the Cratis D. Williams Graduate School, the Honors College, University College and 12 other units that support the innovative, interdisciplinary and integrative academic experience for which Appalachian is known. Learn more at http://academicaffairs.appstate.edu.
About the Walker College of Business
The Walker College of Business at Appalachian State University delivers transformational educational experiences that prepare and inspire students to be ethical, innovative and engaged business leaders who positively impact our community, both locally and globally. The college places emphasis on international experiences, sustainable business practices, entrepreneurial programs and real-world applications with industry. Enrolling approximately 3,000 undergraduates in 10 majors and 175 graduate students in three master's programs, the Walker College is accredited by AACSB International – the premier global accrediting body for schools of business. Learn more at https://business.appstate.edu.
About the Office of International Education and Development
The OIED is responsible for spearheading the internationalization efforts at Appalachian. The internationalization mission of Appalachian is to develop awareness, knowledge, appreciation and respect of cultural differences in both domestic and international contexts in its students, faculty, staff and the surrounding communities. The university is also dedicated to creating a campus environment that builds the theoretical and practical skills needed to interact effectively in a global society. Learn more at https://international.appstate.edu.
About Appalachian State University
As the premier public undergraduate institution in the state of North Carolina, Appalachian State University prepares students to lead purposeful lives as global citizens who understand and engage their responsibilities in creating a sustainable future for all. The Appalachian Experience promotes a spirit of inclusion that brings people together in inspiring ways to acquire and create knowledge, to grow holistically, to act with passion and determination, and to embrace diversity and difference. Located in the Blue Ridge Mountains, Appalachian is one of 17 campuses in the University of North Carolina System. Appalachian enrolls more than 19,000 students, has a low student-to-faculty ratio and offers more than 150 undergraduate and graduate majors.