Dr. Jamie Parson, an assistant professor of finance in Appalachian State University's Walker College of Business has been named a National Association of Insurance Commissioners (NAIC) research fellow.
The NAIC Research Fellow Program fosters new and innovative research in the area of insurance regulation by providing resources to researchers working on projects in the field.
As an NAIC research fellow, Dr. Parson will continue her work on insurance modernization for anti-rebate laws.
Related: View a past presentation, Time to Dust off the Anti-Rebate Statutes from Dr. Parson and colleagues David Marlett and Stuart Powell.
Dr. Parson has been fostering diversity and inclusion at App State for the better part of a decade. She leads the Walker College's Inclusive Excellence Team and serves as a member of the university's Black Faculty and Staff Association. She is also acting co-director of the Inclusive Excellence Team in Appalachian's Center for Academic Excellence (CAE), which champions diversity as the intentional inclusion of all cultures, worldviews, gifts, talents, history and traditions.
Related: App State faculty member fosters equitable experiences for underrepresented students
About the NAIC Research Fellows
NAIC Research Fellows are named for a one-year period. Fellows receive a $5,000 stipend, access to relevant NAIC data and materials, and funding for up to three trips to NAIC offices to collaborate with staff and provide updates on the research.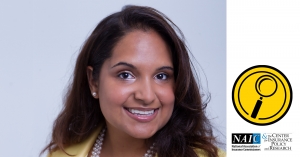 Tags: