University Headquarters (UniversityHQ), an independent educational organization, has ranked Appalachian State University's Master of Business Administration (MBA) program among the best in North Carolina for 2022.
Of the 20 programs recognized in UniversityHQ's "Best North Carolina MBA Schools and Programs" list, App State's MBA placed as No. 12.
To compile its rankings, UniversityHQ assessed the quality and affordability of the programs, considering tuition costs, admission rates, retention rates, graduation rates and salaries of graduates, among other factors. Only accredited institutions were included.
Learn more about App State's MBA program — on campus and online.
Rankings source: https://universityhq.org/best-colleges/north-carolina/online-mba-degrees/
About Appalachian State University's MBA Program
Appalachian State University's MBA Program provides educational experiences to prepare our students for life-long learning and professional leadership responsibilities in a dynamic global environment. The program provides individualized attention through extensive student-faculty collaboration and offers frequent networking and team building opportunities. Flexible programming allows each student to receive the best educational experience possible through full-time on-campus or part-time online programs. For more information, visit mba.appstate.edu.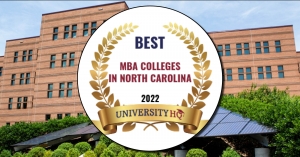 Tags: