Appalachian State University has been named a Tier One MBA school by CEO Magazine for a fifth year running.
The 2021 rankings were determined by average scores from a four-year period beginning in 2017. The scores incorporated a range of data points, including quality of faculty, international diversity, class size, accreditation and faculty-to-student ratio, among other factors.
According to the publication, the benefits attached to an MBA are well documented: career progression, networking opportunities, personal development, salary... and the list goes on. The rankings aim to cut through the noise and provide potential students with a performance benchmark for those schools under review.
"It is an honor that Appalachian continues to be included in the CEO Magazine listing," said Walker College of Business Associate Dean for Graduate Programs and Research, Dr. Lakshmi Iyer. "Our MBA alumni are a diverse network of individuals who are doing business for good in organizations worldwide."
Related: Appalachian again named a Tier One Global MBA program by CEO Magazine
Appalachian has a long history of leading in business education, having offered an MBA to learners since 1977. Appalachian recently expanded its offerings to serve students farther from campus, too, launching a new online MBA in Fall 2020. CEO Magazine ranked Appalachian's online MBA as 70th.
Related: Nationally recognized App State MBA available online
"We've found that many professionals are looking for a career shift or promotion, for which the MBA would be of great value, but that they want to matriculate where they are," said Dr. Neel Das, Director of the MBA Program. "I'm pleased that we've made excellent progress in meeting student needs through our new online MBA and that our on-campus MBA continues to garner positive attention as a world-class business program."
The rankings cover 180 participating schools in 27 countries, encompassing 338 different programs – 89 online, 90 EMBA and 159 full-time and part-time MBA programs.
The complete rankings can be viewed in the latest edition of CEO Magazine, on the magazine's website, ceo-mag.com.
About Appalachian State University's MBA Program
Appalachian State University's MBA Program provides educational experiences to prepare our students for life-long learning and professional leadership responsibilities in a dynamic global environment. The program provides individualized attention through extensive student-faculty collaboration and offers frequent networking and team building opportunities. Flexible programming allows each student to receive the best educational experience possible through full-time on-campus or part-time online programs. For more information, visit mba.appstate.edu.
About the Walker College of Business
The Walker College of Business at Appalachian State University delivers transformational educational experiences that prepare and inspire students to be ethical, innovative and engaged business leaders who positively impact our community, both locally and globally. The college places emphasis on international experiences, sustainable business practices, entrepreneurial programs and real-world applications with industry. Enrolling approximately 3,000 undergraduates in 10 majors and 175 graduate students in three master's programs, the Walker College is accredited by AACSB International – the premier global accrediting body for schools of business. Learn more at business.appstate.edu.
About Appalachian State University
As the premier public undergraduate institution in the state of North Carolina, Appalachian State University prepares students to lead purposeful lives as global citizens who understand and engage their responsibilities in creating a sustainable future for all. The Appalachian Experience promotes a spirit of inclusion that brings people together in inspiring ways to acquire and create knowledge, to grow holistically, to act with passion and determination, and to embrace diversity and difference. Located in the Blue Ridge Mountains, Appalachian is one of 17 campuses in the University of North Carolina System. Appalachian enrolls more than 19,000 students, has a low student-to-faculty ratio and offers more than 150 undergraduate and graduate majors. Learn more at appstate.edu.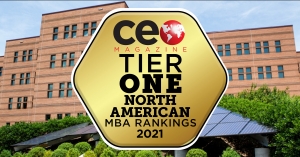 Tags: