It is equal parts travel and discovery - exploring Africa is transformational at a minimum. Africa will get under your skin, from the moment you arrive and will stick with you long after you leave. Appalachian students returned to Malawi, Africa over the winter term with World Camp an international non-governmental organization leading development projects in the rural regions around the capital, Lilongwe.
Here poverty and disease are front and center. Malawi is a small sub-Saharan country where less than 9% of the population has access to electricity and HIV and AIDS have ravaged the adult population. Today 45% of Malawi's 16 million people are under the age of 14 and creative solutions to combat these issues are paramount.
Students shared multiple and varied experiences as they explored the intersection of social enterprise, non-profit management and development solutions. ASU utilizes World Camp's presence in Malawi as a home base to explore the history and politics of an impoverished country trying to find its way forward. Life in Malawi is vastly different than life in the United States. An assortment of astonishing and harsh realities are seen firsthand, but such a trip always turns out to be a delight and a revelation.
One of the highlights of the Malawi trip this year was a chance meeting with William Kamkwamba, co-author of the international best selling book, "The Boy Who Harnessed the Wind," which relates his story of how he achieved his dream of bringing electricity, light, and the promise of a better life to his family and his Malawi village. William will be the keynote speaker at the spring Global Opportunities Conference at ASU.
Learning is exploration and exploration stems from imagination - if you can imagine something you can make it happen. APP students gain invaluable global perspective as they venture beyond the classroom and explore solutions to complex problems. Sometimes solutions to complex problems are hard, sometimes they take forever to formulate and sometimes they may never happen - but the first step is taking a hands-on approach.
It can take a village to show students how they can play a role in building a better world. While year after year different student groups return to Malawi the Mchezi comunity continues to open their arms and welcome ASU to explore solutions to community challenges. This trip continues to be a good fit with ASU's mission to develop socially minded leaders for global opportunities.
Over the course of the trip students spent time exploring preservation efforts of national parks and learned about the growing permaculture movement and how its philosophy is being applied to a variety of development projects. Hands-on field projects mixed with class participation provided the ideal environment for APP students to learn about social responsibility, sustainable develompent and economic impacts of even small enterprises and the importance of cultural understanding.
This program is the second Walker College of Business program to Malawi. A repeat program is scheduled for the 2014 academic year. For more information, contact Meredith Church at churchmm@appstate.edu. Click to see a photo gallery from the program.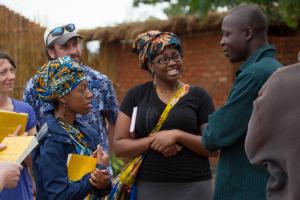 Tags: