The Industrial-Organizational Psychology and Human Resource Management program (IOHRM) at Appalachian State University earned approval of alignment with the Society for Human Resource Management (SHRM) Human Resources (HR) Curriculum Guidelines at the graduate level.
According to the SHRM website, "the guidelines reflect common agreement among faculty who teach HR, students who study HR and practitioners who hire recent HR degree program graduates regarding the minimum standards that constitute a broad and deep HR education."
The IOHRM program at Appalachian is one of only two Industrial-Organizational (I-O) programs that will be listed in SHRM's HR Program Directory. The directory includes HR- and HR-related degree programs that align with the curriculum guidelines and are recommended for HR education at the undergraduate and graduate level.
In addition to achieving listing in the directory, being recognized by SHRM will create eligibility for students within the program to take the SHRM certified professional (CP) exam.
Appalachian students who have 500 hours of relevant HR experience and meet the other requirements will take the CP exam between December 1, 2018 and February 15, 2019.
"Thanks to my faculty colleagues for their assistance in the application process," said Dr. Timothy J. Huelsman, professor and director of the Industrial-Organizational Psychology and Human Resource Management program at Appalachian. "In addition, I want to recognize and thank second year IOHRM student Troi Robinson-Moss who coordinated the self-study that was an important part of our application to SHRM."
Appalachian IOHRM students have many opportunities to complete qualifying, relevant HR experiences, including internships, work-study assignments, work-related or research-related projects, supervised independent study and part-time or full-time work in the field.
About Appalachian's IOHRM Program
Appalachian's Industrial-Organizational Psychology and Human Resource Management (IOHRM) program offers an interdisciplinary Master of Arts degree through the Departments of Psychology in the College of Arts & Sciences and Management in the Walker College of Business. Students receive specialized training in human resource management with emphases on developing knowledge of theories, methods and research findings derived from the behavioral sciences. The degree prepares graduates for work in business, industry and government, where they will address organizational activities such as selection, placement and motivation of employees, training and development, performance appraisal, and development and change of organizations.
September 25, 2018
Emma Spear
BOONE, N.C.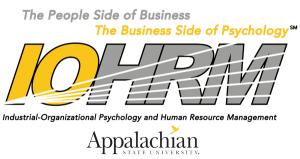 Tags: