Now in the top half of colleges ranked, Appalachian's placement in Forbes magazine's annual "America's Top Colleges" list has gained 13 positions from 2018 to 2019. The university ranked as No. 305 out of 650 public higher education institutions in the nation for 2019.
Appalachian is the third highest ranking UNC System institution named in the list — with UNC-Chapel Hill first and North Carolina State University second of the 19 North Carolina colleges and universities included.
The university was also ranked within the top third of the 166 higher education institutions in the South that were named to the list and within the top half of the 250 public schools recognized nationally.
The schools named to the list were scored based on the following five factors: alumni salaries, student satisfaction, four- and six-year graduation rates, signs of individual success, including academic and career accolades, and successful leaders in public service and private enterprise according to Forbes' database of successful people.
Additionally, Forbes named Appalachian in its fourth annual "America's Best Value Colleges" list.
"The economic and social benefits of higher education are clear," Forbes' website states, citing a University of California, Berkley study that reported college graduates obtain better jobs, earn more money and experience less unemployment than high school graduates.
At Appalachian, the cost for tuition, fees, standard room and board, and most textbooks for the 2019–20 academic year is $15,124 for North Carolina residents and $29,931 for out-of-state residents.
RELATED: Financing the dream — staying fiscally afloat at Appalachian
The schools named to the list were ranked based on scores in the following areas: net price, net debt, alumni earnings, timely graduation, school quality and access for low-income students.
View the full rankings — Forbes magazine's "America's Top Colleges" and "America's Best Value Colleges."
Related: App State ranked a 'Best' by 5 national publications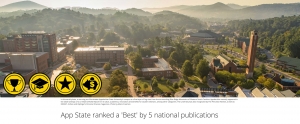 Tags: