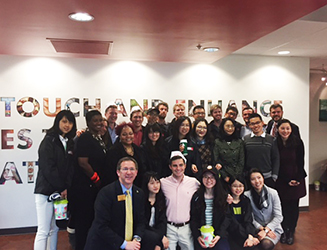 Twelve Appalachian students and their twelve Fudanese partners visited Krispy Kreme's Headquarters in Winston-Salem, NC, March 25.
The students were participants of the 2015 Holland Fellows Program for Business Study in China, an intensive exchange program that allows for hands-on collaborative study of Chinese and American business and culture between students at Appalachian State University and Fudan University (Shanghai, China).
The students were accompanied by Fudan delegation leaders and Appalachian representatives: Vice Chancellor of Student Development Matt Dull, Walker College of Business Director of Marketing and Engagement Debbie Covington and Walker College of Business Director of Development Will Sears.
The visit gave the students an opportunity to view the operations of the specialty sweets retailer. The students met with Dan Beem, Krispy Kreme's Senior Vice President and President – International.
Krispy Kreme public relations representative Lafeea Watson also spoke to the students about the company's mission, values, corporate philosophy and business model, and Krispy Kreme guest relations representative Fialisa Pickard hosted the students on the premises.
About the Holland Fellows Program
William R. Holland Fellows Program for Business Study in China was established in 1997 and provides a once-in-a-lifetime opportunity for Appalachian business students to collaborate with students from Fudan University (Shanghai, China). They participate in classes, project assignments and visits to firms, as a way of learning about Chinese business practices and culture. Twelve Appalachian students are competitively selected each October, participate in intensive study during the spring semester, host the Chinese delegation in March, and travel to China in May.
About Krispy Kreme
Krispy Kreme is a leading branded specialty retailer and wholesaler of premium quality sweet treats and complementary products, including its signature Original Glazed® doughnut. Headquartered in Winston-Salem, N.C., the Company has offered the highest quality doughnuts and great tasting coffee since it was founded in 1937. Today, Krispy Kreme shops can be found in more than 800 locations in over 20 countries around the world. Connect with Krispy Kreme at www.krispykreme.com.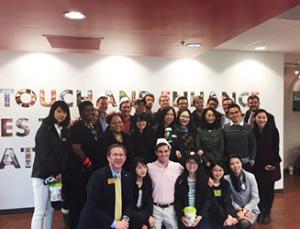 Tags: