Risk Management and Insurance (RMI) majors from Appalachian State University have won the national Spencer-RIMS Risk Management Challenge. The final presentation rounds were held in conjunction with the RIMS 2015 Annual Conference & Exhibition in New Orleans, Louisiana, April 26-28.
The winning students, pictured above from left, were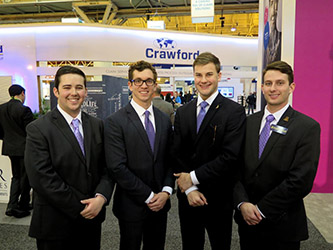 They were accompanied by Brantley Risk and Insurance Center Director Karen Epermanis, who served as their faculty advisor.
"There was a very high caliber of talent and professionalism among the competitors," said Epermanis. "Our students worked hard to prepare their written case analysis and their presentation; I'm very proud of them."
Appalachian was among eighteen university teams from across the United States who participated in the competition, which spanned several months. The teams, comprised of undergraduate students engaged in their university's risk management and insurance program, were presented the Challenge case for The Walt Disney Company and charged with providing a comprehensive risk analysis of company risks, along with recommendations.
A panel of risk management professionals judged the teams' submissions, and the top eight teams were invited to present their findings at the National RIMS conference.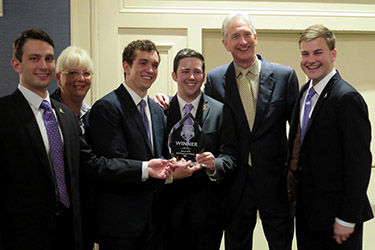 The top three teams, Appalachian State University, Missouri State University and Temple University then presented to the panel of judges and RIMS members and session attendees on April 27.
Pictured, Brantley Risk & Insurance Center Director Karen Epermanis, second from left, and Appalachian's Joseph F. Freeman Distinguished Professor of Insurance Dave Wood, second from right, are pictured with the students and the winner's trophy.
About the Brantley Risk & Insurance Center
The Brantley Center is a privately-funded entity within the Walker College of Business that prepares the next generation of industry leaders by student interview guidance, resume production techniques and teaching networking and "soft skills" that complement the rigorous academic coursework. The RMI major at Appalachian prepares students for a wide variety of professions within the greater risk and insurance field including: General Management, Underwriting, Claims, Agency Sales & Operations, Brokerage, Surplus Lines, Risk Management and Reinsurance Specialties. For more information, visit insurance.appstate.edu.